Hearty yet refreshing! This cucumber potato salad is perfect as a side dish and addition to any meal. Perfect for spring time, with hints of creamy mayonnaise, lemon and garlic. 
Cucumber and Potato salad
There is nothing better than a hearty bowl of potato salad. My dad used to make potato salad at every single barbecue that we would have. Honestly it was the perfect side dish! 
Although I loved the taste, I would always find traditional potato salad to be too rich, and make me feel sluggish and bloated after having it. That is why I came up with this cucumber and potato salad. Now don't get me wrong, I would never take away the dear potato and replace it with cucumber! However, this salad recipe gives the perfect ratio of hearty, soft potatoes while still getting a refreshing crunch from the cucumber!  
Potato salad redefined 
Traditional potato salad is often packed with heaps of mayonnaise, sour cream, and some recipes even using margarine. Now, there is of corse nothing wrong with this, but like I said I often find these ingredients extremely heavy and bloating!
On top of it all, I find these ingredients extremely unnecessary! This potato salad is guaranteed to make your taste buds sing, without all these added extras! With spring onion, cucumber and hints of lemon. It gives a fresh and tangy combination that is SO delicious
How to make the Cucumber and Potato salad:
Step 1: Add all your ingredients to a bowl and mix
Slice your caulfilower into florets. Spray some oil spray, add your spices and sea salt. Bake at 180 degrees celisus until cooked through and cripsy (around 30-40 minutes)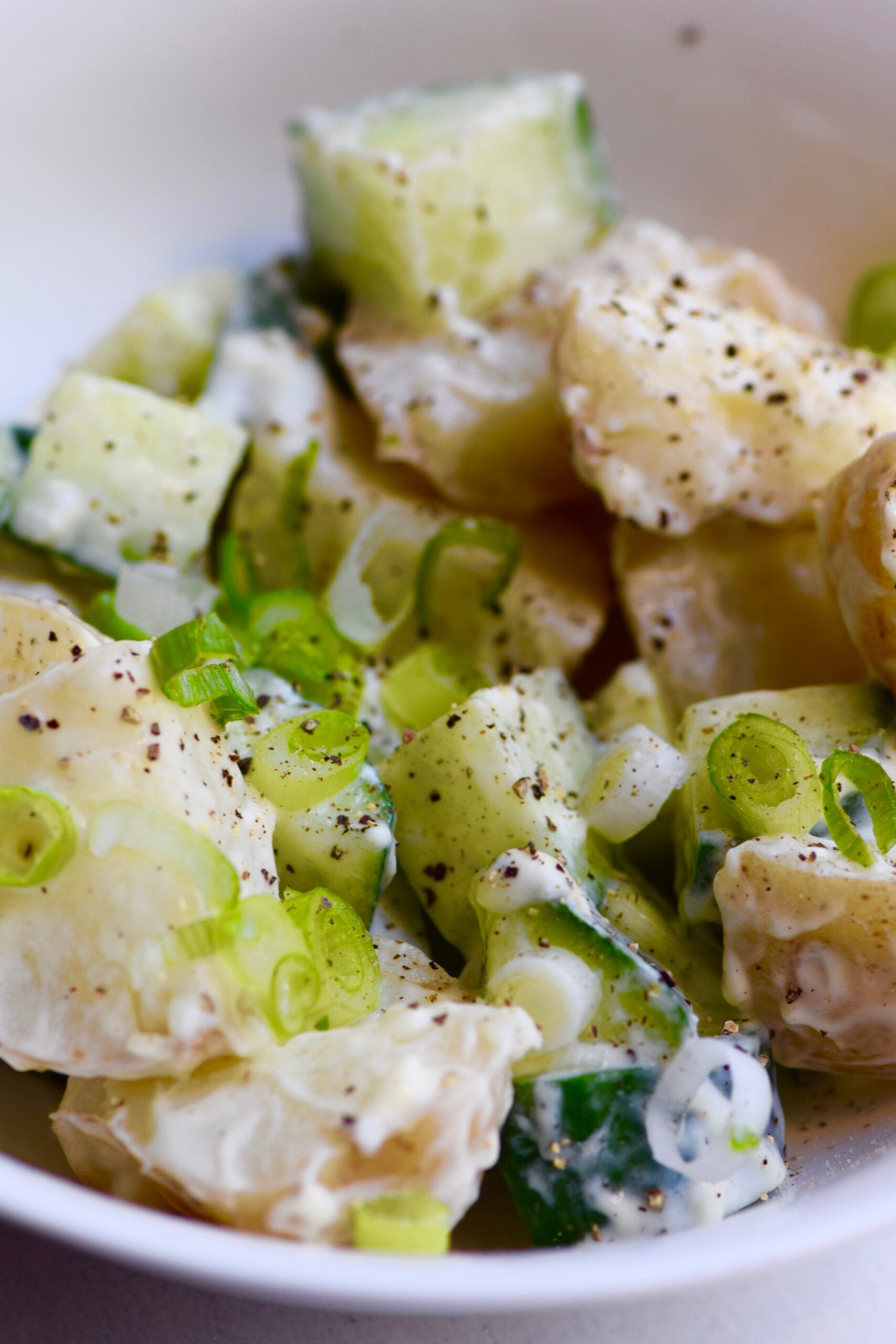 Step 2: Top with some garnish
Add some salt and pepper to taste! You may also top it off with some extra spring onion.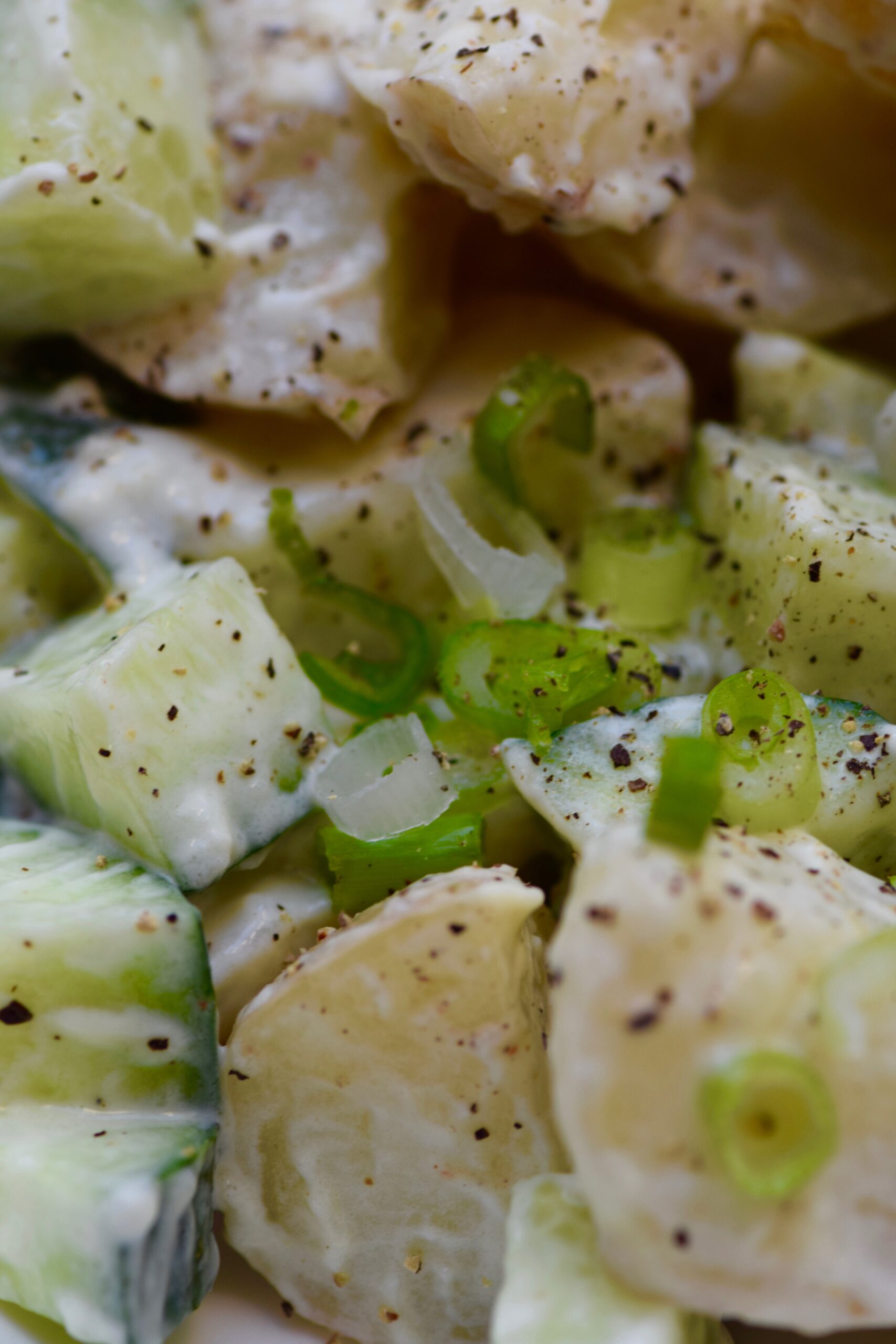 Serving Suggestions:
Can be eaten immediately or stored in the fridge in an airtight container
You may also like my cauliflower nachos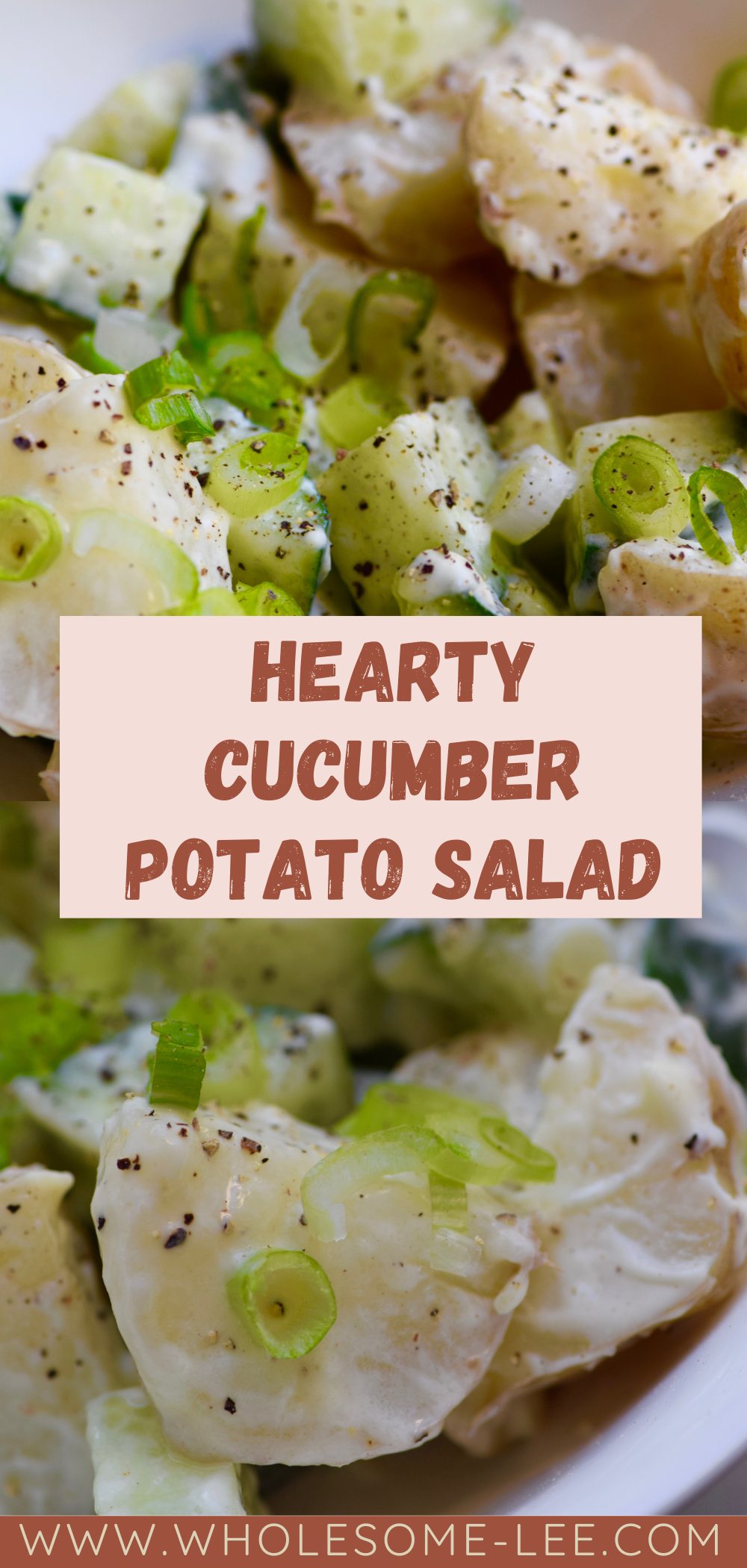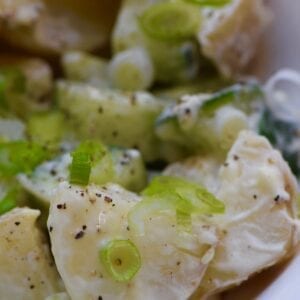 Cucumber and Potato Salad
Wholesome Lee
A delicious quick and easy spring side dish! perfectly hearty, with refreshing crunchy cucumber! The perfect volume eating dish
Ingredients
150g Potatoes
1 tbsp light mayonnaise
1 cup chopped cucumbers
1 tsp freshly grated garlic
½ squeeze lemon
1 tbsp chopped spring onion
Salt & pepper to taste
Instructions
Boil your potatoes until softened. (I boiled mini ones on a medium heat for 10-12 minutes until soft)

Set aside and allow to cool

Slice your cucumbers and spring onion.

One potatoes are cooled, add your cucumbers, garlic, lemon juice, salt & pepper. Combine well.

Top with your chopped sprig onion and enjoy!
Nutrition
Calories: 180kcalCarbohydrates: 31gProtein: 3.8gFat: 5.1gFiber: 4g