A delicious quick and easy low carb alternative! This is delicious as a snack, or can be added to a meal! The perfect home-made sushi alternative. I like to use canned tuna as my protein of choice, but you could add any fillings of choice. These cucumber sushi rolls are my go to high protein low carb snack!
Cucumber Sushi
Ever since my sushi post,so many of you babes asked how to make it! The truth is, you can totally order this at a restaurant and its delicious! BUT if you're looking for a home-made version, give this recipe a try! Not only is it quick and easy, but it is absolutely delicious and super quick and easy to make! Home-made cucumber sushi rolls don't need much equipment or time!
Fillings for the Cucumber Sushi Rolls
Here I have used a typical canned tuna recipe that is spicy, creamy and high protein! But honestly, you could use any filling of choice! Some of my favourites are smoked salmon, sushi grade salmon, tofu, tempeh and so much more! Avocado also adds a delicious creaminess, and these rolls are so easy you could even make a variety of flavours and enjoy!
Volume Eating Sushi
What is your favourite sushi order? Min is usually sashimi, edamame, miso soup and then a few pieces of actual sushi! I find this not only helps give me volume, but is equally as delicious without leaving me nauseas and over bloated. 
When i discovered this low carb cucumber sushi, I now order two plates of it in addition to my usual order! Honestly, it tastes SO delicious, you wont even miss the rice
How to make the Cucumber Sushi Rolls:
Step 1: Use a peeler
Slice the top and tail part off of your cucumber. Cut it in half. Using a peeler, make some long cucumber ribbons.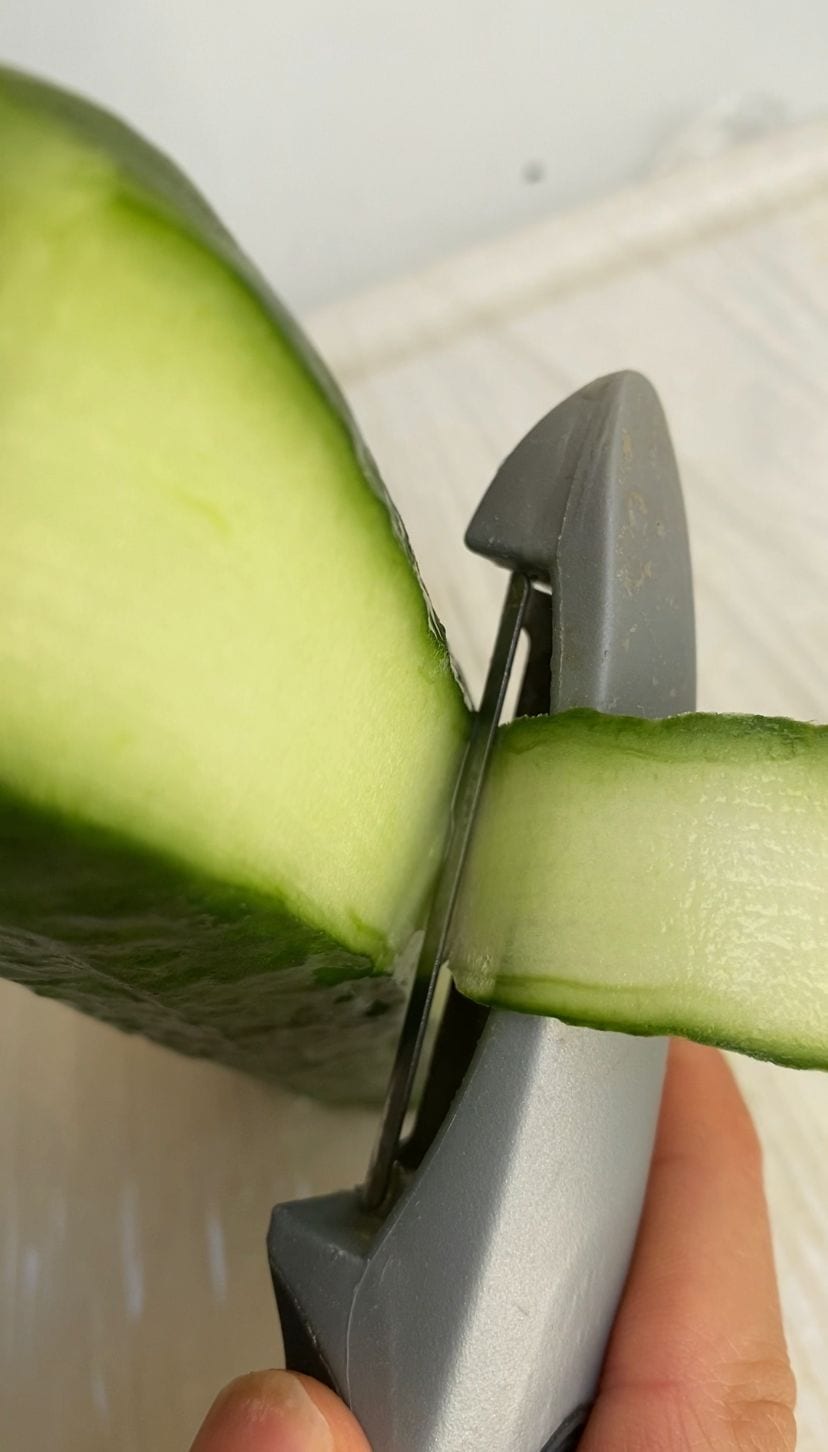 Step 2: Add your Fillings and Roll Up
On the edge of one of your ribbons, place about a teaspoon of your filling. Roll it up forming a delicious cucumber roll. You may want to stick a toothpick through it to help it hold! I didn't need to, but some people find it struggles to hold. There you have it, your cucumber sushi rolls!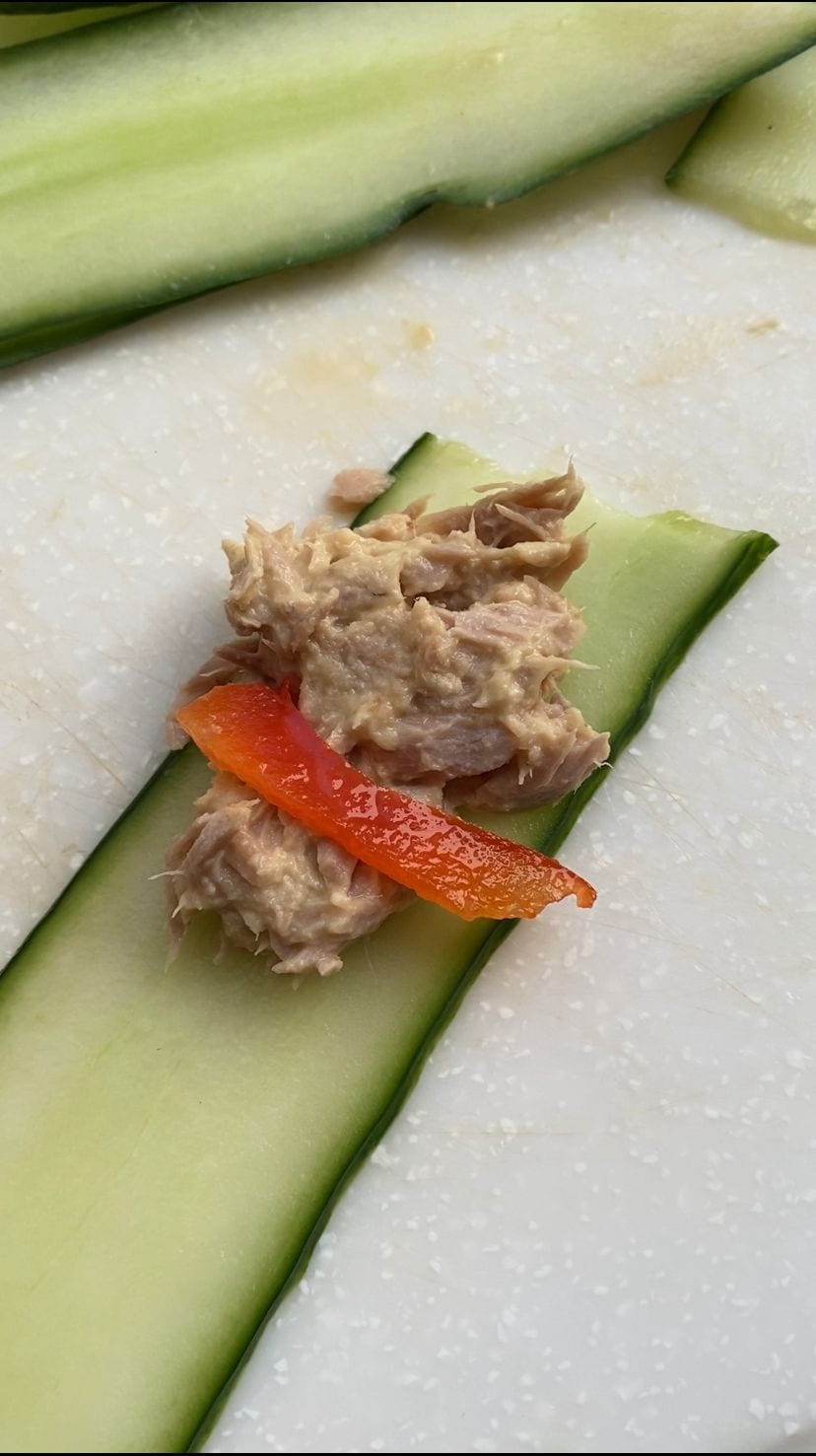 Serving Suggestions:
Eat cucumber sushi rolls immediately! Store in fridge to keep cold and fresh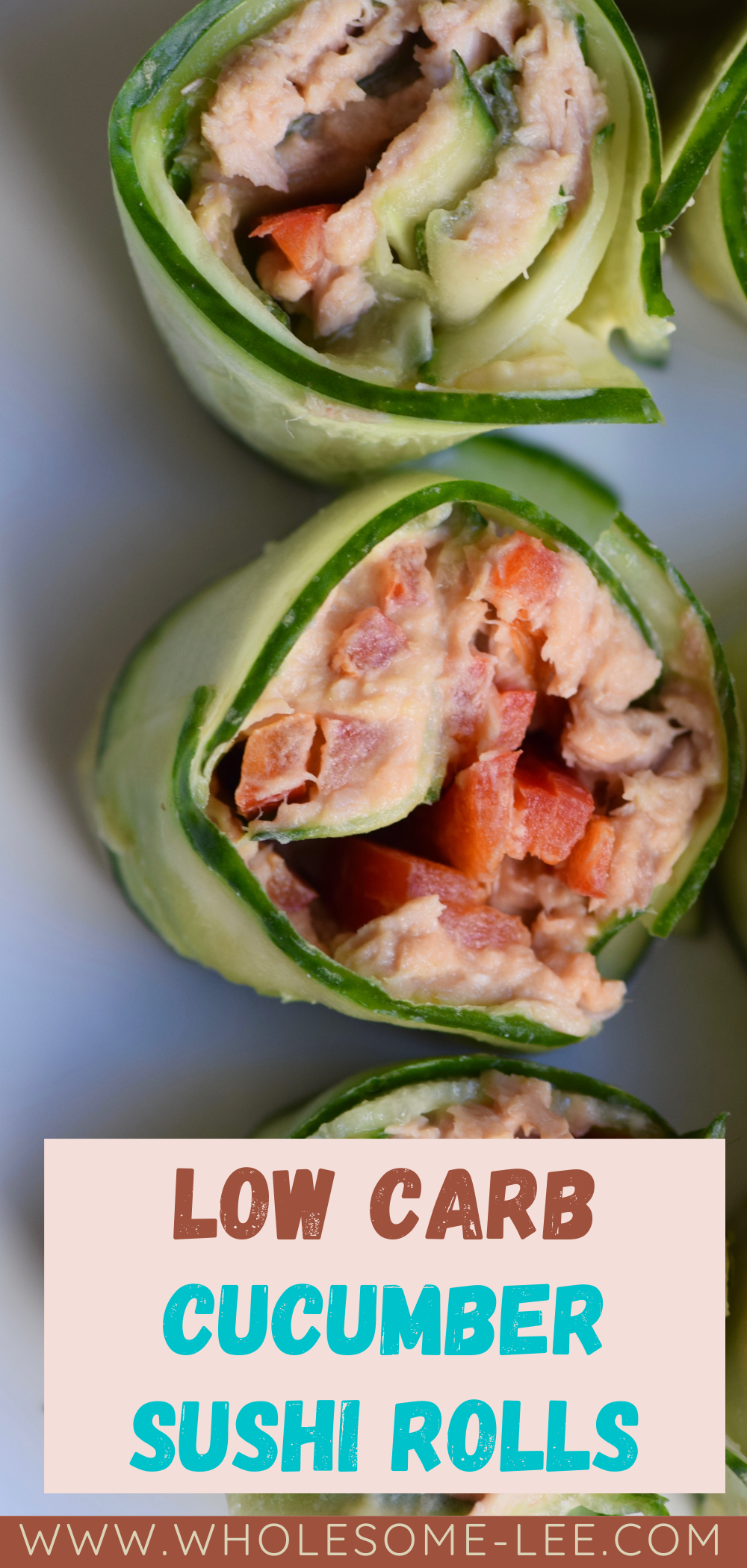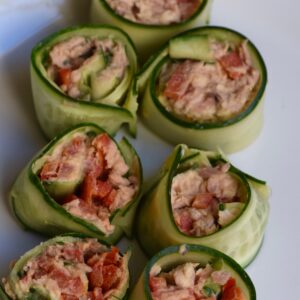 Cucumber Sushi Rolls
Wholesome Lee
A delicious low carb high protein sushi alternative! The most delicious spicy tuna rolls that makes the most delicious snack or add to a meal!
Ingredients
½ cucumber
½ can tuna in brine
½ chopped red bell pepper (fine)
½ tsp cayenne pepper
2 tbsp chopped spring onion
1 tbsp light mayo
Instructions
Using a veg peeler, make cucumber ribbons.

Mix your tuna, peppers, spices spring, salt & pepper.

Take one of your cucumber ribbons, and place 1 tsp filling at the end. Roll it up.

Repeat with the rest of your ribbons

Enjoy!
Nutrition
Calories: 164kcalCarbohydrates: 11gProtein: 18gFat: 6gFiber: 2.3g