THE ULTIMATE WEIGHT-LOSS DESSERT & CRAVINGS GUIDE
Lose weight and eat dessert every day! An easy step by step guide to master your cravings, and include treats in your daily diet.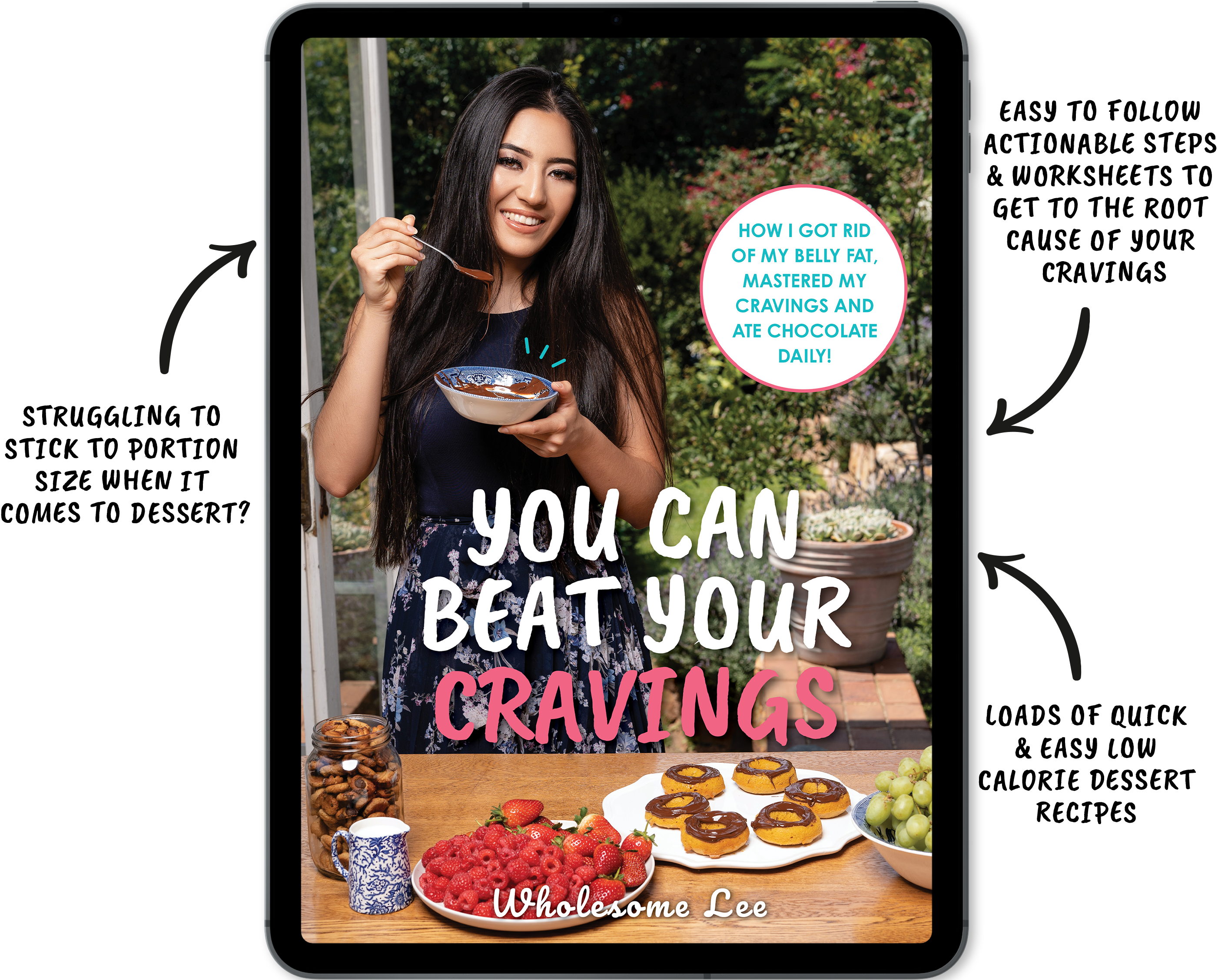 | | |
| --- | --- |
| | Tried and proven cravings guide with actionable steps to get to the root cause of your cravings. |
| | Low calorie dessert recipes that help you eat bigger portions for less calories. |
| | Designed for women trying to lose weight, but who have sweet cravings. |
Stop the binge restriction cycle. A simple step-by-step framework to remove your all or nothing mindset.
Get to the root cause of your cravings, understand them and master them
A comprehensive step-by-step cravings guide with worksheets. It will help you work through your cravings, and give you the tools and strategies to adapt to any craving scenario- including those monthly PMS cravings!
Includes over 50 dessert recipes all 200 calories and under.
Ever feel like you struggle to stick to portion control and can't stop at just one brownie? Because the recipes are low calorie, often 2-3 servings are the equivalent of one serving of the calories in traditional varieties! Full calorie and macronutrient information provided with each recipe.
Exact steps on how to incorporate daily treats in your diet, for life!
This realistic strategy aids in permanent weight-loss. Many people speak about including healthy treats in a lifestyle, but no one shows you how to! This guide helps you plan treats into your diet, be it daily or weekly!
SUPPORT FROM ME & AN ENTIRE COMMUNITY
Access to a private Facebook group where you can share your individual struggles, progress & more! You'll never have to feel alone on a your journey.
Frequently asked questions
What does this guide include?
A comprehensive guide to understand your cravings & help you stop bingeing on junk food. It also includes over 50 low calorie dessert recipes, with entire macronutrient information provided and colorful photography.
I don't have protein powder, do you have alternatives?
Protein powder is not essential in any of the recipes and alternatives are provided.
Is the guide a digital product?
It is a digital product that has been optimized for all devices including smartphones and tablets. If you would like a hard copy, the guide is printer friendly and can easily be printed out. 
I'm vegan, are there any recipe substitutions?
Absolutely. Most recipes have vegan substitutions provided.
Are the recipes included all low calorie?
Yes. All recipes are 200 calories or less!
What equipment do you need to make the recipes?
Minimal equipment! All you need is a high speed blender or food processor (for some recipes) & oven. These are all mostly one-bowl simple recipes that take 10-20 minutes to make.