The most delicious high protein, gluten free, low carb cookie dough bread. This is flourless, sugar-free & a delicious one bowl easy recipe! It tastes like cookie dough chocolate chip protein bread and is the most delicious tea time treat or breakfast option!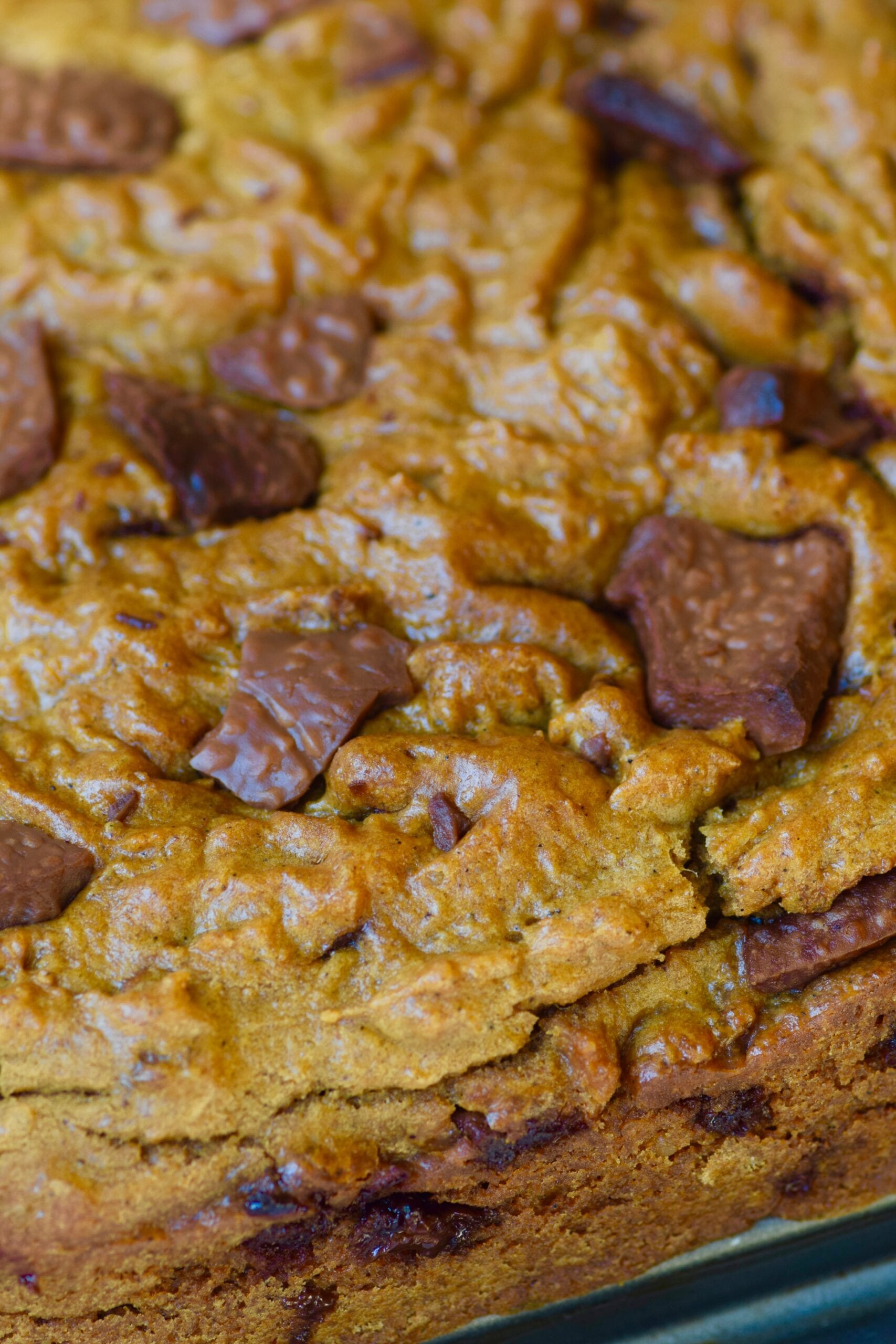 Low Carb Protein Cookie Dough Bread
Did someone say bread? Isn't that a carb? Traditionally, yes! I am an avid bread lover and will have a slice of sour dough or ciabatta with my eggs for breakfast on most days. There is just something so comforting and nourishing about the soft spongey texture and a crunchy outer crust.
Well, what if I told you that this cookie dough bread is LOW CARB, but also HIGH PROTEIN and has no traditional white flour! Yes! You heard me! Yet, it still retains the delicious fluffy texture that bread has, but the chocolate chips and vanilla almost make it taste like a delicious dessert bread. If you're feeling like an extra treat, smear some nut butter of choice over a warm cookie dough square and honestly you'll feel like you're in some sort of cookie dough heaven!
.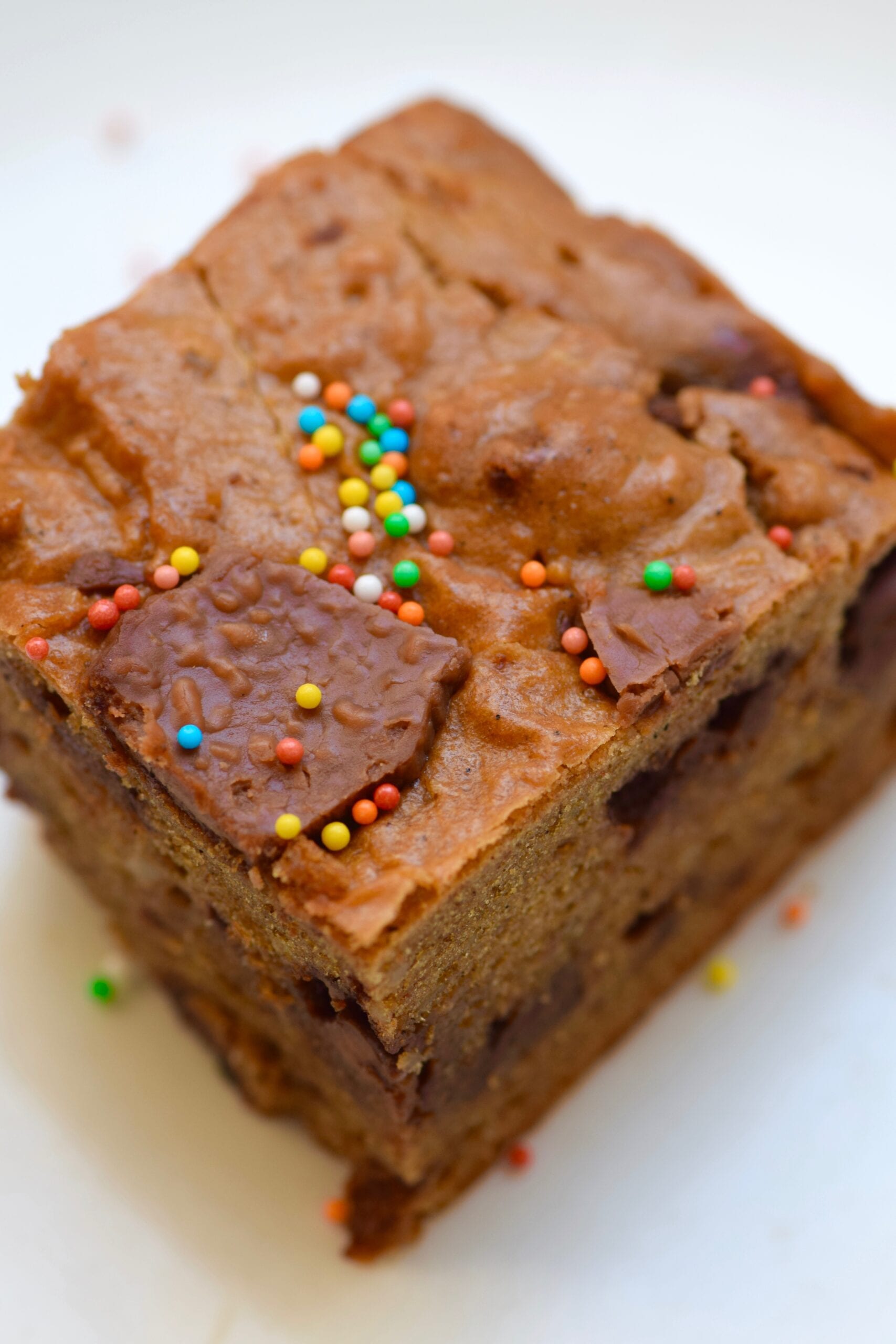 High Protein Cookie Dough Bread
We all know I have a special love for cookie dough. With my no bake cookie dough bars, chic chip cookie dough baked oats, and cookie dough bites- there is clearly no shortage of cookie dough recipes on my page!
Best part about this all? This is basically a protein powerhouse! With ingredients like eggs, peanut butter & protein powder- it is literally the same ingredients as what a high protein egg omelette would have or some sort of superfood protein shake! Except, this one is for all my sweet tooth lovers because who wouldn't want to enjoy some vanilla chocolatey protein bread?
Can I use any Protein Powder?
Technically, yes. HOWEVER, this recipe comes with a BIG warning. Because it does not make use of flour, protein powder is THE MAIN thing giving this dessert its flavour! ONLY use a protein powder that YOU ACTUALLY like the taste of! Everyone has bought that protein powder that tastes like absolute trash and then somehow thinks that they can substitute it in baking to make it taste better! Your baked goods will have the flavour of your protein powder and for this reason you have to use a protein powder that tastes good!
Not all protein powders yield the same texture so for best results read some general guidelines below. This recipe makes use of a sweetener protein powder, so be sure that yours is sweetened. However, if you are using an unflavoured version, add some vanilla extract and 1/4 cup sweetener of choice ( I like granulated monk fruit or coconut sugar best!)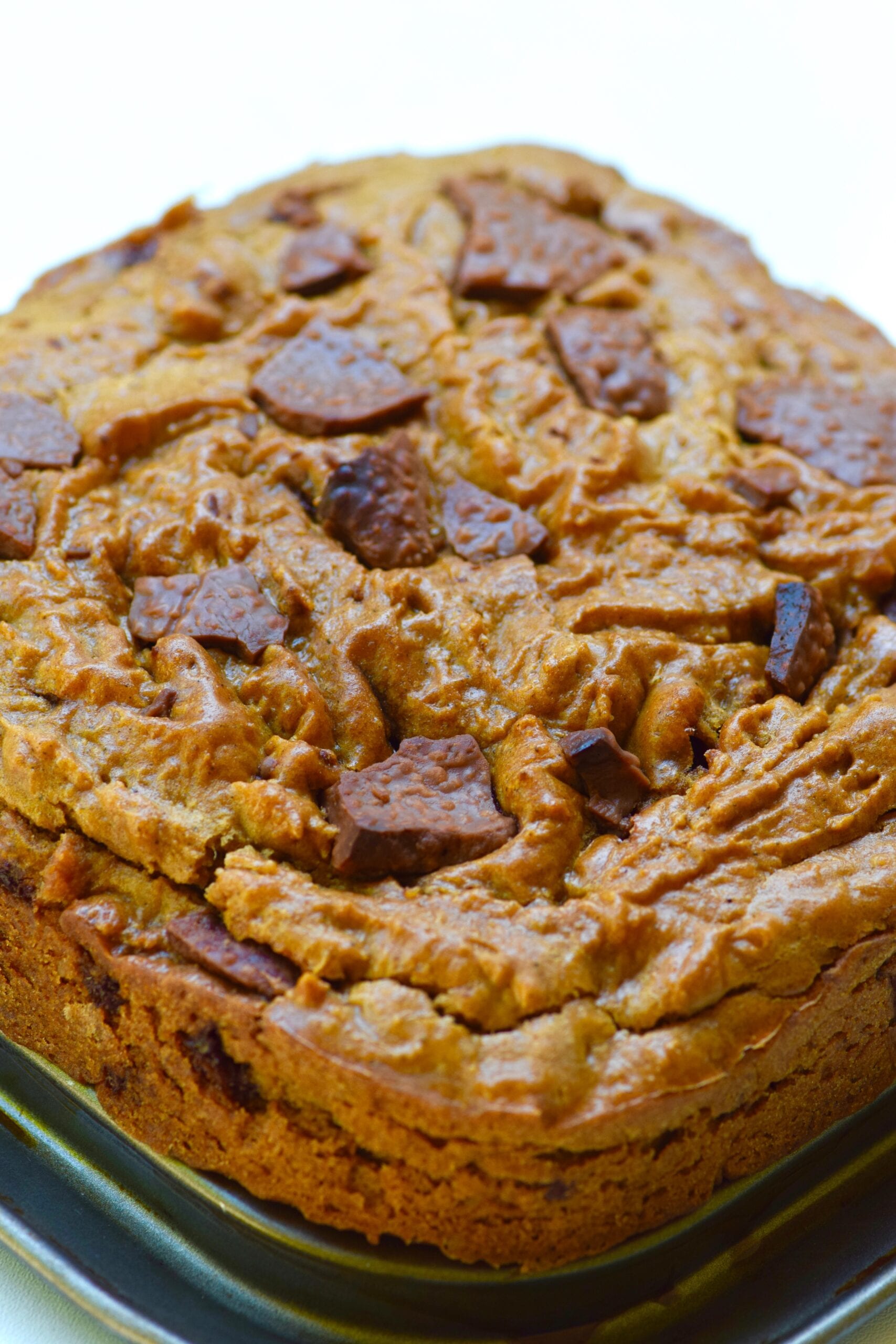 What type of Protein Powder is Best?
As per usual, the best protein powder to use for baking is hands down pea protein powder! This is because it gives the most delicious, soft and cakey texture when baked!
Brown Rice Protein Powder is another one that is great for baking and it gives your baked treats a delicious soft flavour.
Casein protein powder is another great protein powder that can be used for baking as it yields a delicious and fluffy result.
Whey protein powder is the most common protein powder that people ask me about. I typically don't recommend baking with it-because it yields the worst texture. When trying it with this recipe it resulted in an overly 'eggy' type of texture that just didn't work and resulted in a spongy texture. You can try and see for yourself, but be warned!
How To Make Low Carb Cookie Dough Bread  
                                                                               Ingredients:
Eggs: For once this cannot be substituted by flax eggs! No vegan option can be made for this recipe
Vanilla Protein powder: See guidelines above for which works best
Almond Flour: So the bread is not overly dry! 
Nut butter of choice: My personal favourite is peanut butter!
Chocolate chip : Refined sugar free if you want the recipe to be, but I used normal plain milk chocolate. 
Baking Soda: Essential for it to rise slightly
Milk of choice: I always love my almond milk but any milk of choice should work!
Method:
1.
 Mix all ingredients in a mixing bowl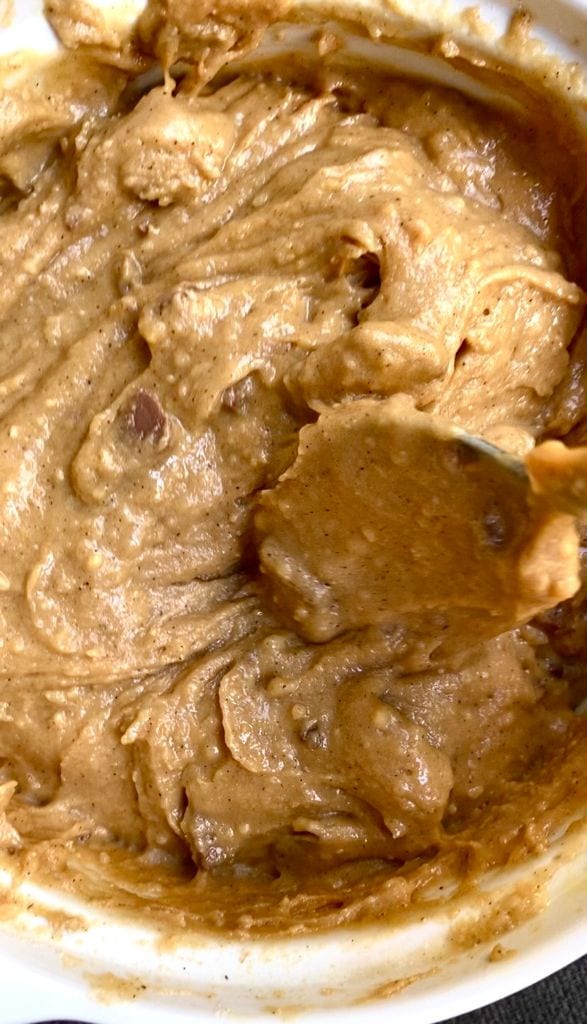 2.
Bake in oven until toothpick comes out slightly under. Allow to cool!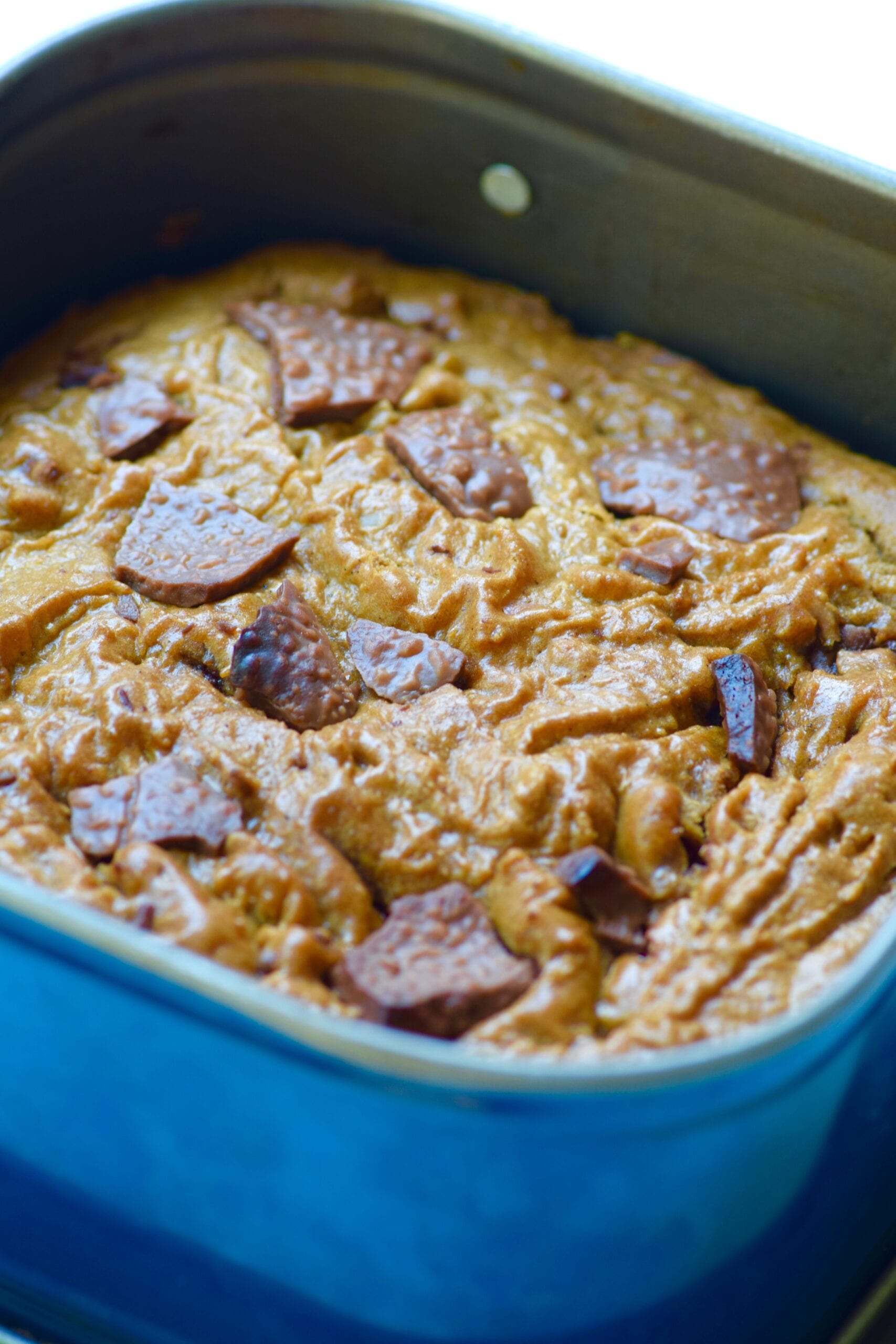 3.
Slice into squares and enjoy!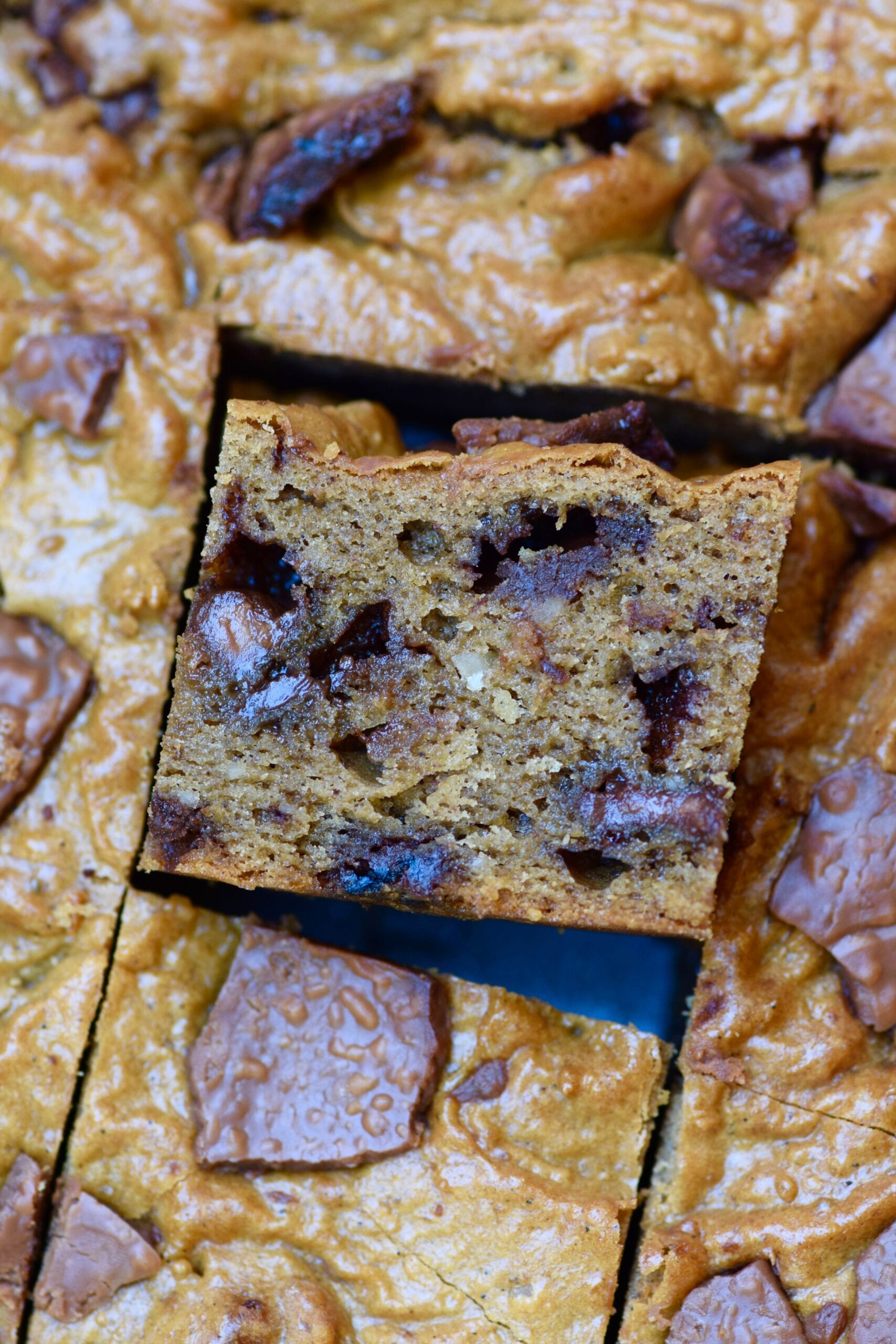 5 Protein Cookie Dough Bread Variations
 Every week I make one recipe as part of my meal prep/ plan. Because of this, I like to change it up so I have a different treat every single day! Try out these varitaions if you're looking for something different!
Milk Choc Chip: Use milk chocolate as your chocolate of choice

Rainbow: Add some sprinkles for some extra fun

Cinnamon: Lightly dust with some cinnamon
Crushed nuts & chocolate: Add some crushed nuts of choice

Dark Chocolate & coconut: Top with some dessicated coconut & use dark chocolate chips as your chocolate of choice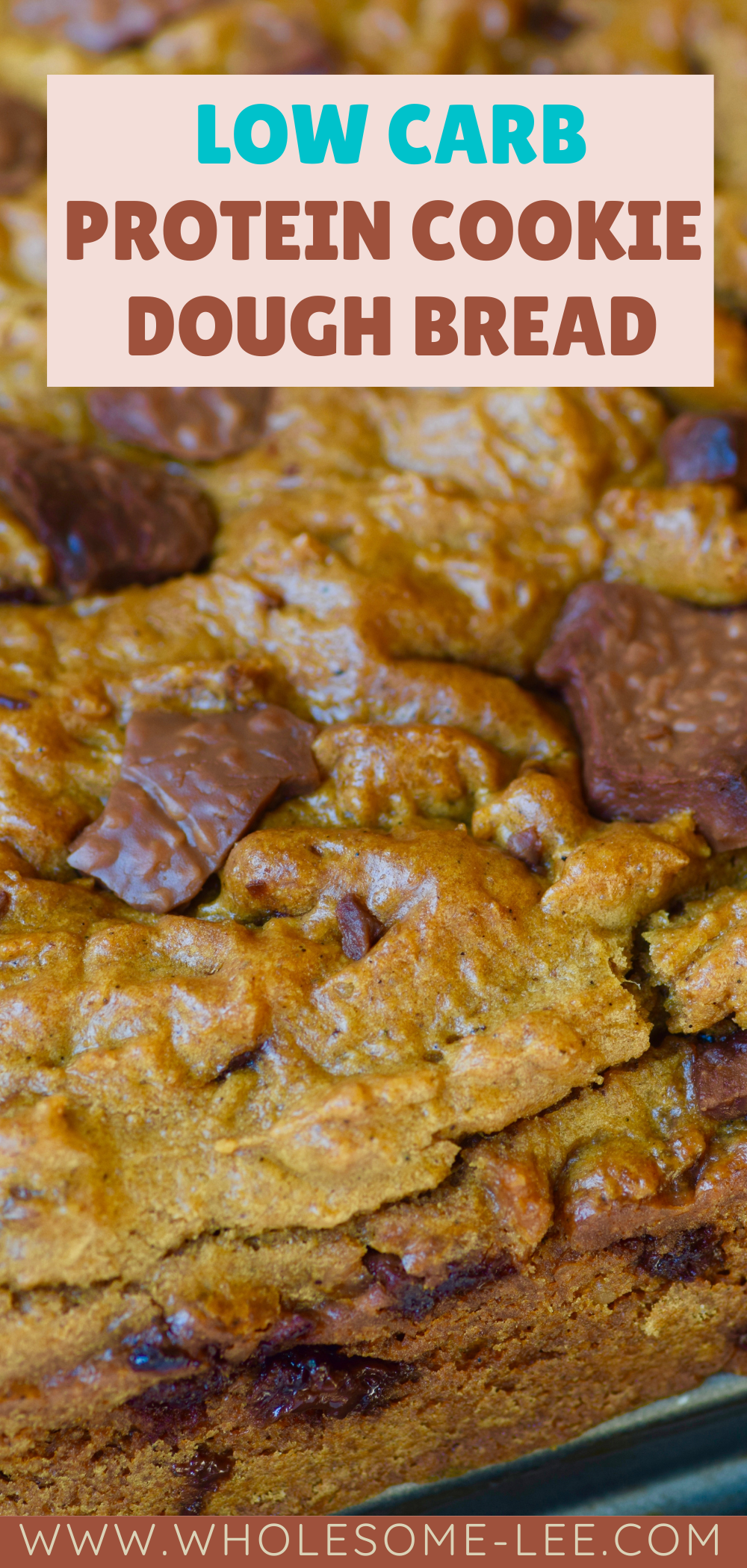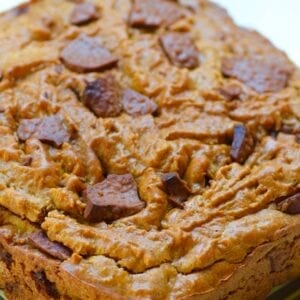 Low carb Protein Cookie Dough Bread
Wholesome Lee
The most delicious one bowl low carb protein cookie dough bread recipe! NO flour, NO sugar & a delicious gluten free healthy alternative! Enjoy one square with your afternoon tea, or as a high protein on the go breakfast
Ingredients
4 whole eggs
1/4 cup almond flour 30g
6 Tbsp nut butter of choice 125g
2.5 scoops vanilla pea protein powder 80g*Has to be a pea protein powder not whey
1 tsp baking soda
80 g chocolate chips
4 tablespoons 60ml almond milk
Optional: 2-3 tbsp sticky sweetener of choice such as monk fruit/honey/maple syrup. Highly recommend if your protein powder is not already sweetened- pretty tasteless if not!
Instructions
Line a brownie pan and preheat oven to 180 degrees celsius

Combine all ingredients above in a bowl, depending on the brand of protein powder used, you may need to add a sticky sweetener of choice (mine is sweet enough so i only add around 1 tbsp, but you'll have to decide for yourself).

Pour into the lined brownie pan, and bake for 15-20 mins or until just cooked through.

Take out and allow to cool, before slicing into 15 squares.

Store in an airtight container in fridge or freezer!
Nutrition
Calories: 110kcalCarbohydrates: 5gProtein: 8gFat: 6gFiber: 0.7gSugar: 4g