The most incredible edible protein brownie batter that tastes exactly like decadent fudgey brownie batter. If you're someone that likes licking the spoon after baking, and prefers brownie batter to regular brownies these are for you. Brownie batter of your dreams is just 5 minutes away, as all you have to do is throw your ingredients in a high speed blender and combine it well.
You may also like my Ultimate Fudgy Brownie Cookies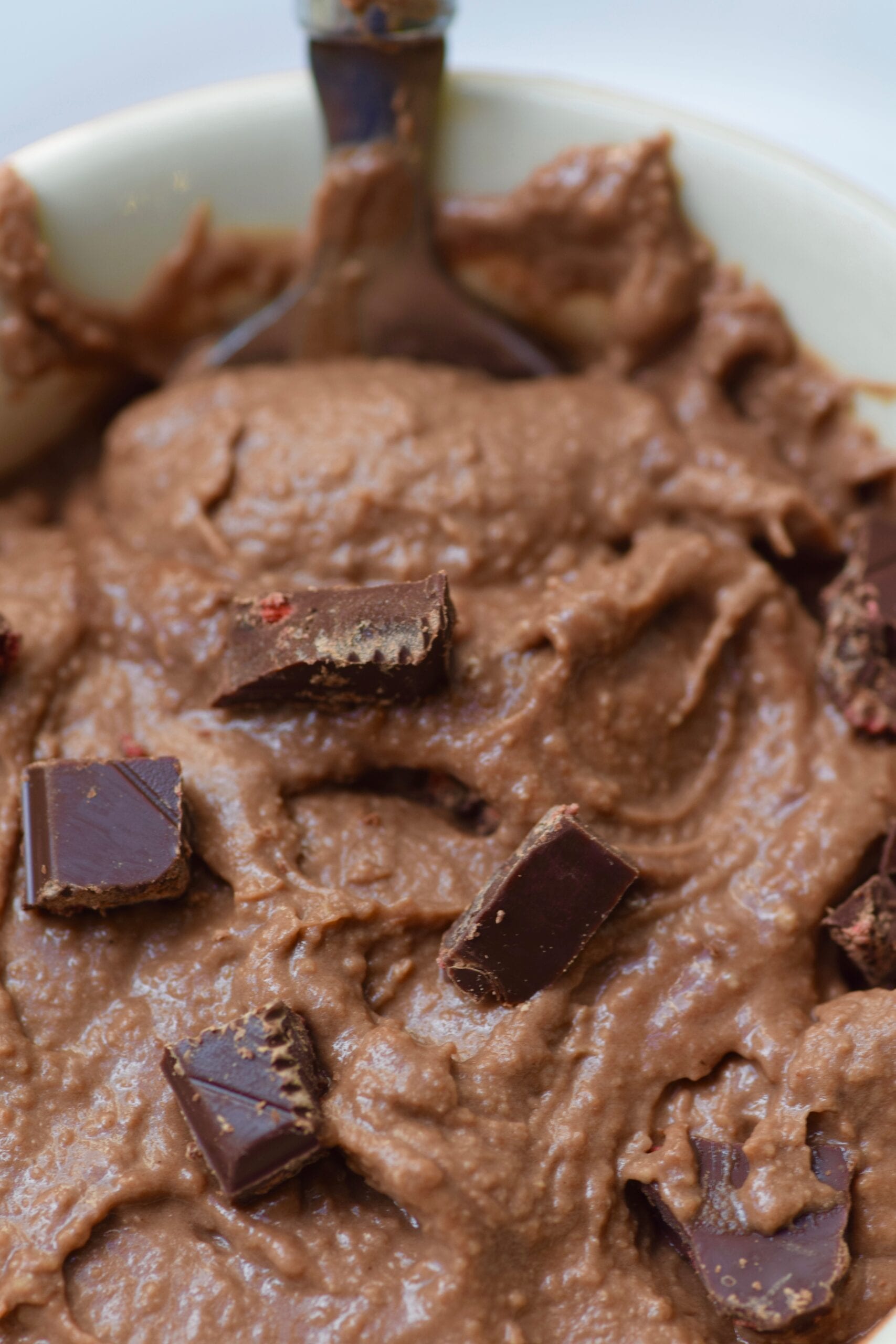 Protein Brownie Batter Hummus
Hummus? Brownies? In the same sentence? Okay…. I know what you're thinking. "Lee you have made a huge typo here because there is no way those two can be in the same sentence".
Well my lovelies. No typo made here. Before you say I have gone too far, stick around and hear me out for a second. You honestly DO NOT even taste the chickpeas and the chickpeas give it this fudge & delicious texture! Plus it is an added fiber boost so that is always a win!
This protein brownie batter is only a half hummus if that makes sense. It has some added oat flour to give it a firmness, so it has a more batter like consistency as opposed to a dip! It has a rich chocolate flavour to it, that is super creamy and is guaranteed to put you into a chocolate happiness coma! This is a Protein brownie batter of your dreams!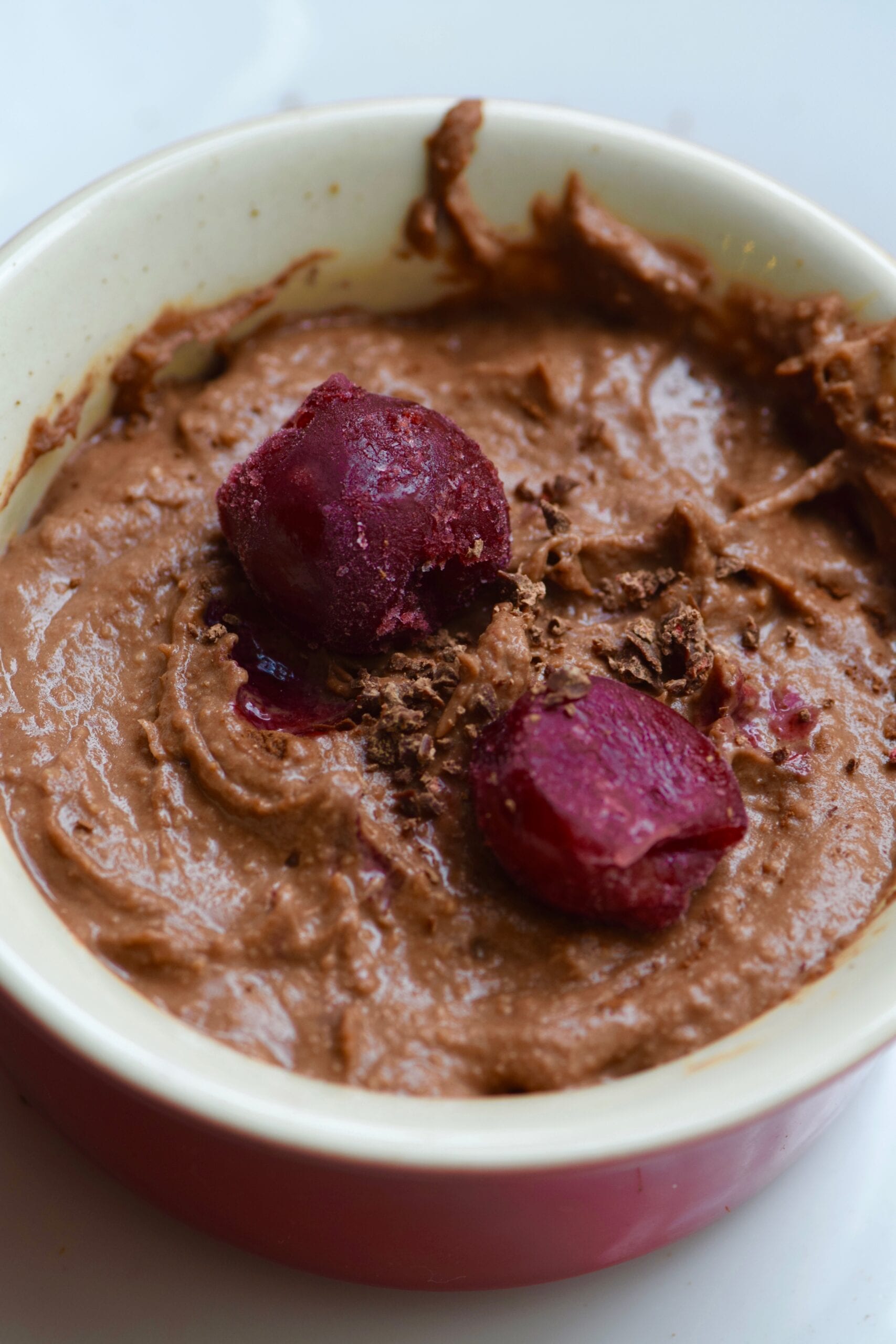 Is there Protein Powder in the Protein Brownie Batter?
This one is for all you babes who hate it when I make recipes with protein powder. This protein brownie batter is has NO PROTEIN POWDER and gets its protein kick from chickpeas! It also happens to be high fiber, vegan, can be gluten free if you use GF oats or almond flour, & oil free!
How do you make the edible Protein brownie batter
The Ingredients
Canned chickpeas- Make sure you drain and rinse them well
Nut/seed butter of choice- Use any nut butter/seed butter if choice! My personal favourites are peanut butter or hazelnut butter
Sugar Free Syrup- I use a monk fruit sweetened syrup, however, you can use maple syrup or honey
Cocoa Powder- For that chocolatey flavor!
Oat Flour- I make my own by blending oats in a high speed blender
Almond Milk- You can use any milk of choice but my preference is almond milk
Method:
1.
In a high speed blender or food processor, combine all the ingredients above.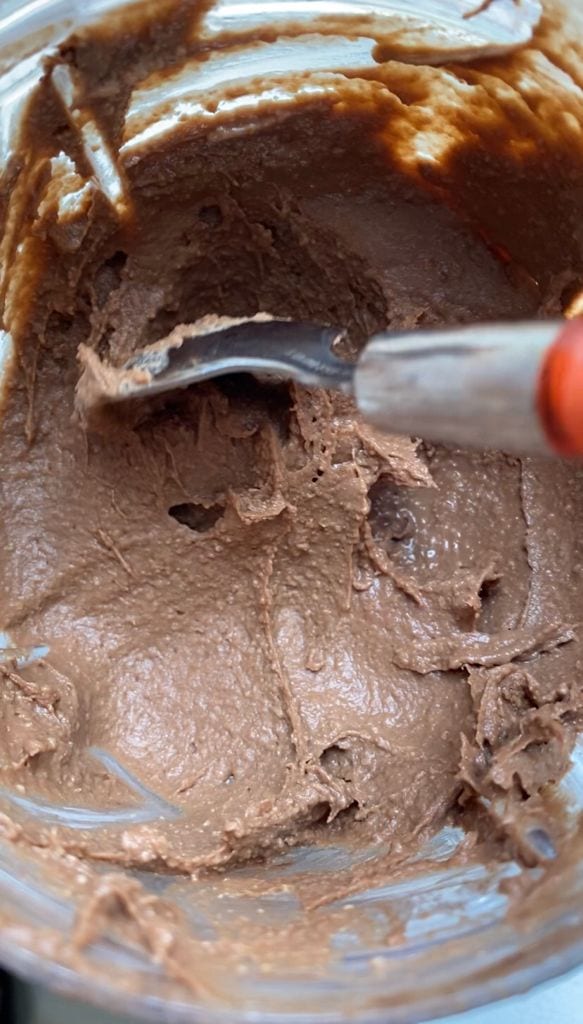 2.
Enjoy as is, or top with extra toppings!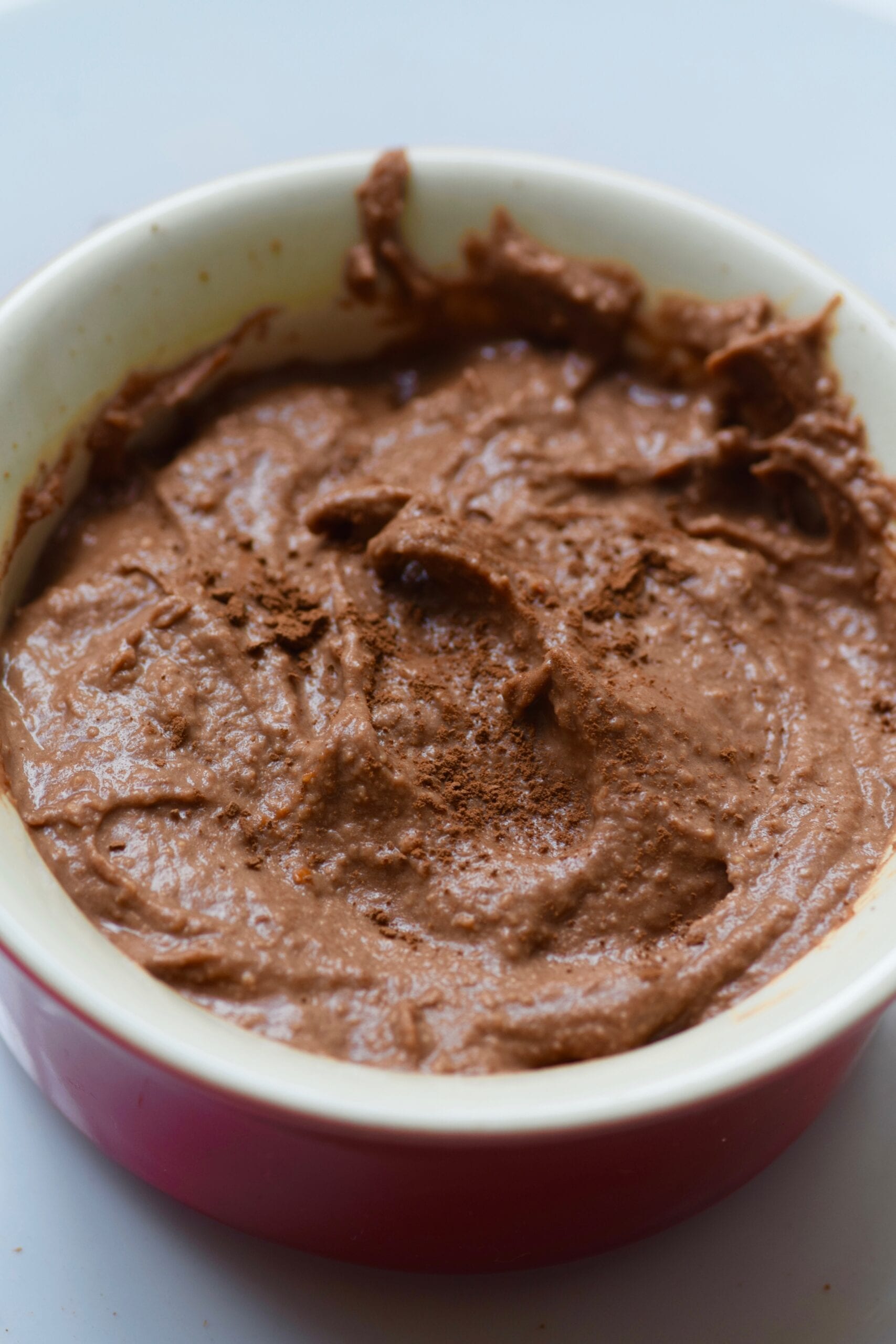 Protein Brownie Batter Toppings
You know, for when you're looking for a little something extra 😉
Chocolate chip: Top it off with some chocolate chips
M & M's: If you're looking for an extra special treat & crunch
Chocolate & Berries: Top off with berries of choice
Black Forest: Top off with some cherries and cocoa powder
Topdeck: Top off with some white chocolate chips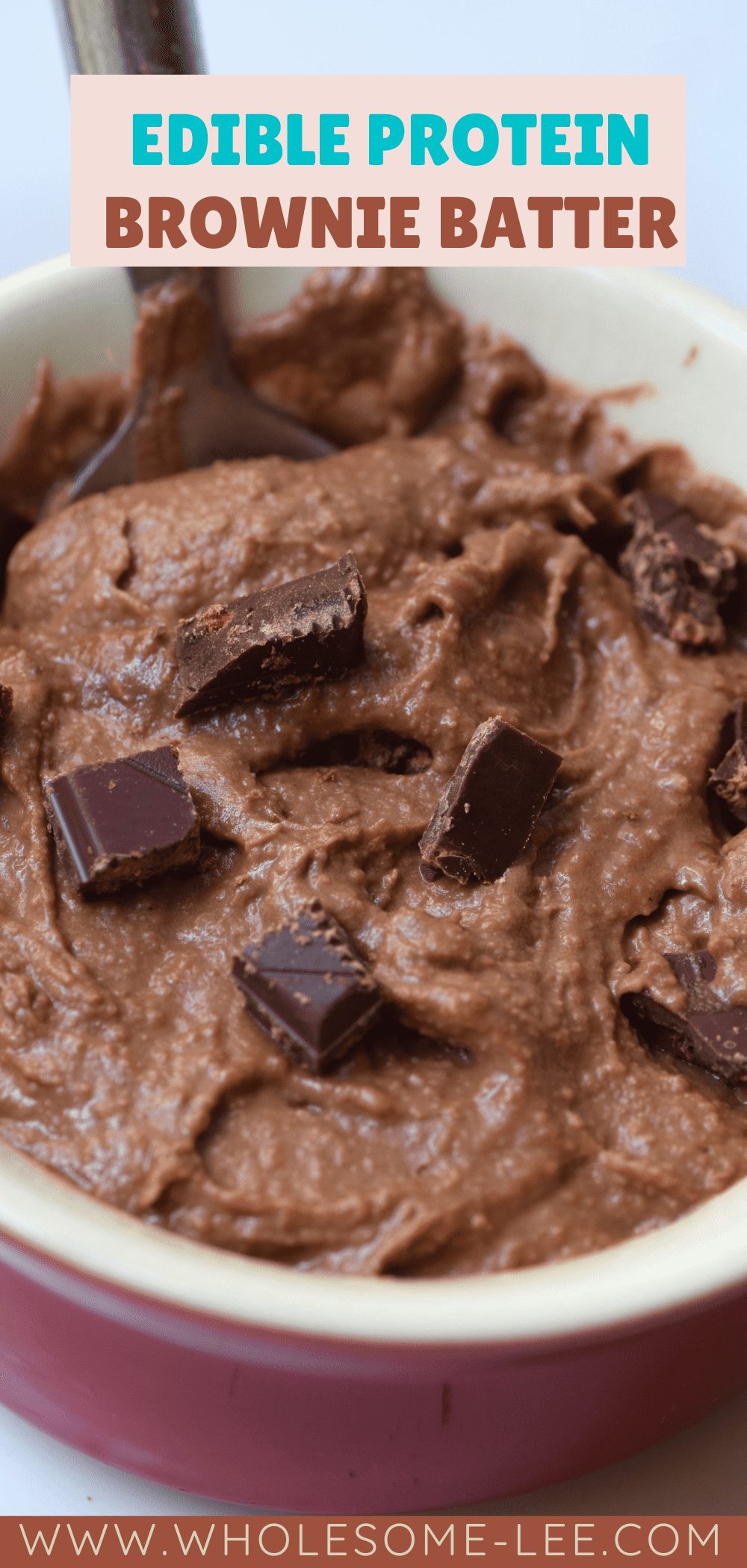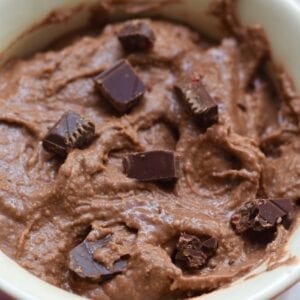 Edible Protein Brownie Batter
Wholesome Lee
The BEST no bake chocolate dessert! Calling on everyone who eats the batter before baking brownies. This no bake edible protein brownie batter is so quick and easy, and is the perfectly healthy alternative
Ingredients
1 can chickpeas 244g drained
3 tbsp nut/seed butter of choice
1/4 cup +2 tbsp oat flour 40g
3 tbsp cocoa powder
3 tbsp almond milk
3-5 tbsp sugar free syrup or maple syrup
1 tsp pure vanilla extract
Instructions
Rinse your chickpeas under water and place all ingredients listed above in a high speed blender and blend until smooth. You may need to add more milk if needed, batter should come out thick and rich.

Divide batter equally into 6 servings ( one serving should be around 2 heaped tbsp of the batter)

Top with desired toppings of choice (above)

Enjoy as is or store in an airtight container in the fridge!
Nutrition
Calories: 148kcalCarbohydrates: 17.9gProtein: 7gFat: 6.6gFiber: 5.1gSugar: 1g