The most delicious peanut buttery chocolate protein bar that is no-bake and perfect for any peanut butter lover! This is a quick and easy no-bake vegan recipe, that takes only a couple minutes to make!
You may also like my single serving protein cookie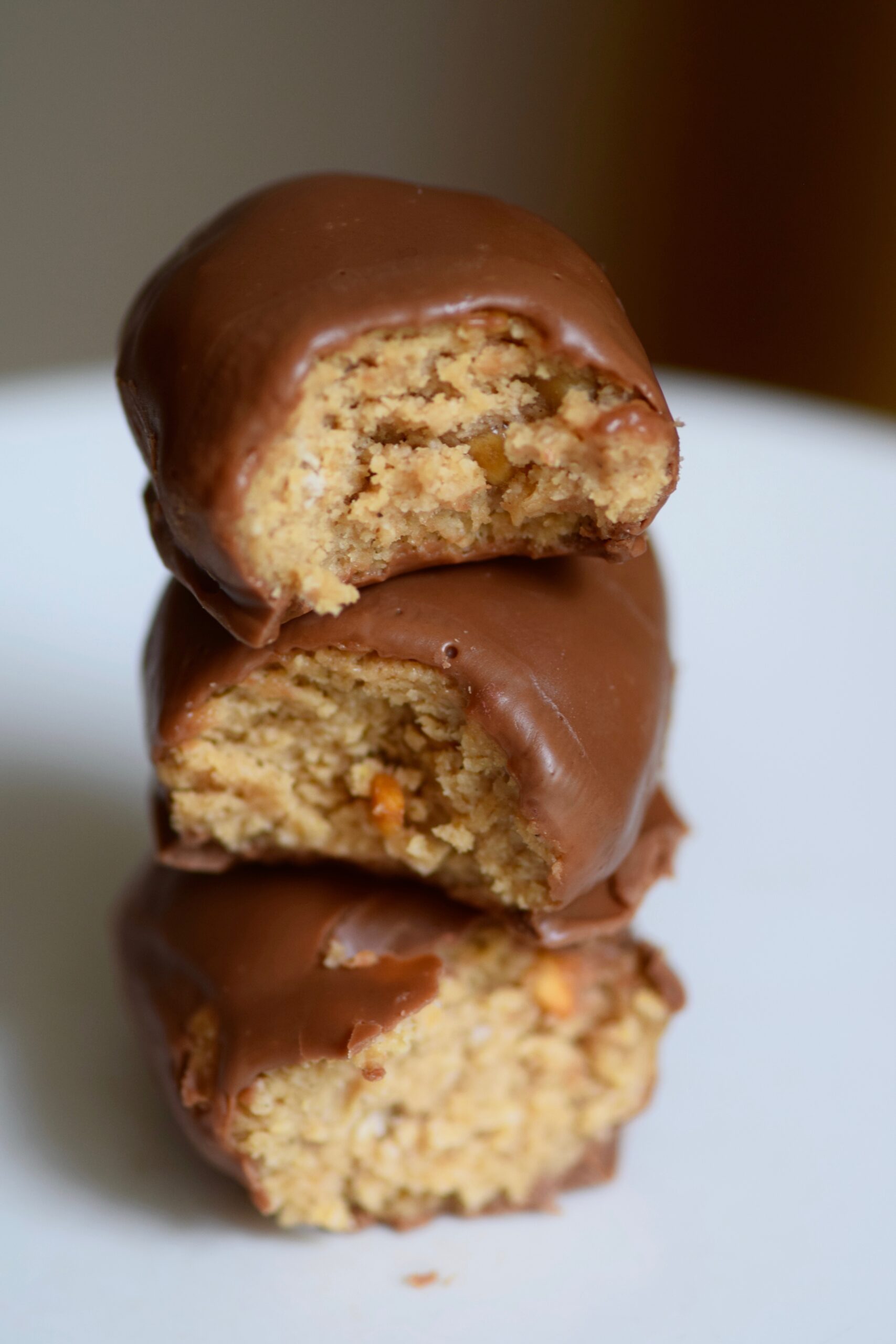 Peanut Butter Protein Bars
What is my favourite nut butter flavour? This is one of the hardest questions because I absolutely LOVE nut butter! But if I had to pick only one flavour it would have to be either chocolate hazelnut or peanut butter! Yes, I know that's two- but hopefully i'm forgiven!
I don't often eat protein bars, just because most store bought varieties have a strange texture, or artificial sweetener taste! I also prefer to eat whole meals, but lately I have been feeling like a sweet treat that has an extra protein kick! These peanut butter protein bars are exactly that, and super easy to make!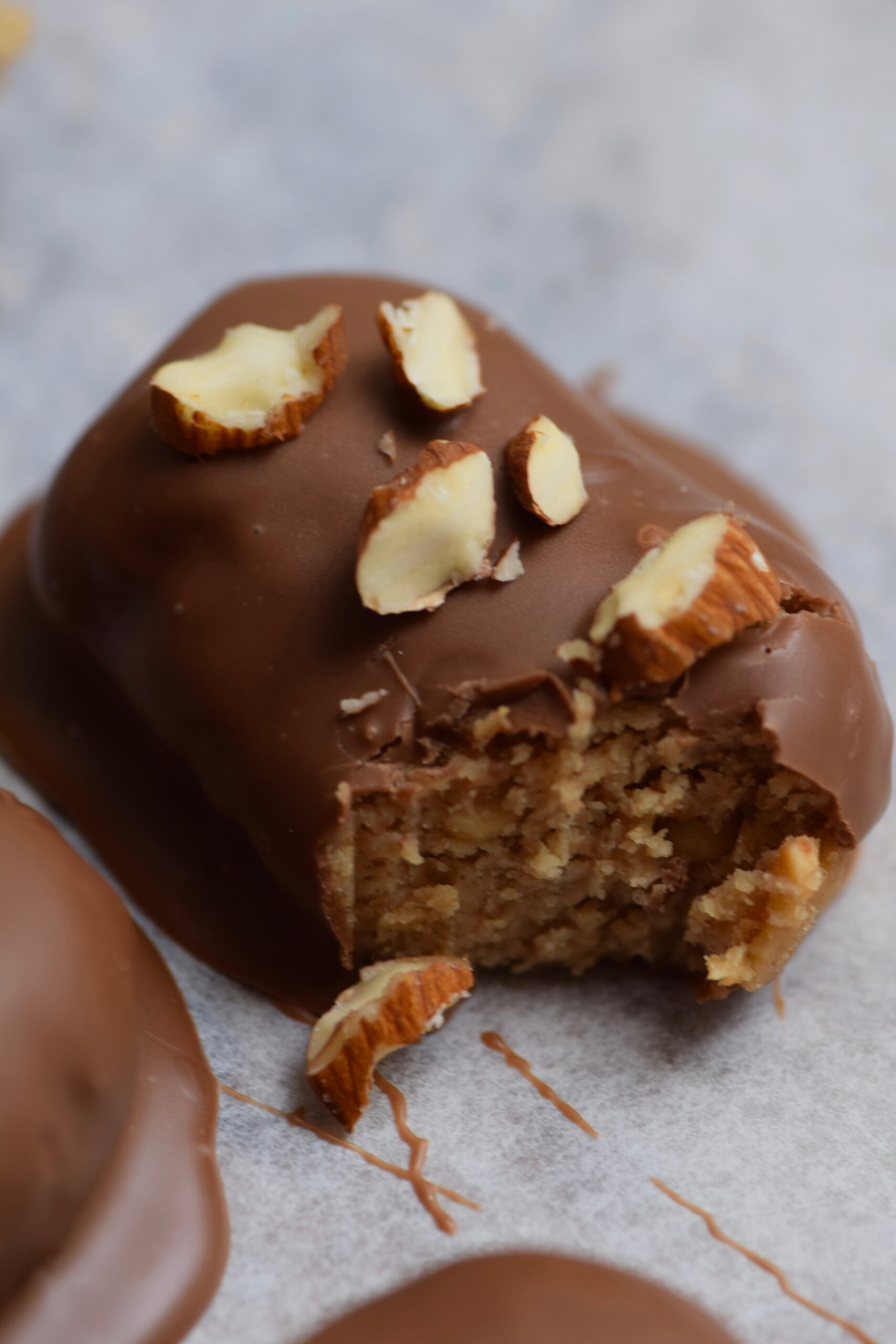 No-Bake Homemade Protein Bars
Now there is just something I have to say that is ESSENTIAL for any of my protein recipes. That is that you HAVE to LOVE the taste of your actual protein powder! If you're using the protein powder in you're baking then your baked goods WILL taste like your protein powder- so pick a tasty one!
Reese's Peanut Butter Bars
With Easter just passing, I tried my first ever Reese's peanut butter egg for the first time! All I can say is that it was absolutely delicious and my mind was blown! But it got me thinking, is there any way to make this higher in fiber, lower in sugar and higher in protein? So, this idea was born! Honestly, I haven't been able to stop having them as my afternoon snack! The perfect pick me up that keeps me full until dinner!
Peanut Butter Replacements
Now I know there will be a select few who do not like peanut butter, or want to know if they can use any replacements. You could replace the peanut butter with any nut/seed butter of choice! They work especially well with almond butter, hazelnut butter and even cashew butter!
How do you make the peanut butter protein bars
The Ingredients
Oat flour- I make my own by blending oats into oat flour
Nut/seed butter of choice- Use any nut butter/seed butter if choice! My personal favourites are peanut butter or hazelnut butter
Protein powder- Vanilla protein powder of choice
Granulated sweetener of choice- I like to use monk fruit or erythritol but any granulated sweetener or sugar will work.
Chocolate of choice: Dark or milk works best! 
Almond Milk- You can use any milk of choice but my preference is almond milk
Method:
1.
Combine all ingredients above in a bowl. Roll into desired shape.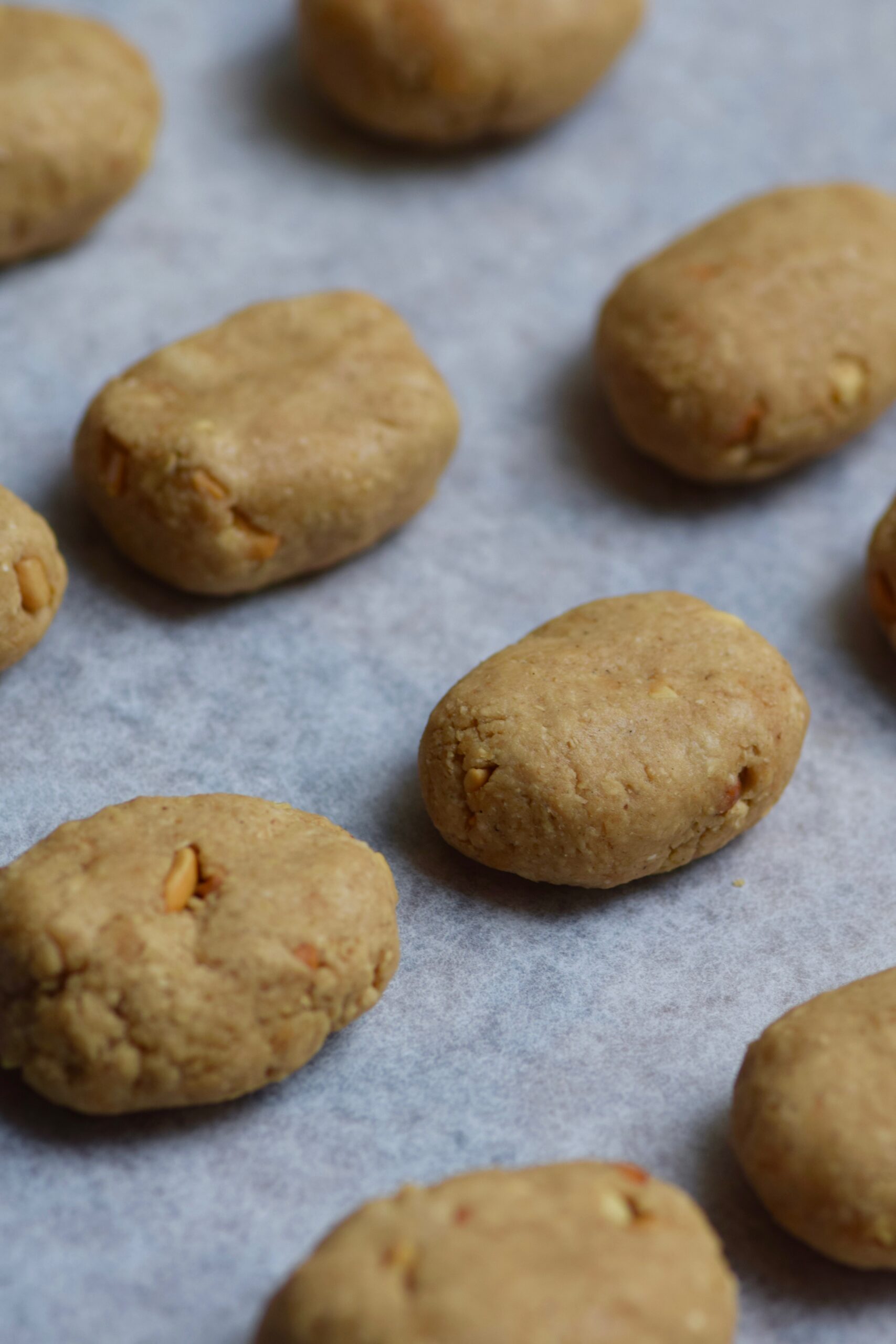 2.
Cover each one with some melted chocolate. Refrigerate and enjoy!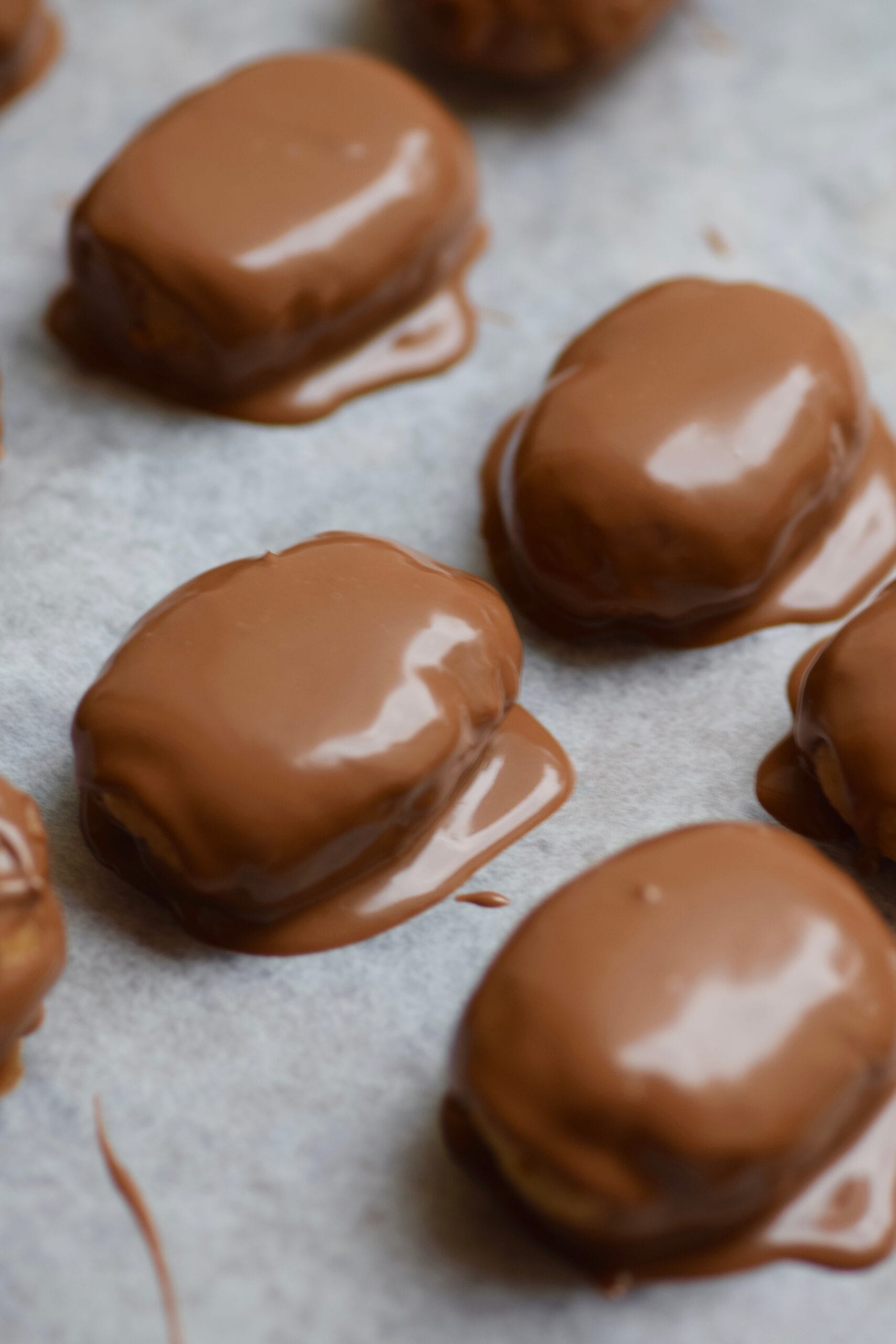 Peanut Butter Protein Bar Varieties
You know, for when you're looking for a little something extra 😉
Chocolate chip: Top it off with some chocolate chips
Almond butter: If you don't like peanuts this is a great substitute! Use almond butter instead of PB
Birthday Cake: Add some sprinkles into the batter
Dark chocolate: Top with some melted dark chocolate
Crunch: Top off with some extra crushed nuts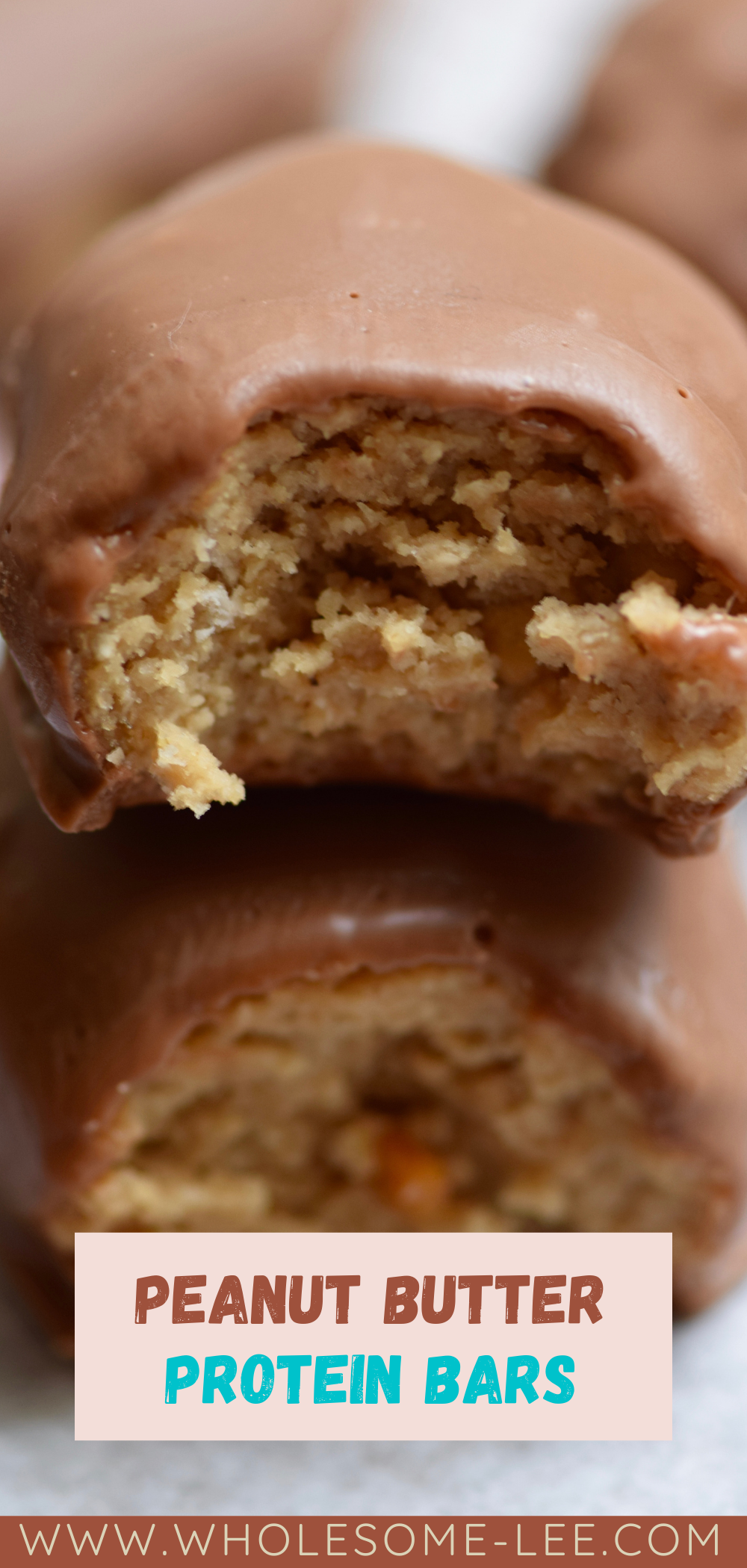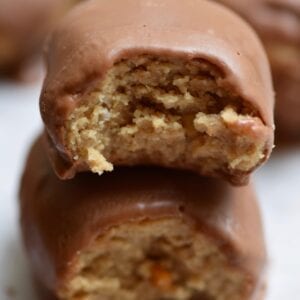 Copycat Reese's Peanut Butter Protein Bars
Wholesome Lee
The most delicious no bake copycat Reese's peanut butter protein bars! This one bowl recipe is super quick and easy to make, and you need little to no equipment! The perfect tea time treat or after dinner snack!
Ingredients
2 cups oat flour 208g
⅓ cup vanilla protein powder OR almond flour 118g
3-4 tbsp granulated sweetener of choice
½ cup peanut butter or nut butter of choice 129g
½-1 cup milk of choice Depending on your protein powder! Whey protein needs less water, and pea protein needs more. Slowly add your milk until you get a nice dough that you can roll with your hands.
Instructions
Place all ingredients EXCEPT for chocolate in a bowl and combine well until a dough forms. When adding milk, add 1/4 cup first and mix well and slowly add more milk as needed. Mixture should form a firm dough, so take care not to add too much milk. Whey protein often needs less milk than pea.

Scoop a tablespoon of the mixture into your hands and roll into desired shape. Recipe should make 18 mini bars/eggs.

Place on a baking tray lined with baking paper and set aside

Using a double boiler or microwave melt chocolate and set aside

Dip your rolled dough into your melted chocolate and scoop out with a fork. Place back onto the lined baking paper. Repeat until all your dough has been covered.

Place in fridge for 10-15 minutes until chocolate has hardened.

Enjoy!