Choc-chip Protein Cookie Recipe
4 Ingredient high protein single serving protein cookie recipe! With 17g protein per cookie (depending on your protein powder brand). Ideal for if you're looking for a delicious soft baked cookie in 10 minutes or less. Great for portion control so you don't end up eating the entire batch of cookies, as it only makes one cookie!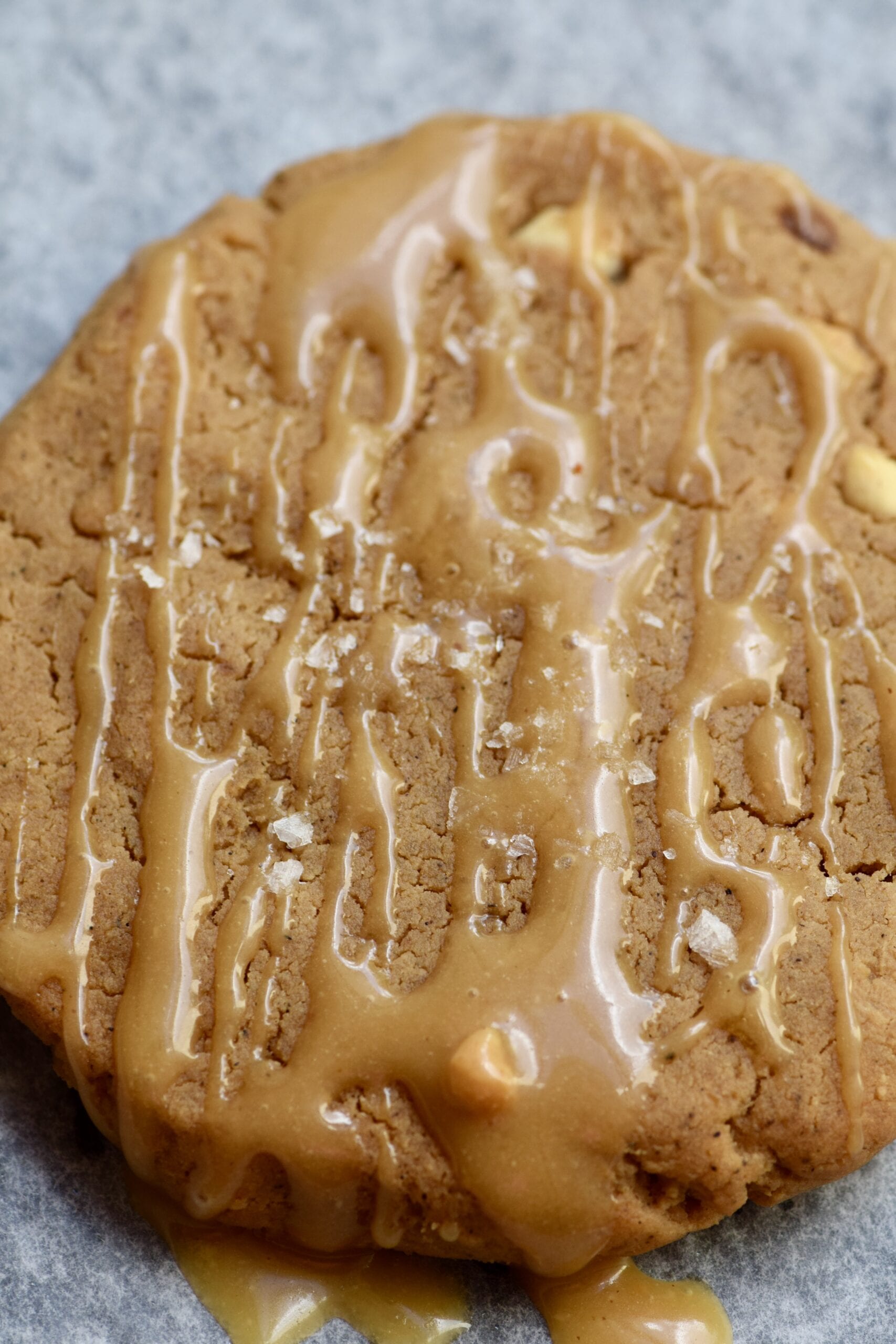 Protein Cookie Recipe
The most delicious cookie recipe, packed with healthy fats & protein. Protein & healthy fats are two of the most FILLING macronutrients, and I can see why.This cookie is honestly SO filling for this reason, and kept me full ALL afternoon as my mid afternoon snack. If you're looking for a low carb protein cookie recipe, simply replace the chocolate chips with sugar free ones!
My single serving soft baked protein cookie recipe is perfect for if you're looking for a cookie with a cake like texture. However, if you're looking for something a little more portable & doesn't need a ramekin to be made in, this cookie recipe is the best!
Peanut Butter Protein Cookie Recipe
What could be better than flavours like vanilla, creamy peanut butter and melty chocolate chips? If you have a peanut butter allergy, you could replace the peanut butter with any nut or seed butter of choice.
Out of all the nut butters, I have two personal favourites! The first being my beloved peanut butter (crunchy of corse) and the second being chocolate hazelnut butter!
.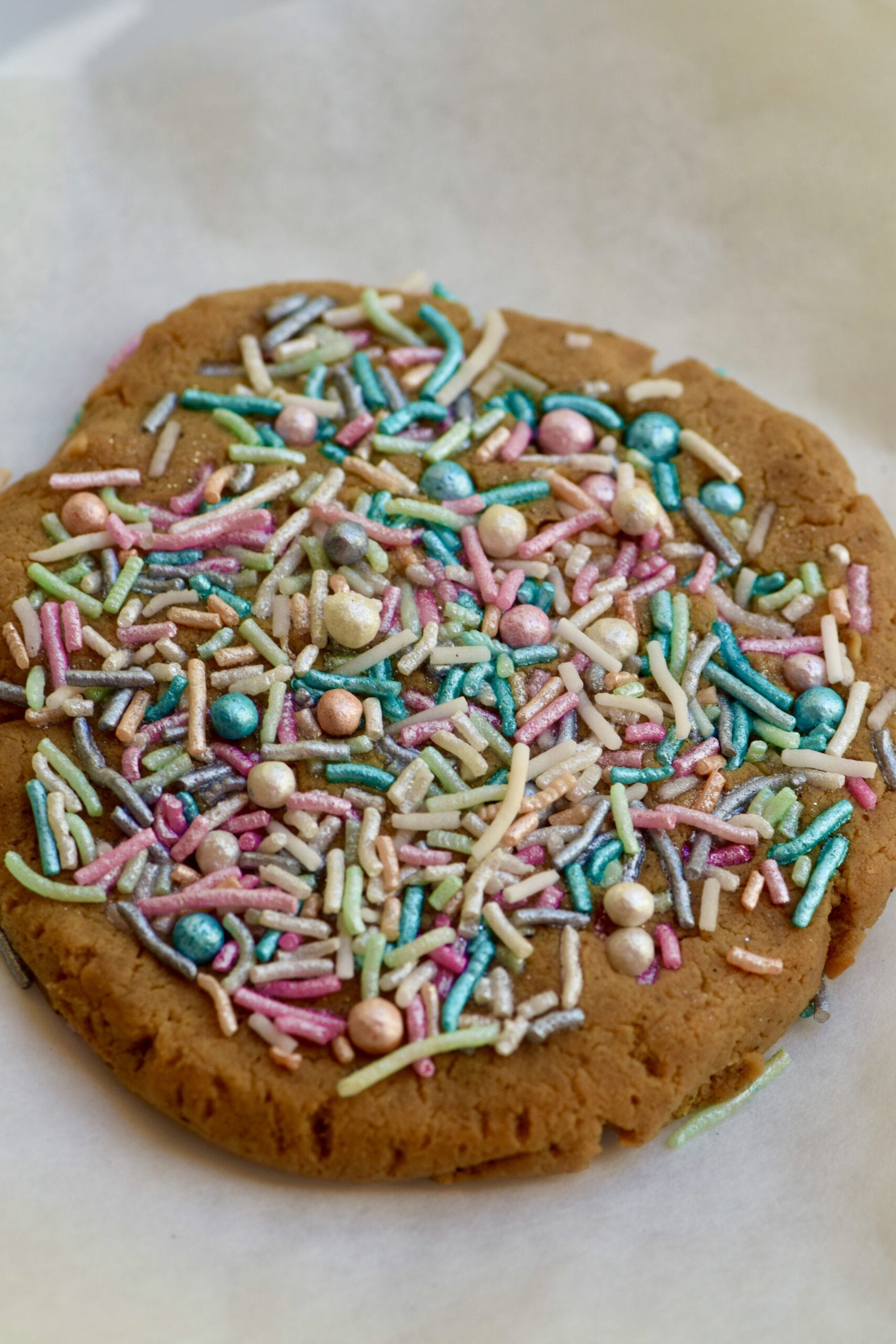 Breakfast Protein Cookie
Way better than store bought protein cookies, this protein cookie recipe is a fuss free easy recipe to make! HOWEVER, ONE VERY IMPORTANT FACTOR TO ENSURE SUCCESS: You HAVE TO like the TASTE of your protein powder! A lot of protein powders out there can be very overwhelming, so first find a protein powder brand that YOU personally enjoy. Protein powder is used as the base here for the cookie, so if it tastes bad your entire cookie will be awful!
Now the second important factor is the type of protein powder you use. It will also determine how much milk you will add to the recipe (if any!). This protein cookie can be made with any type of protein powder, but the results will differ! It also makes use of vanilla & sweetened protein powder. So if you have unflavoured protein powder, you may need to add more sweetener and vanilla extract to your dough.
Type of Protein Powder
My first choice is pea protein powder. With this you need about 2 tbsp milk or water of choice. You're looking for a firm cookie dough, so my suggestion would be to add 1 tbsp slowly, then the second if needed. This gives a delicious soft baked texture!
Brown Rice Protein Powder is another one that is great for baking and it gives your baked treats a delicious soft flavour.
Casein protein powder is another great protein powder that can be used for baking as it yields a delicious and fluffy result.
Whey protein powder is the most common protein powder that people ask me about. I typically don't recommend baking with it-because it yields the worst texture. It often results in overly spongy baked goods, and often cause a dry texture (so you may need to bake it for less time if using whey). However, you CAN use whey protein powder for this recipe, you may just have to watch your cookie a little extra and make sure that it doesn't get dried out!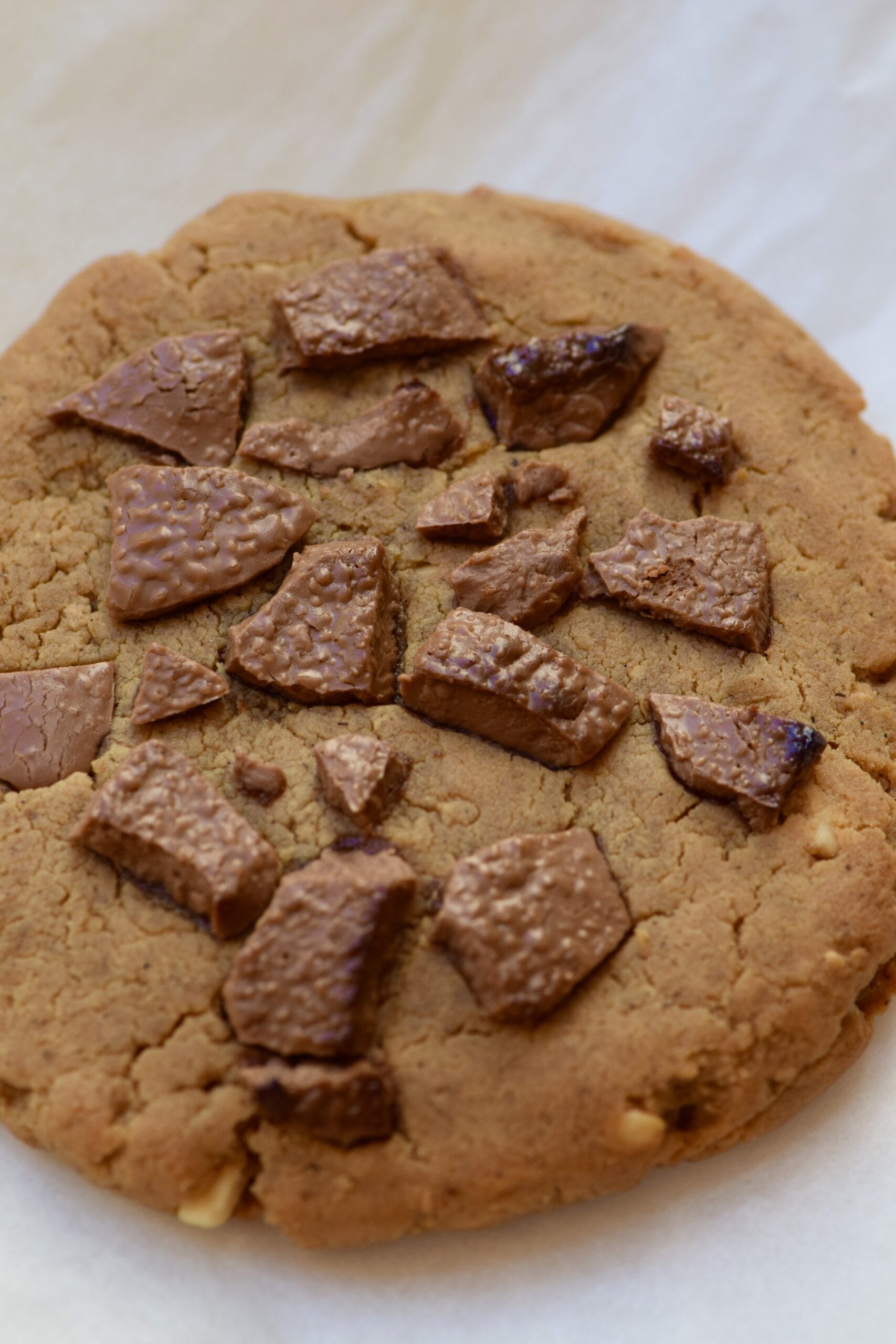 How to make the Protein Cookie Recipe 
                                                                               Ingredients:
Protein Powder: Vanilla flavoured & sweetened works best! If you only have unflavoured, add 1 tsp vanilla extract and 1-2 tsp sweetener of choice
Peanut butter: This can be replaced any nut or seed butter of choice. 
Granulated sweetener of choice: I used monk fruit, but any granulated sweetener or sugar will work
Milk  or water: Use any milk of choice or water 
Chocolate chips: Optional but highly recommended!
Method:
1.
 Mix all ingredients in a bowl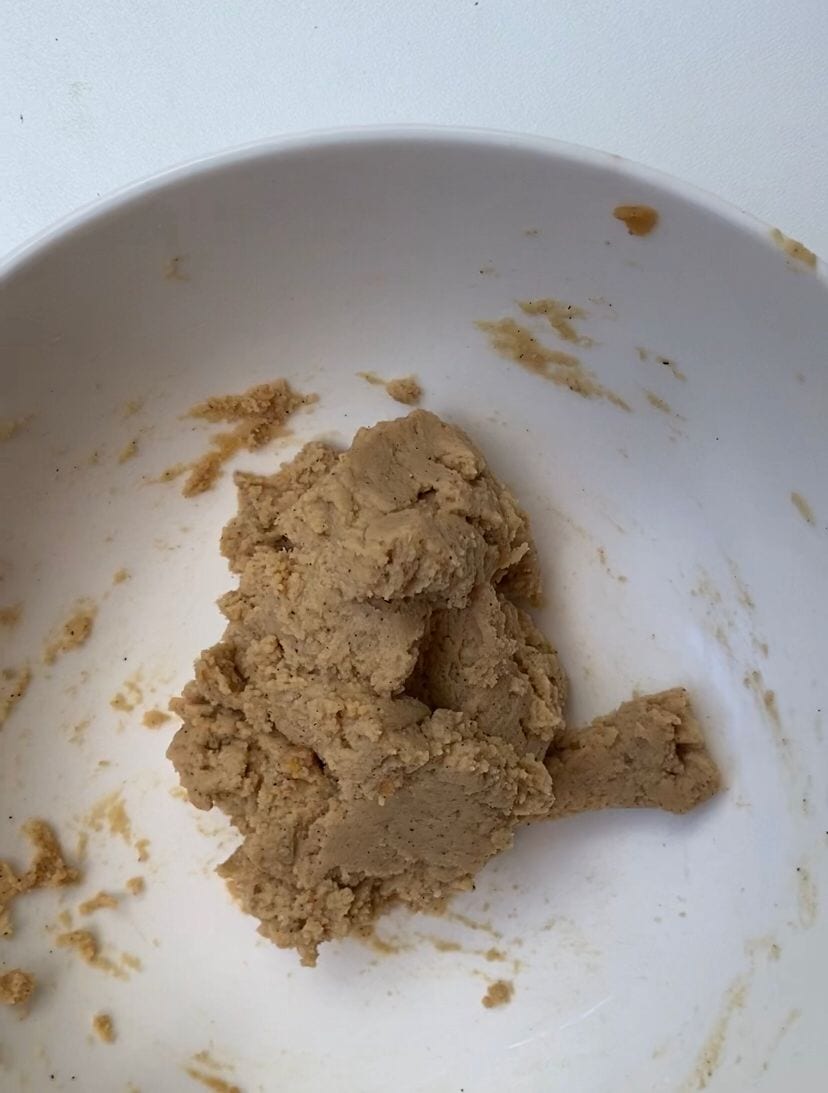 2.
Roll into a ball and place on a cookie tray. Press down using a fork or your hands to make a cookie shape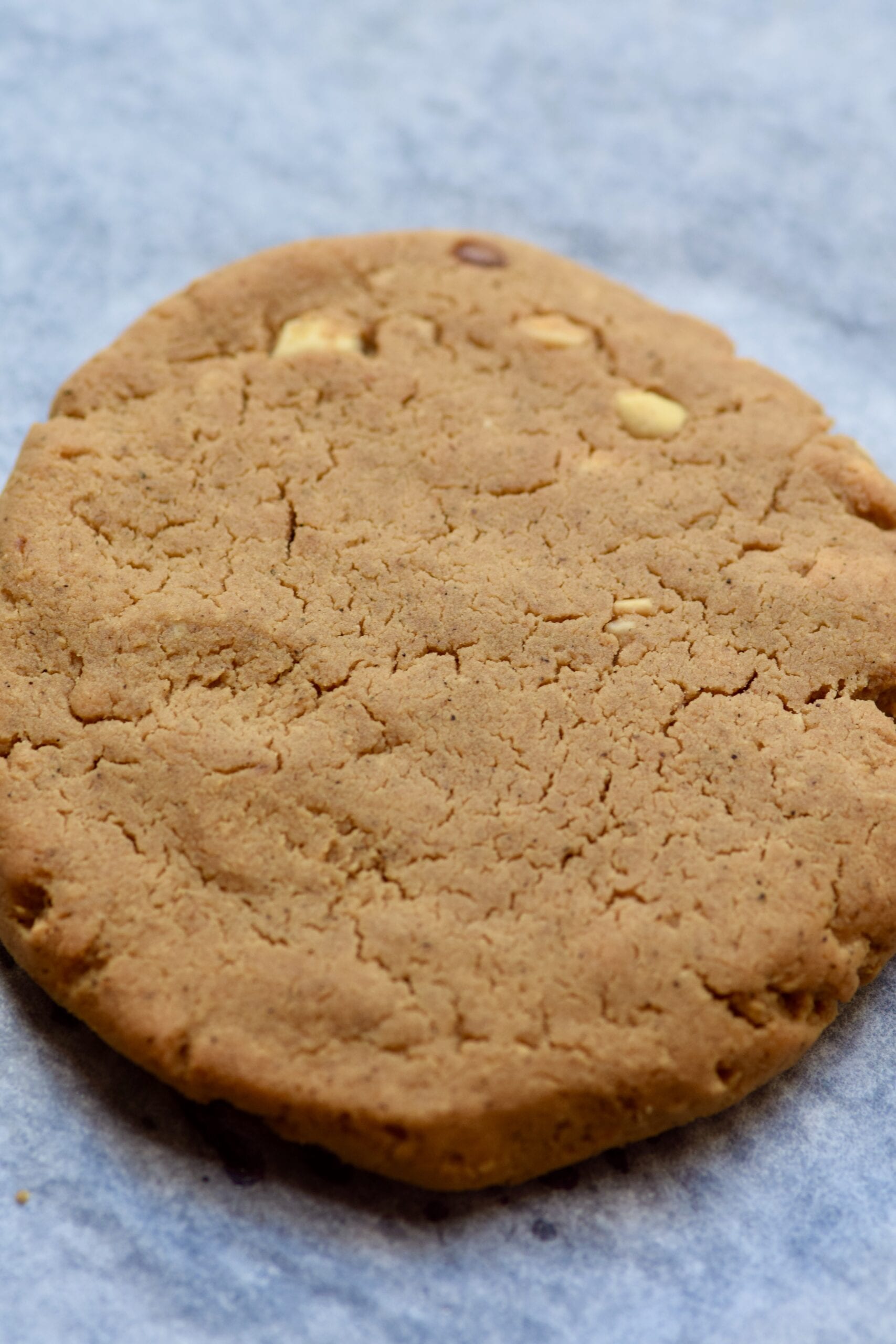 Protein Cookie Variations
 Want a different flavour for every day of the week? I got you! These protein cookie recipe toppers are delicious! My personal favourite is milk chocolate chip!
Sprinkles: Add 1 tsp sprinkles of choice

Caramel: Top with 1/2 tsp honey mixed with 1/4 tsp nut butter

Milk chocolate: Use milk chocolate chips
Salted Dark Chocolate: Add dark chocolate chips

Bounty: Add choc chips & dessicated coconut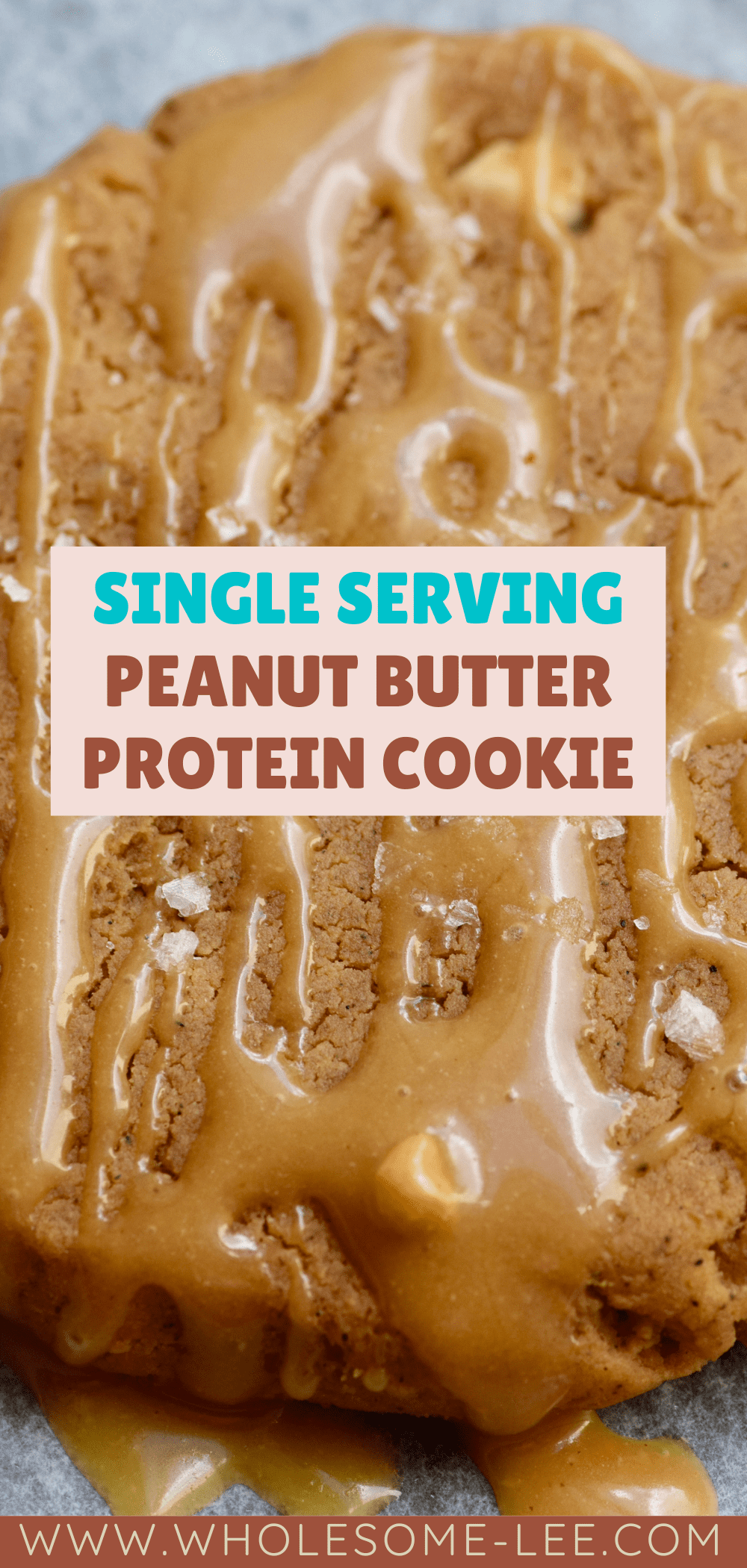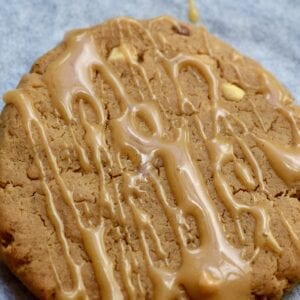 Single Serving Protein Cookie Recipe
Wholesome Lee
The most delicious 4 ingredient high protein single serving protein cookie recipe! With hints of peanut butter, this vegan, oil free, low carb recipe is a delicious healthy alternative! Perfect for when the craving strikes, and you're looking for something to satisfy your sweet tooth! Each cookie is around 17g protein, depending on the protein powder brand!
Ingredients
2 tbsp vanilla protein powder of choice
1 tbsp peanut butter or nut butter of choice
1/2-2 tbsp water or milk of choice *See notes
1 tbsp chocolate chips (optional but recommended!)
Instructions
Preheat your oven to 180 degrees celisus.

Mix all ingredients for the cookie in a bowl.

Line a cookie tray, or oven proof plate with baking paper. Place your cookie dough onto it and press it down forming a cookie shape

Bake for 8-10 minutes until the cookie is golden. It should still be a little soft inside

Top with optional topping!
Notes
Depending on the type or brand of protein powder you use, the amount of water/milk differs! I used pea protein powder which needed a full 2 tbsp. However, whey protein powder didn't even need water/milk. My suggestion would be to mix it without the water/milk first, then gradually add the water/milk (1/2 tbsp at a time) until it makes a nice thick cookie dough.
Nutrition
Calories: 150kcalCarbohydrates: 4gProtein: 17gFat: 9.1gFiber: 1gSugar: 1.7g