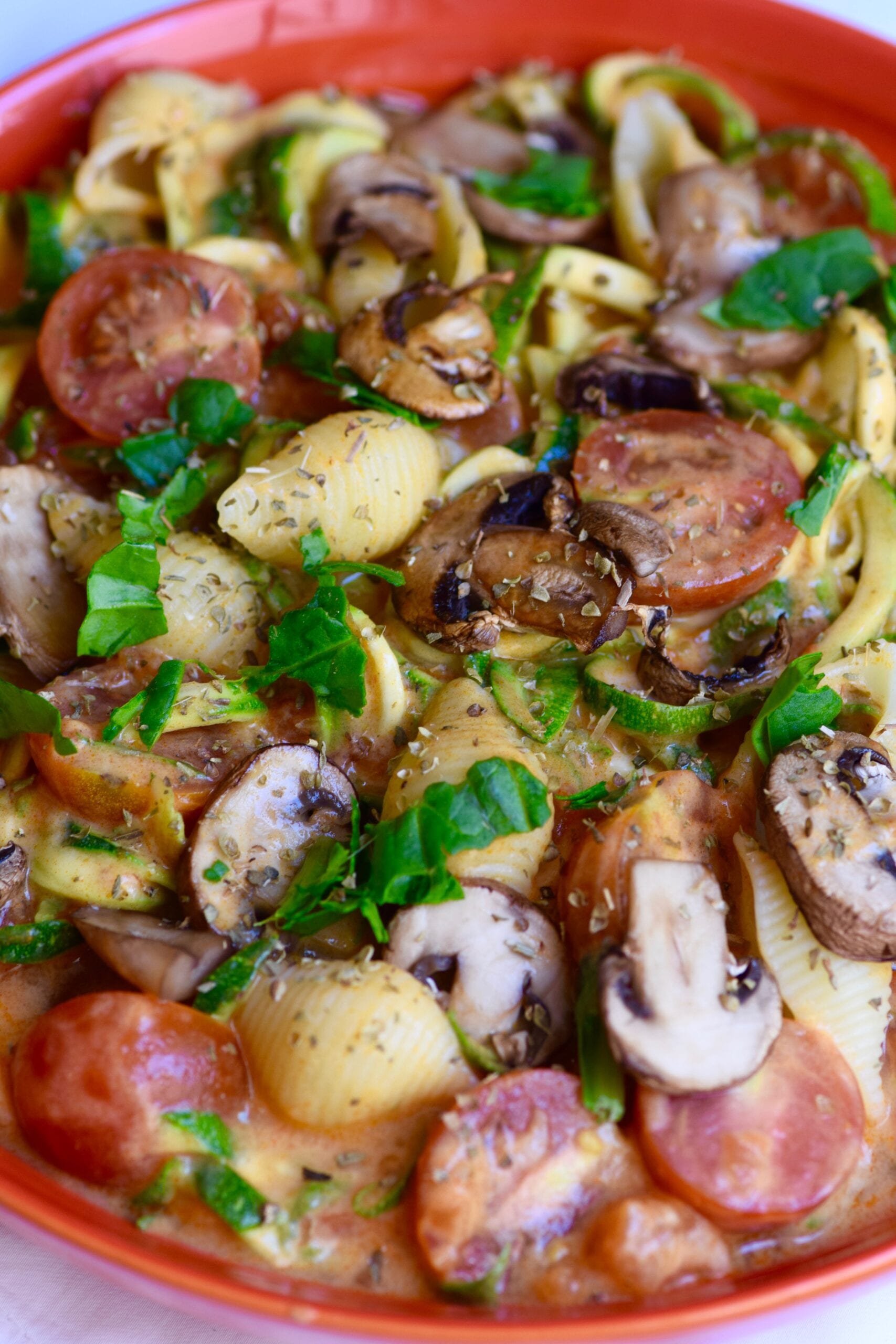 This creamy pasta is the perfect high volume, low calorie meal hack. Perfect for anyone looking to lose weight, and still enjoy their pasta! With all the added veggies, it packs in the fibre and is a delicious quick and easy meal! Enjoy as is, or add a protein of choice! I love adding tuna to make a tuna creamy pasta.
Creamy Tomato Pasta
Now don't get me wrong, I absolutely adore pasta and at least once a week i'll make a pasta dish on my dinner menu! However, what i have found is that often after eating a large bowl of pasta, I feel extremely bloated and sluggish! This often leads to discomfort for the rest of the evening, and i'm left not feeling energised like my normal self!
This got me thinking…. how can I get the same deliciousness of pasta, but try and incorporate more veggies and volume! This recipe is honestly SO delicious, and Mik actually prefers it to the normal pasta variety! Low fat, high fiber and packed with veggies, you wouldn't believe it given how creamy and delicious it is. This creamy tomato pasta recipe is so quick and easy to prepare, and has an added protein boost!
Low Carb Pasta Recipe
I am always tooting the horn of 'moderation' and including all foods in your diet. Why do I still include some pasta in this recipe? Well… firstly pasta is delicious! I really find the entire dish so much more hearty and enjoyable! Secondly, wholegrain pasta is a delicious high fibre option! I like to cook mine al dente not only because of taste but its also great for your gut microbiota (double win!). Overall, this is a delicious low carb pasta recipe that allows you to STILL enjoy your pasta, while having added bonuses of extra veggies fibre and added deliciousness!
Low Calorie Meal Recipes
One of my biggest successes during weight-loss was making lower calorie meal versions of my favourite meals that were STILL tasty and delicious! I would honestly be shocked to see some of the ingredients used in traditional varieties, and found it to be hugely unnecessary. Take creamy tomato pasta for example, often a bowl of pasta is around 150g raw pasta, then the added creamy sauce is made up of heaps of cream, oil and butter! Now, don't get me wrong i'm sure that this is delicious and can be enjoyed in moderation. However, eating foods like this and not even being aware of what they contain or how calorie dense they really are can be a huge factor when it comes to weight-loss. This is why I created my "You Can Beat Your Cravings" guide which has loads of low calorie alternatives to your favourite sweet treats and desserts!
My goal for this recipe is for you to still enjoy the creaminess of tomato pasta, but without all the unnecessary extras!
How To Make Creamy Tomato Pasta:
Step 1: Cook your veggies in a pan
Spray a non stick pan with some oil spray. Add your garlic & mushrooms and cook on a medium heat until mushrooms start to brown. Add your spiraled zucchini and crushed tomato. Allow to cook for 3-4 minutes until zucchini is tender but still has a bite. Pour into a large bowl.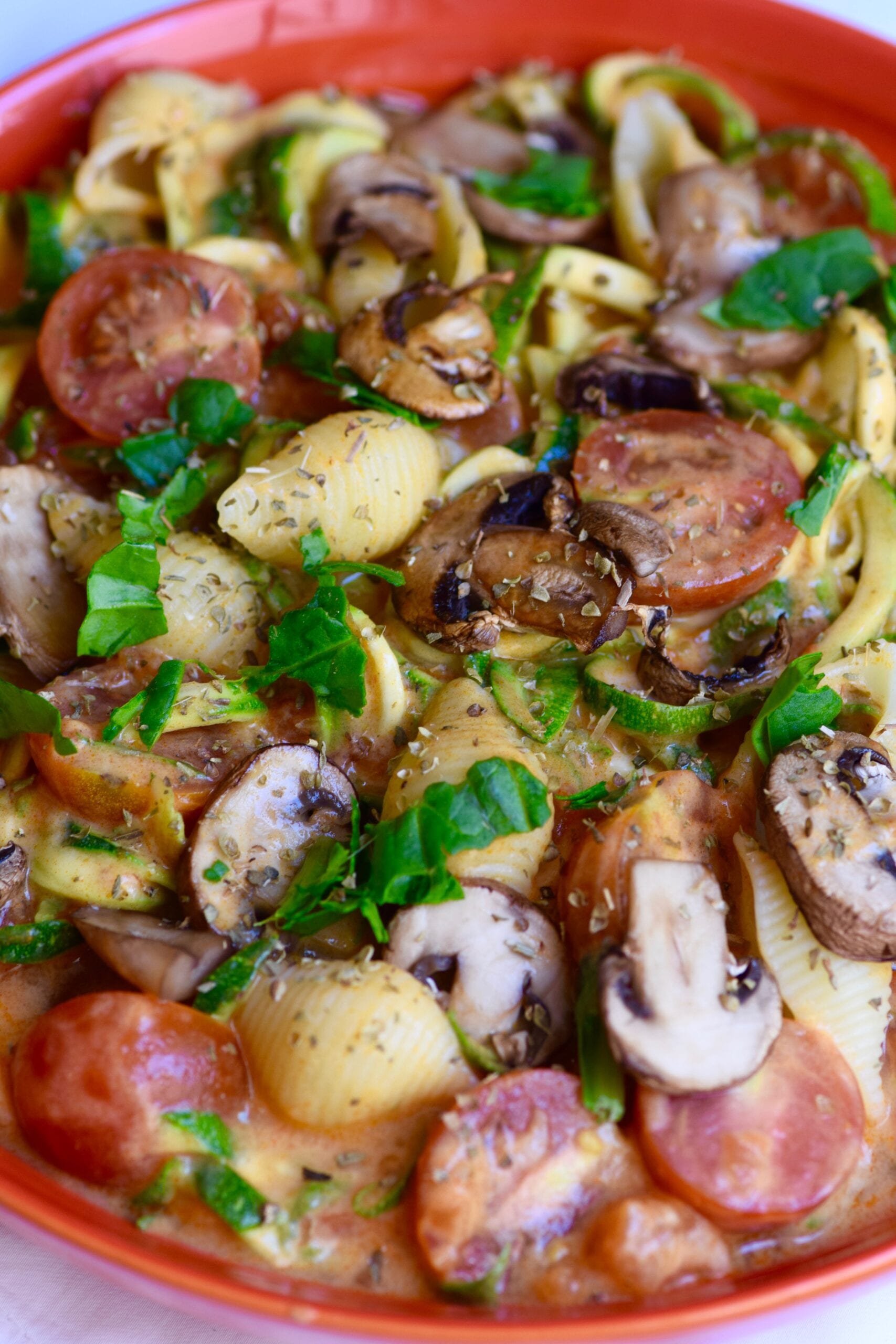 Cook your pasta according to the package instructions until al dente (I like to boil mine on stovetop with some salt).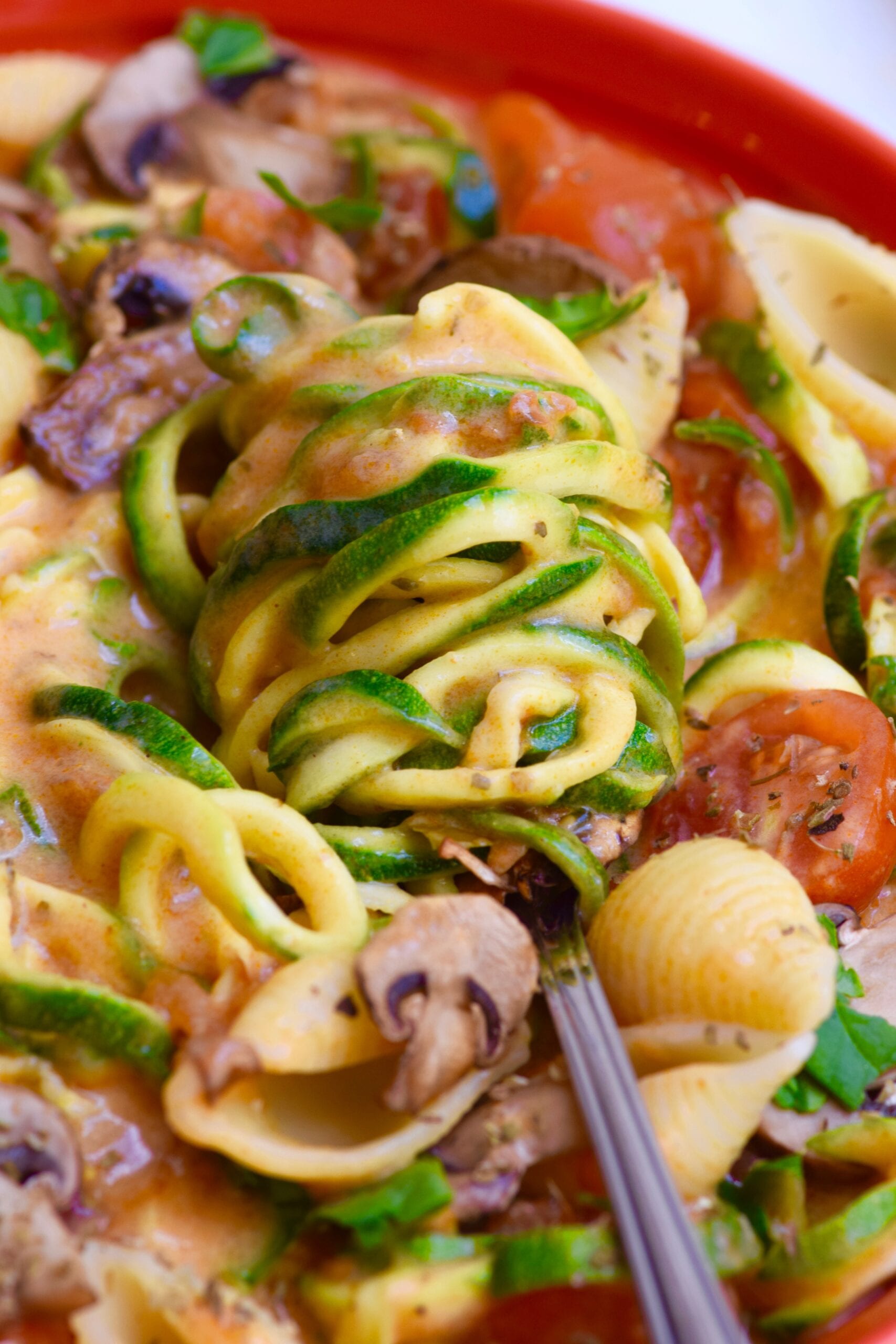 Step 3: Mix in your yoghurt & garnish
While waiting for the pasta to cook, add your yoghurt to your zucchini pasta mixture. Mix until well combined and creamy. Once pasta has cooked through, pour into your creamy zucchini pasta. Top with fresh basil, oregano, (optional) chili flakes, salt & pepper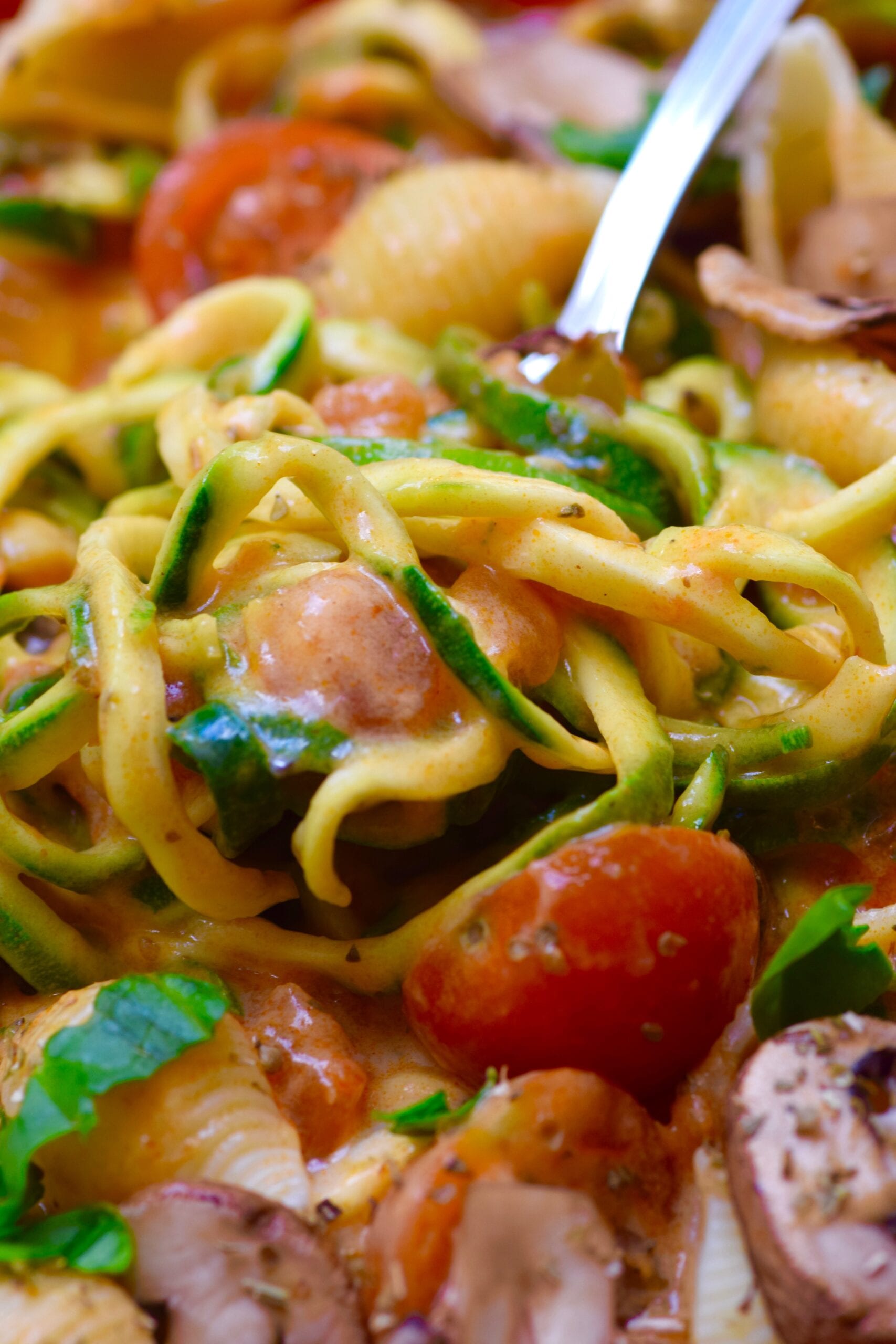 Serving Suggestions:
This creamy tomato pasta can be served immediately or be stored in the fridge in an airtight container! Delicious hot or cold.
Pair it with an optional protein of choice! Delicious with added chicken, chickpeas or tuna.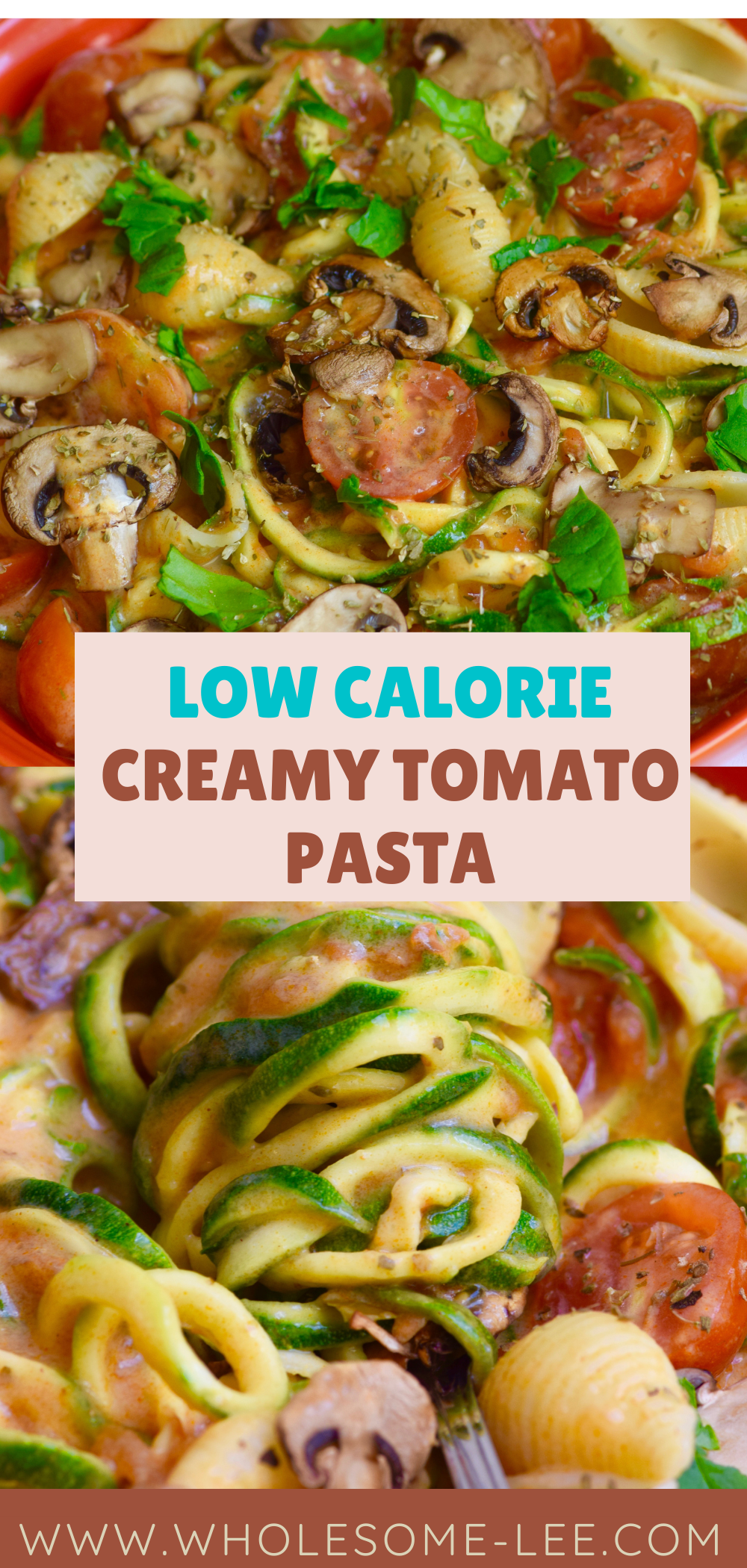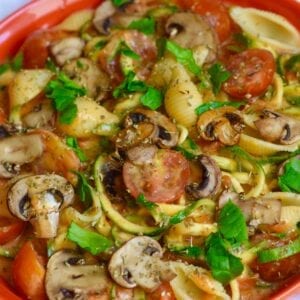 Creamy Tomato Pasta
Wholesome Lee
The most delicious low calorie creamy tomato pasta. This high volume low calorie pasta recipe is packed with vegetables for added volume and fibre
Ingredients
2 cups spiralled zucchinis 248g
1 tbsp olive oil
1 garlic clove
½ cup mushrooms 35g
½ cup cherry tomato 74g
⅛ cup pasta 13g
½ cup canned crushed tomatoes 121g
3 tbsp low fat plain yoghurt
1-2 basil leaves
Instructions
In a non stick pan heat your olive oil on a medium heat and chopped garlic. Add your mushrooms, and cook until browned.

Add your cherry tomatoes and zucchini spirals and cook for 1 minute. Add your canned crushed tomatoes and turn your heat down to a low heat. Simmer until zucchini is slightly cooked but still has a bite to it. Take off heat and set aside.

Prepare your pasta according to package instructions. Once cooked through, drain and set aside.

Mix in your yoghurt into your zucchini mixture forming a delicious creamy sauce. Add your pasta and top with fresh basil, oregano salt & pepper.
Nutrition
Calories: 303kcalCarbohydrates: 34.6gProtein: 11gFat: 15.8gFiber: 6.5gSugar: 17.8g