The ultimate fudgy brownie cookies that are 41 calories and one-bowl, no butter, no flour is almost too good to be true. They are crunchy on the outside and soft and gooey on the inside. Any sweet-tooth chocolate lovers dream that is looking for a healthier alternative and trying to lose weight!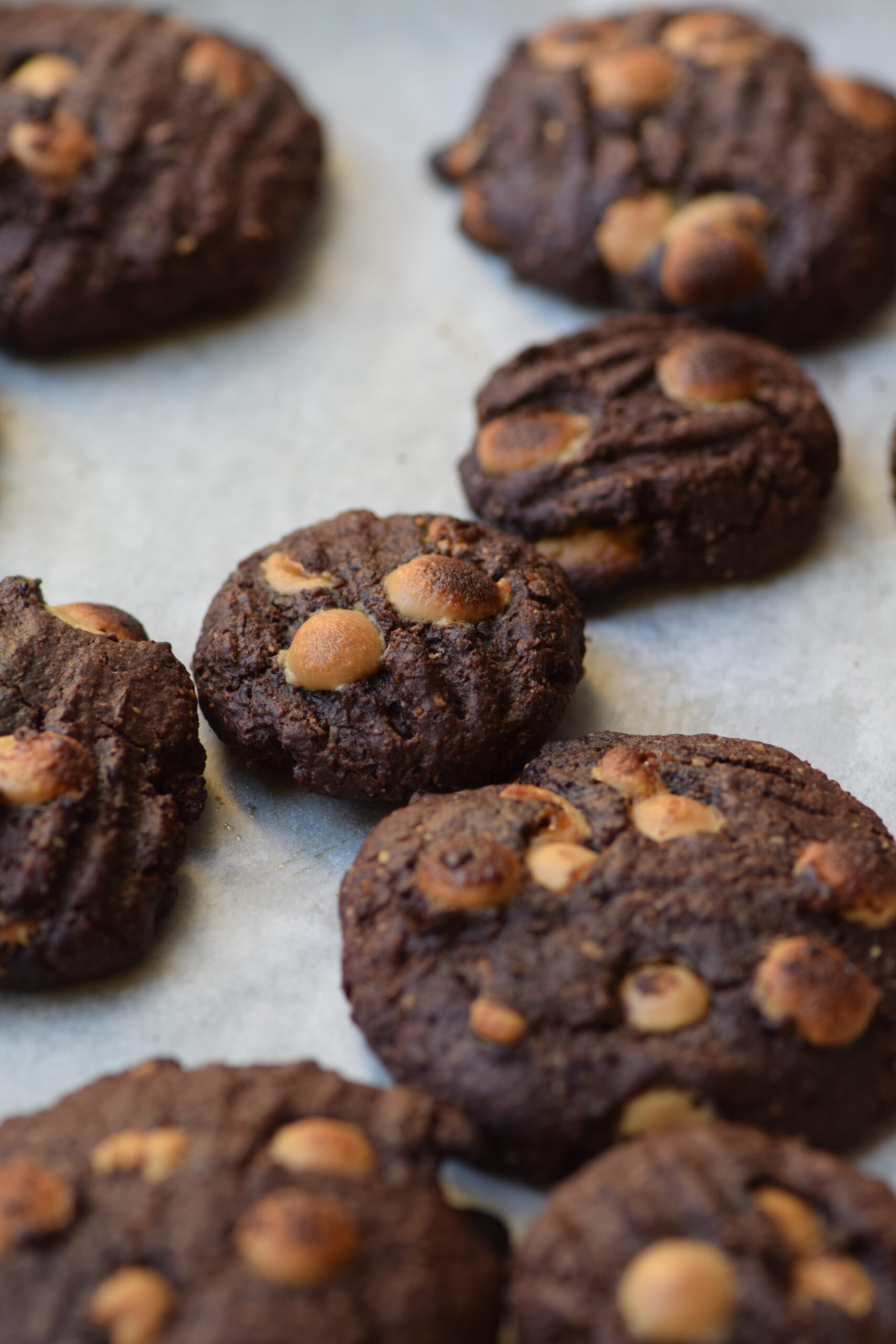 Caramel chocolate chip cookies
I recently came across caramel chocolate chips, and HAD to try them! I am a big caramel fan, and as I was making this recipe just found myself reaching for the peanut butter and chocolate flavours to add to the mixture and wow wow wow! The result was truly incredible! It's a similar take on my fudge double chocolate chip cookies that everone always loves, but with the added flavours of caramel and peanut butter. These peanut butter caramel chocolate chip cookies are a MUST if you're a caramel fan like me!
Peanut butter caramel cookies
If you know me personally- or have my You Can Beat Your Cravings Guide, you know that I very seldom do more than one bowl recipes! This is because I am actually a really messy person and hate cleaning up!
As a kid, my dad would always clean up after me and i developed this terrible habit of being as messy as possible!
Now that I'm all grown up and live with my dear Mik, there is no daddy here coming and running after me cleaning up (haha!)
Making my recipes one-bowl helps keep mess to a minimum. But they are also ideal because when I first started my recipe blog, it was from my tiny dorm room and I was still in college.
So just like all my other recipes: this one-bowl simple recipe that only requires you throw in all your ingredients and mix them was born! It was fantastic cleaning the bowl and not having to clean the whole kitchen!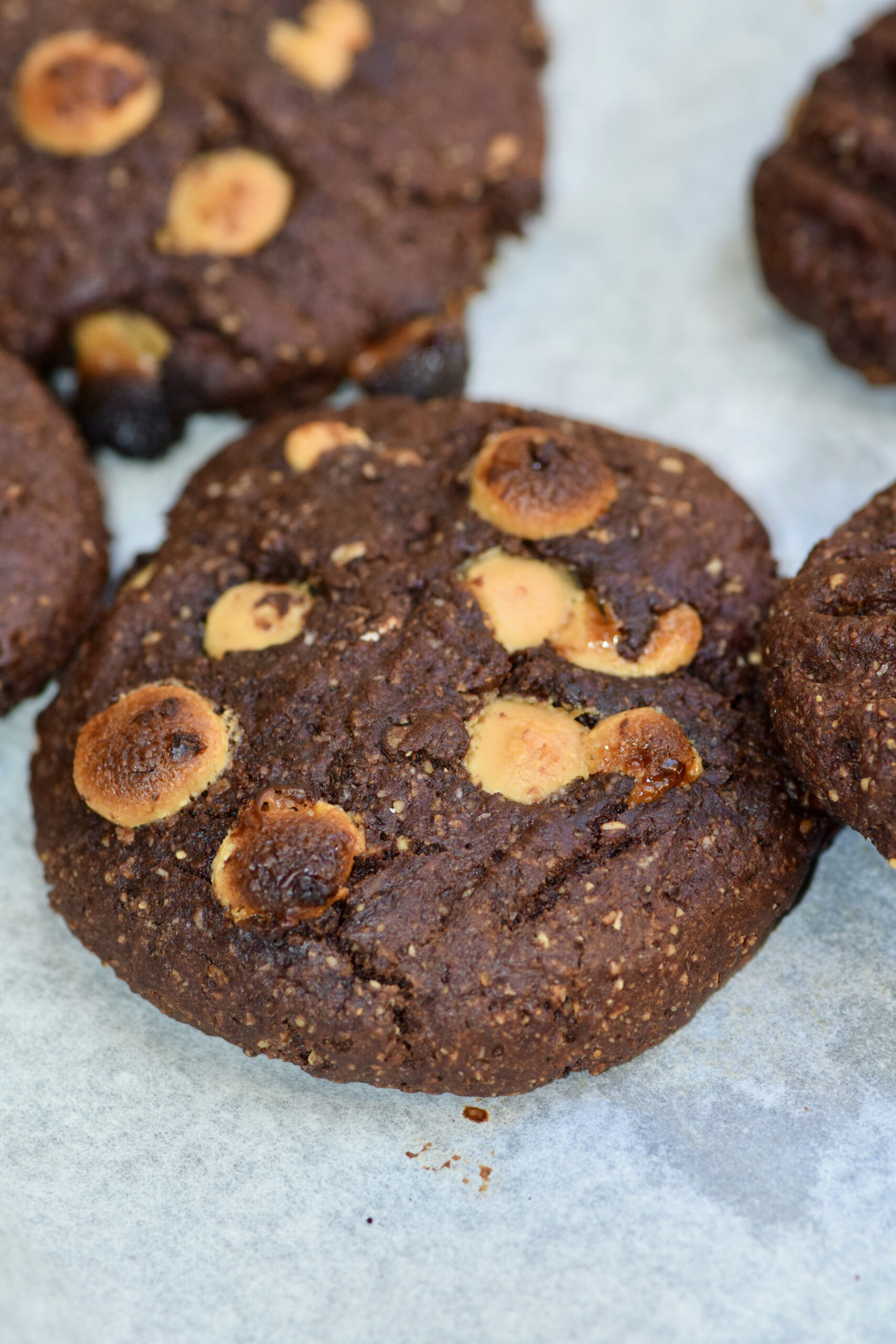 Storing Peanut Butter Caramel Chocolate Chip Cookies
Store cookies in an airtight container! To make it last longer, you can store it in the fridge and heat it up for 15-20 seconds in the microwave to have a warm gooey cookie.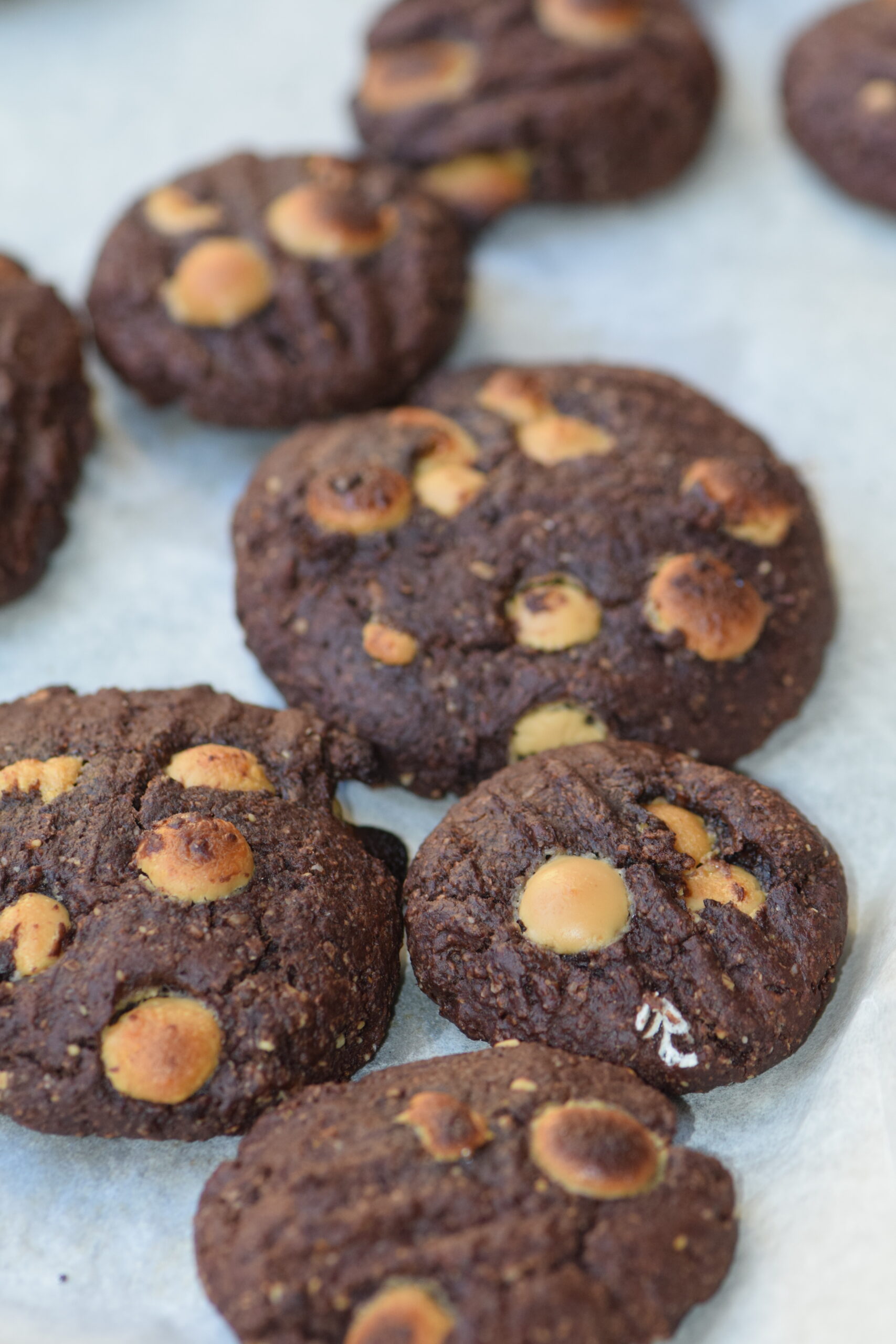 How Do You Make Fudgy Brownie Cookies? 
                                                                               Ingredients:
Oat flour: I make my own by blending oats in a high speed blender to make a flour consistency.
Cocoa powder: Adds to the delicious chocolate consistency
Granulated sweetener of choice: I used a calorie free monk fruit sweetener, but any granulated sugar could work.
Baking soda: For a light fluffy texture
Peanut butter: You can substitute this for any nut or seed butter of choice
Egg: Can be replaced with a flax or chia egg if vegan
Caramel extract: You can subs this with vanilla if you don't have caramel
Apple Sauce or yoghurt: To give it that extra fudgy texture!
Caramel Chocolate Chips: The secret ingredient
Method:
1.
 Add all ingredients into a mixing bowl. Mix well until a thick dough forms. It may look a little dry at first but keep mixing.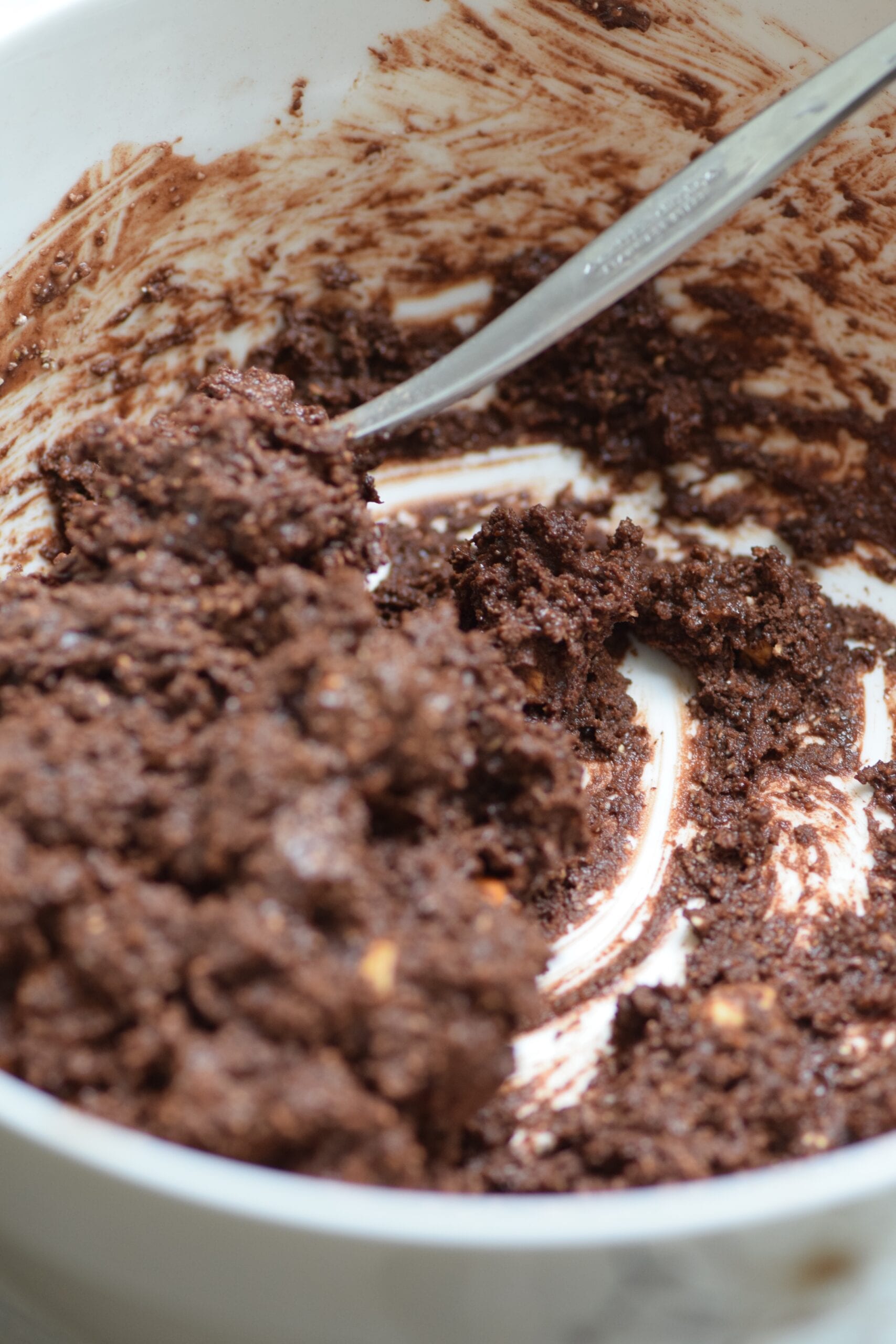 3.
Roll and press down cookie dough balls onto lined cookie sheet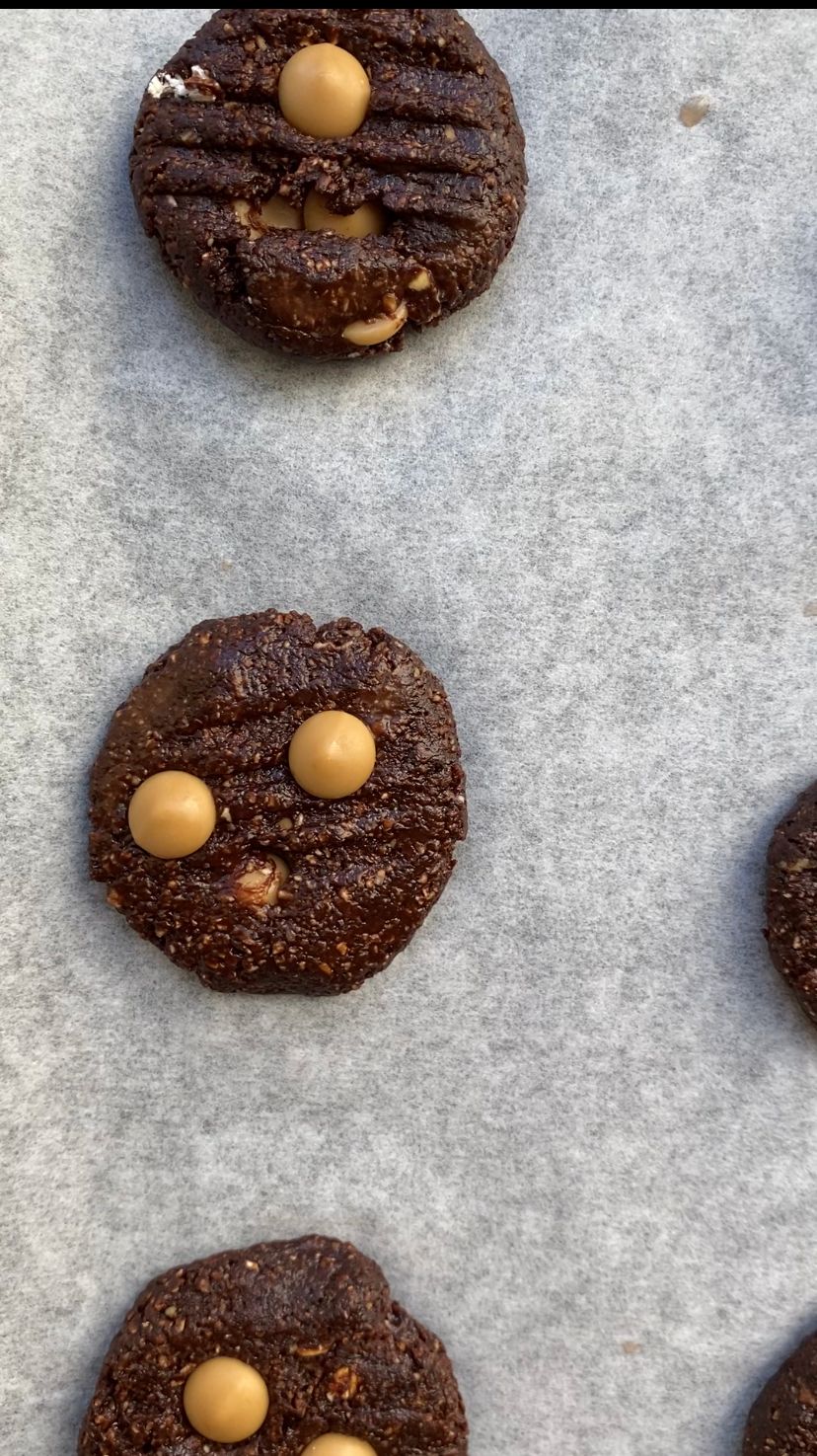 4.
Bake in oven and allow to cool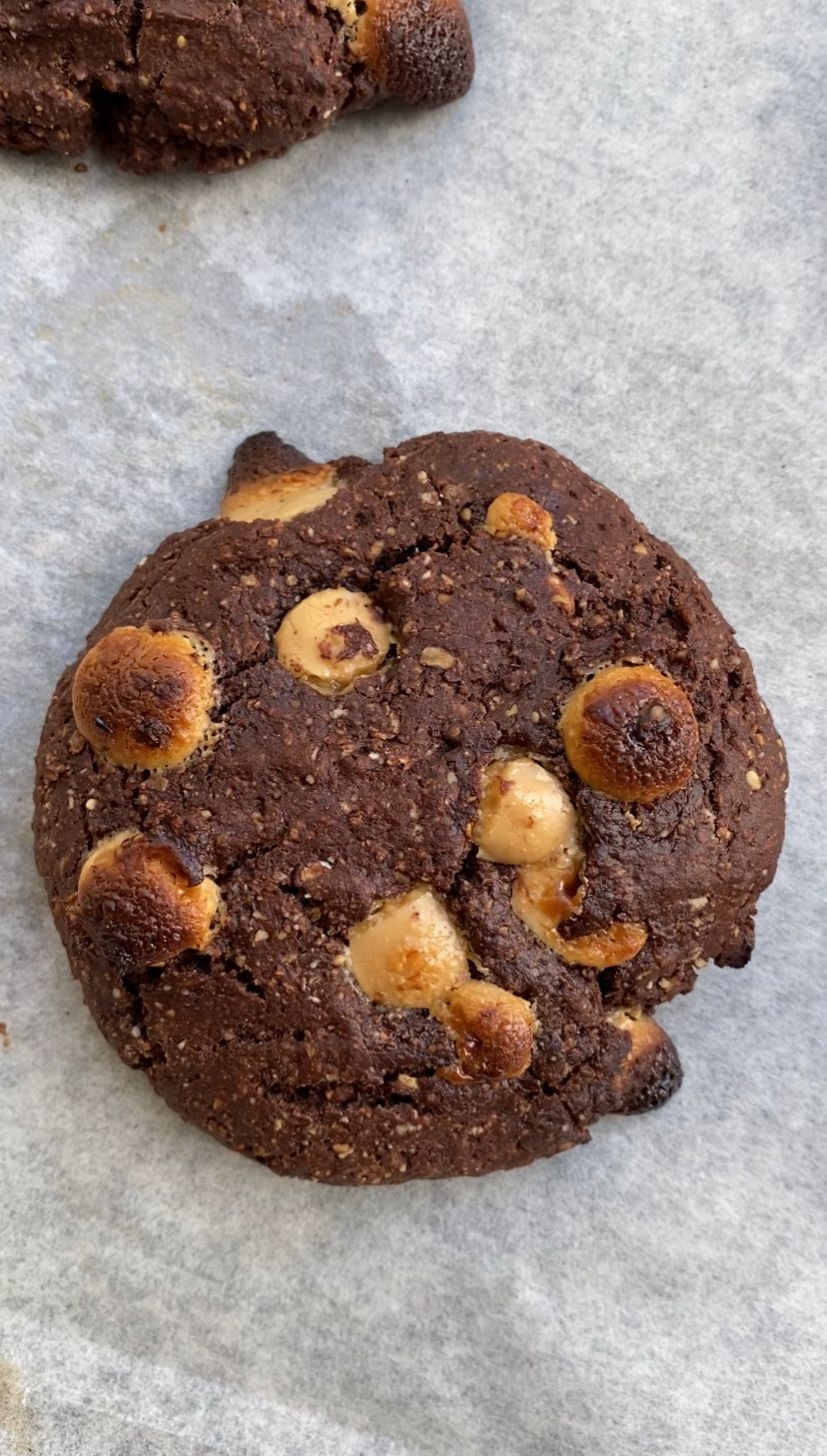 5 Peanut Butter Caramel Cookies
This cookie is delicious as is, but if you want a little more-try out these toppings!
Dark chocolate: add some dark chocolate chips
Milk chocolate: add some milk chocolate chips
Cinnamon:Top with some cinnamon
Sea salt: Add a sprinkle of sea salt for that sweet salty combo
Nutty crunch: Top cookies off with crushed nuts of choice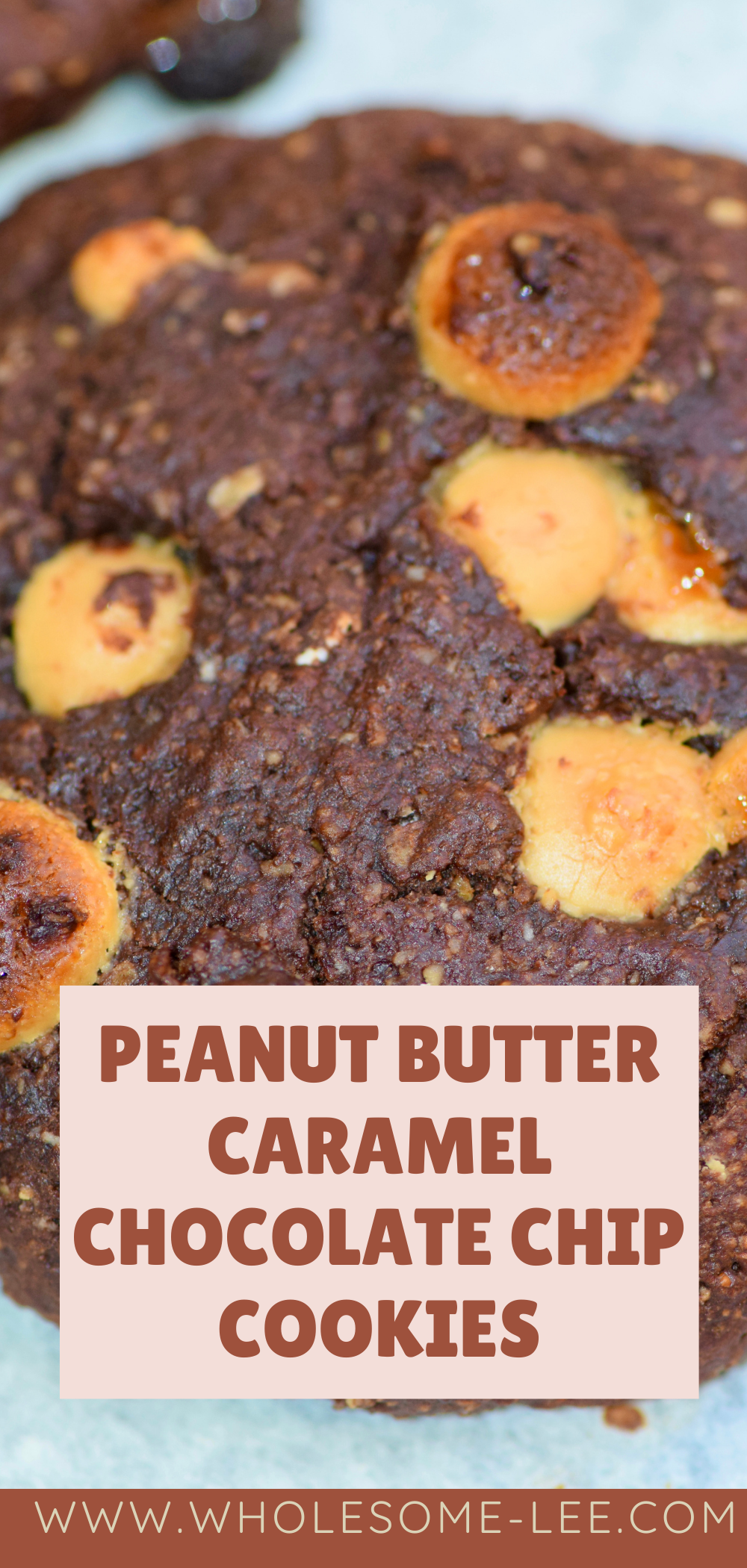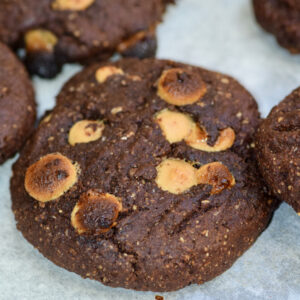 Peanut Butter Caramel Chocolate Chip Cookies
Wholesome Lee
I like to call this cookie the 'everything cookie'. Just because it has all my favourite things in one cookie. These peanut butter caramel chocolate chip cookies are honestly the most deliciously addictive tea time treat or snack! Made with oatmeal, they are the perfect cookie snack!
Ingredients
1½ cups oat flour 156g
½ cups cocoa powder 43g
½ cup granulated sweetener of choice 100g
½ cup nut or seed butter of choice 112g
6 tbsp apple sauce or yoghurt 92g
2 eggs
½ cup caramel chocolate chips
½ tsp baking soda
1 tsp caramel/vanilla essence
Instructions
Preheat oven to 180 degrees celsius. Line a cooke tray with baking paper

In a mixing bowl, combine all ingredients. Batter may look a little dry at first, but keep mixing until it forms a nice thick batter. 

Using a small cookie scooper, scoop out the mixture and place on your lined tray. Use a fork to press it down into a cookie shape.

Bake in the oven for 10 minutes, until the edges start to slightly crisp and the middle is still fudgy. Take out of oven and allow to cool fully. ( Be sure not to over bake otherwise it won't be a fudgy texture!)