Cookie Dough Protein Cookie Recipe
 Probably one of my favourite recipes. Single my vegan protein cookie dough mug cake was such a hit, I thought of making a high protein version that packs in up to 25g protein per serving!
This recipe makes the most delicious, gooey protein mug cake that tastes like eating a soft baked protein cookie. With strong hints of vanilla, and gooey chocolate chips- you would never guess that this is a healthier version of chocolate chip cookies!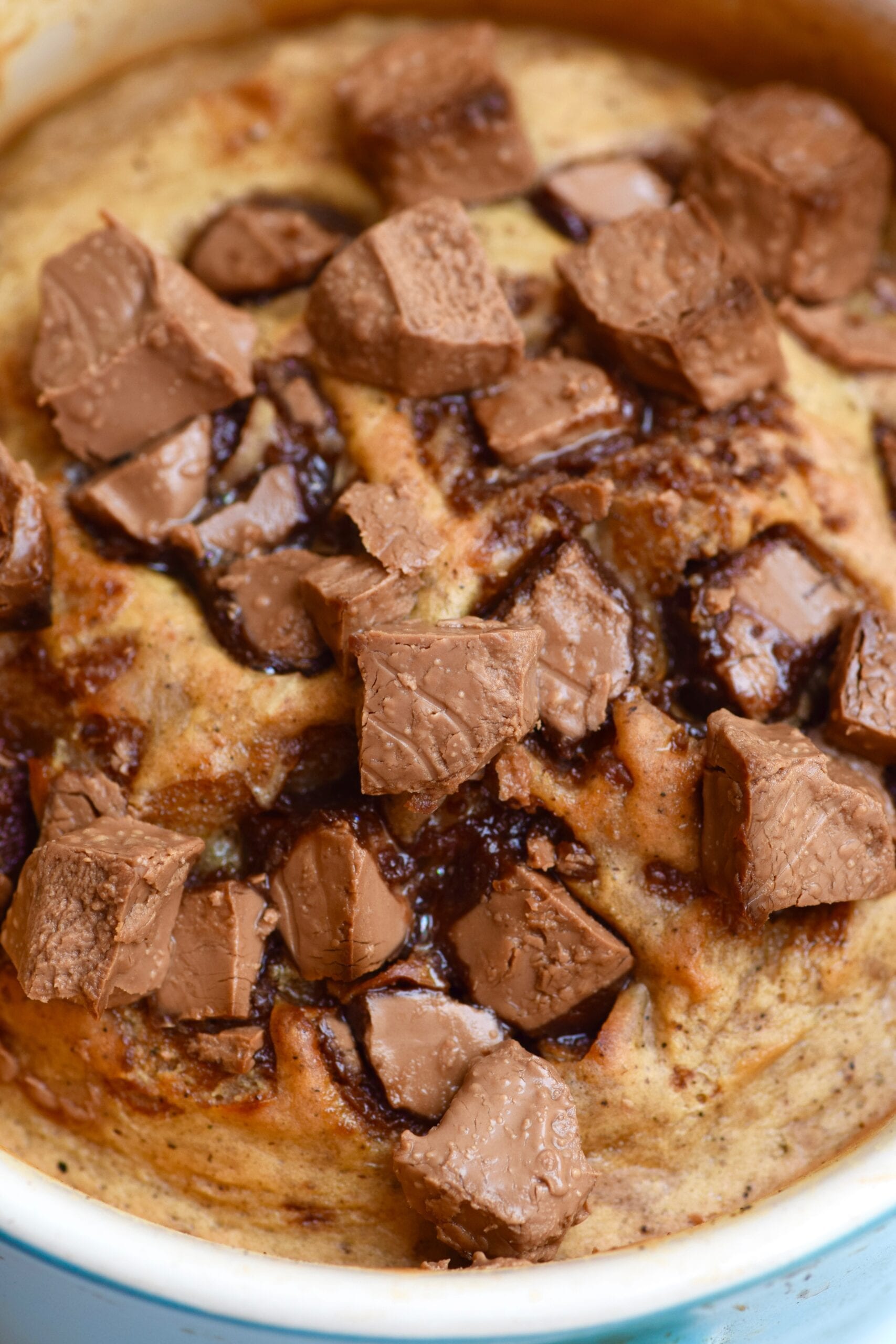 Protein Cookie Recipe
This is currently my favourite breakfast! It is high protein, and so so good as a pre-workout or post workout treat!
Something I must say, is that this recipe is heavily dependent on your protein powder and its taste! If you don't have a good tasting protein powder- this recipe won't taste good. So, make sure you actually enjoy your protein powder flavour!!
What Protein Powder is Best?
As per usual, I recommend a good quality pea protein powder. Not all protein powders yield the same texture and some protein powders will need more or less milk depending on the brand. I used a pea-based protein powder that needed around 6 tbsp milk, but it can range anywhere from 4-6 tbsp so play around. You're looking for a slightly runny texture.
When it comes to baking with protein powders, different types of protein powders yield different results (taste and texture wise). Most protein powders will technically work for these recipes, but I have seen best results with pea-based protein powders.
Pea protein powder: a delicious caked gooey texture! Best for baking as it yields a delicious soft texture. Vanilla flavoured protein is best, because it adds flavour to the recipe. If you have an unflavoured one, I suggest adding extra vanilla extract, and sweetener of choice or your protein cookie will be extremely bland!
Brown Rice Protein Powder is another one that is great for baking and it gives your baked treats a delicious soft flavour.
Casein protein powder is another great protein powder that can be used for baking as it yields a delicious and fluffy result.
Whey protein powder is the most common protein powder that people ask me about. I typically don't recommend baking with it-because it yields the worst texture. It often results in overly spongy baked goods, and often cause a dry texture (so you may need to bake it for less time if using whey)
You may also like my Chocolate Chip Baked Oatmeal
.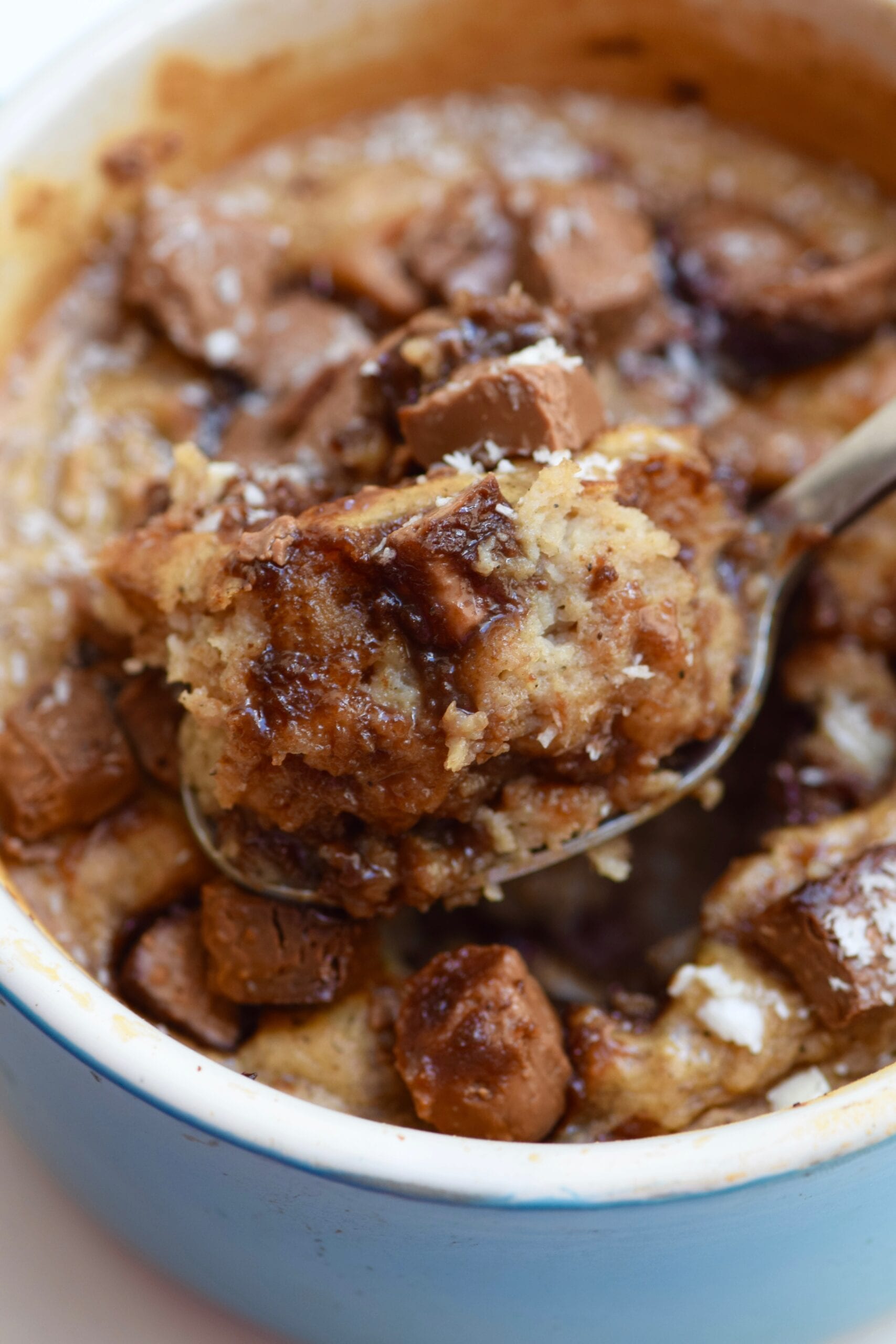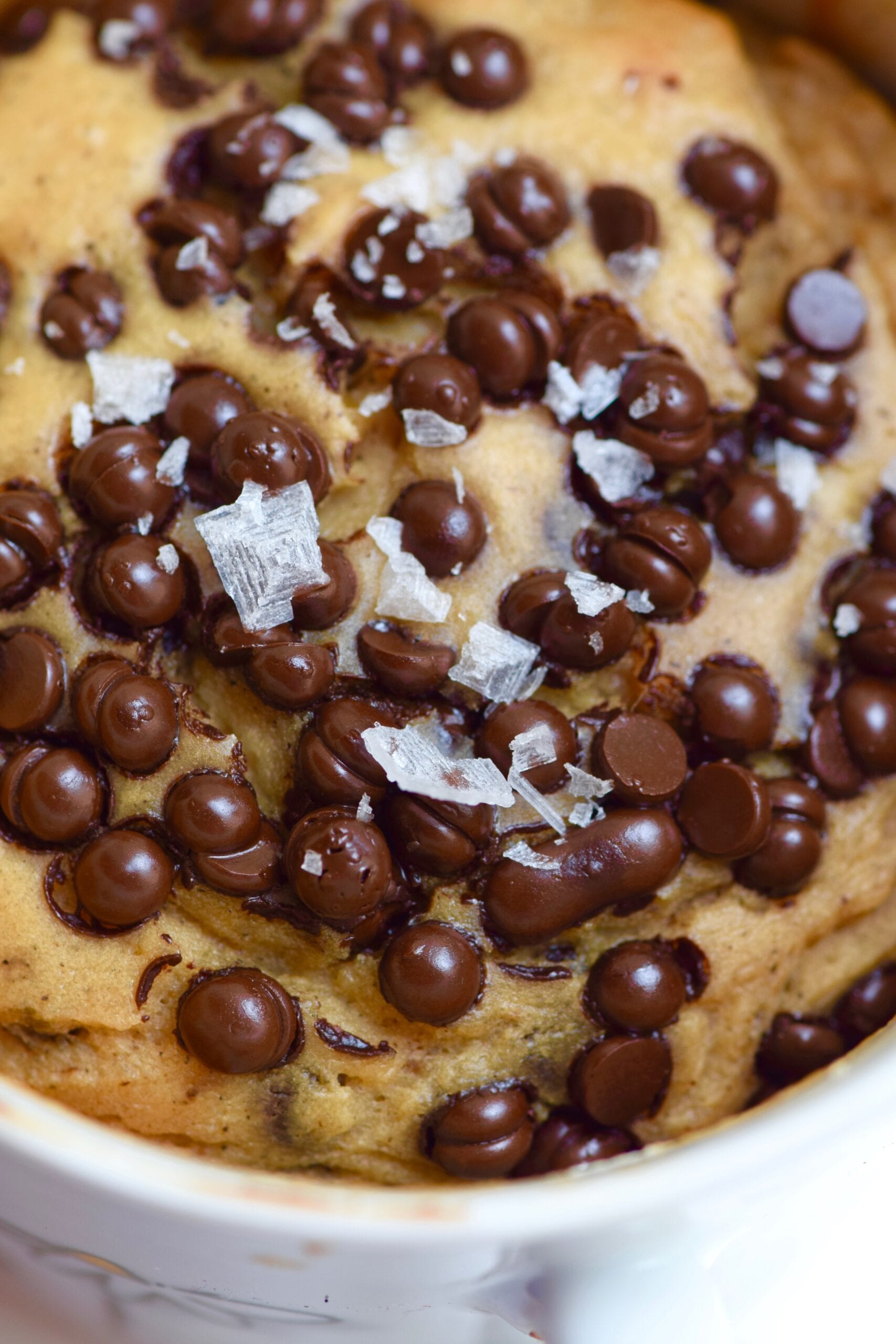 How to make the Soft Baked Protein Cookie Recipe
                                                                               Ingredients:
Protein Powder: Vanilla flavoured & sweetened works best! If you only have unflavoured, add 1 tsp vanilla extract and 1-2 tsp sweetener of choice
Nut butter: you can use any nut or seed butter of choice. 
Egg white: Added protein & makes it light and fluffy
Baking powder: Essential to get your mug cake to rise
Chocolate chips: For the best chocolate chip protein cookie recipe
Milk of choice: I use almond, but any milk will work!
(optional): Granulated sweetener or sugar of choice. I personally do not need this as my protein powder is sweet enough, but it depends on your protein powder brand
Method:
1.
 Mix all ingredients in a oven-proof ramekin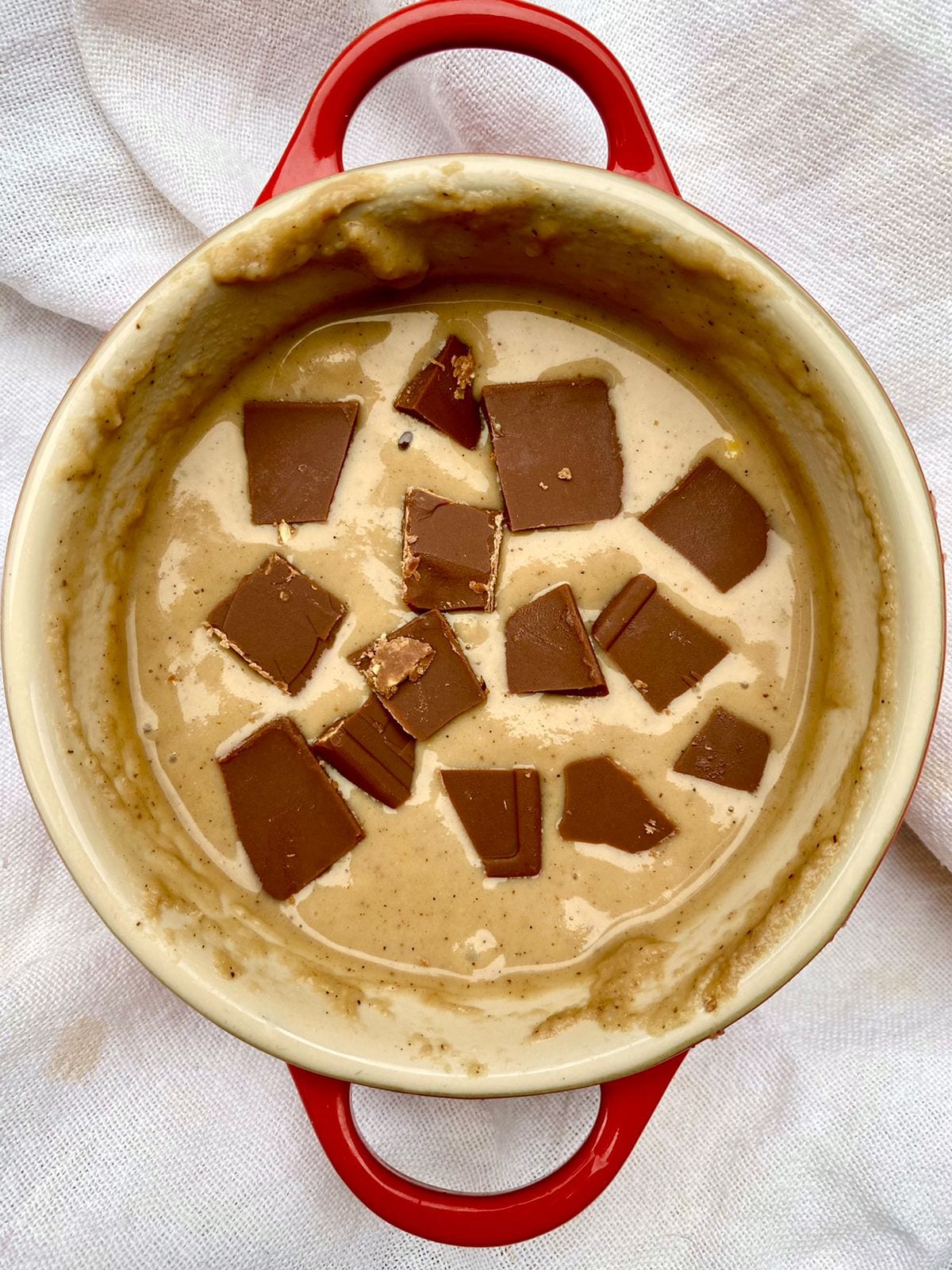 2.
Bake in oven until edges start to brown.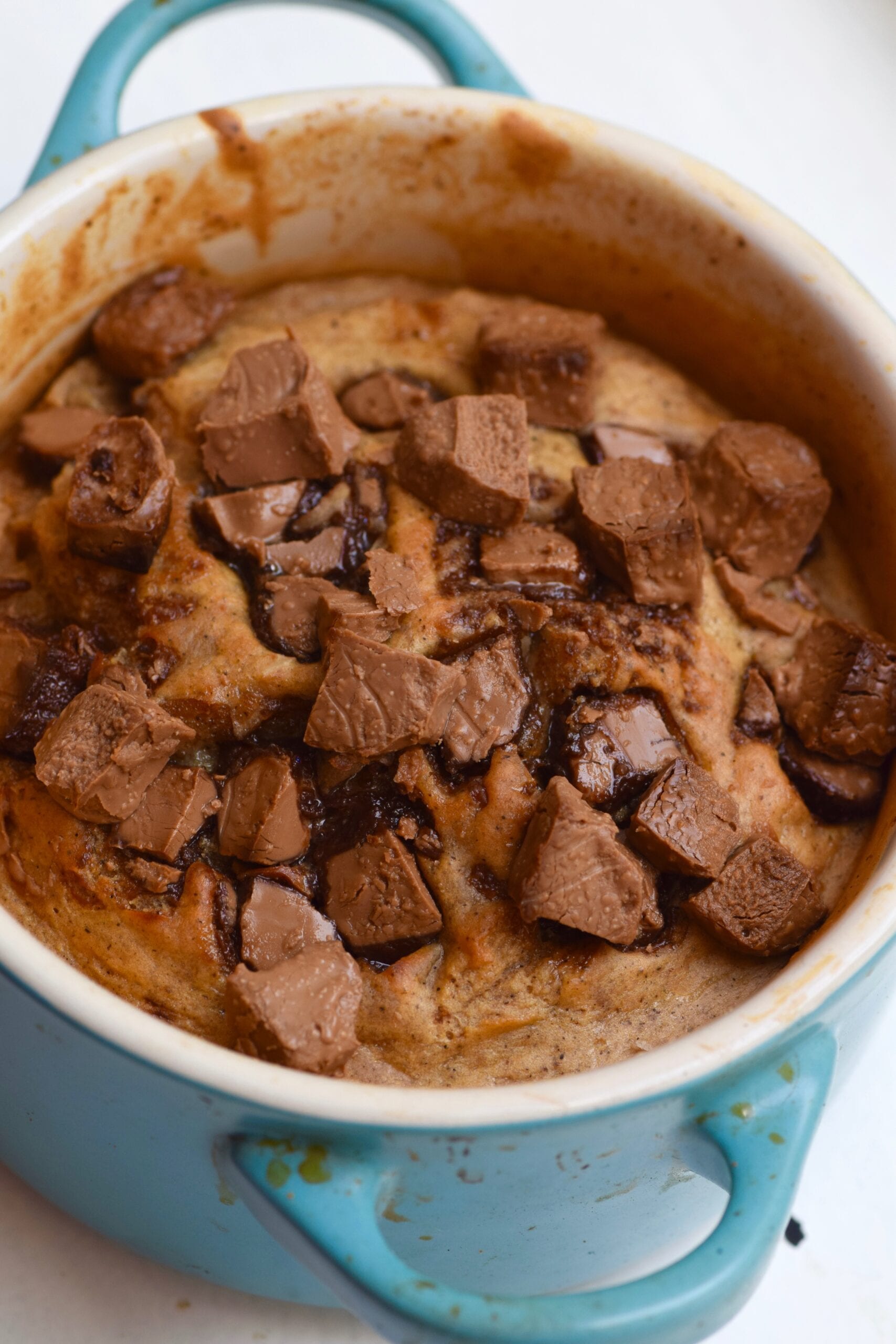 5 Protein Cookie Recipe Toppers
 Don't feel like the traditional chocolate chip protein cookie recipe? Why not spice it up with these delicious varieties!
Dark chocolate: Use dark chocolate chips as your chocolate chips of choice!

Double Trouble: Use a mix of white and milk chocolate as your chocolate chips of choice

Toasted Coconut: Add a sprinkle of desiccated coconut as a topping
Salted Dark Chocolate:Add a sprinkle of sea salt!

Cranberry Chocolate: Add some cranberries for some extra sweetness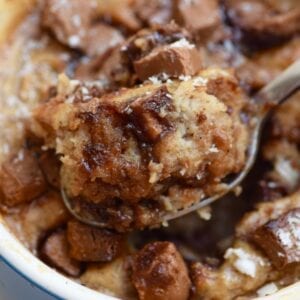 Single Serving Soft Baked Protein Cookie Recipe
Wholesome Lee
The most delicious soft baked protein cookie recipe that packs in up to 25g protein per serving! It is a lower carb, gluten free gooey deep dish single serving cookie of your dreams! Perfect for any sweet tooth craving, or if you're just looking for a delicious tea time treat!
Ingredients
3 tbsp vanilla protein powder
1 tsp nut/seed butter of choice
1 egg white
4-6 tbsp milk of choice
1 tsp chocolate chips sugar free if looking for low carb
¼ tsp baking powder
1-2 tsp granulated sweetener of choice (optional)
Instructions
Preheat oven to 180 degrees Celsius.

Grease an oven safe ramekin or mug of choice.Add all ingredients above and combine well.

Bake for 10-12 minutes, until the edges start to brown but it is still a little gooey

Best served warm, but can be stored in an airtight container in the fridge (texture will firm up a little if stored)
Notes
Nutritional information may vary according to the brand of the protein powder used.
I used normal chocolate chips for this recipe but you can replace them with a sugar free variety if you're looking for something lower in carbs
Nutrition
Calories: 171kcalCarbohydrates: 9gProtein: 25gFat: 6.8gFiber: 2.8gSugar: 3.7g