Blooming Flower Caramel Apples
My house smells like cinnamon, burnt sugar & baked apples. These are honestly SO incredibly delicious and satisfying. If you're a big apple pie fan, these caramel apples will be your next favourite dessert! Think a delicious baked apple with a delicious hot caramel centre!
Healthy Caramel Apples
low-calorie | Flourless | GLUTEN FREE| vegan |
can be sugar free 
For more apple pie recipes, try my apple pie mug cake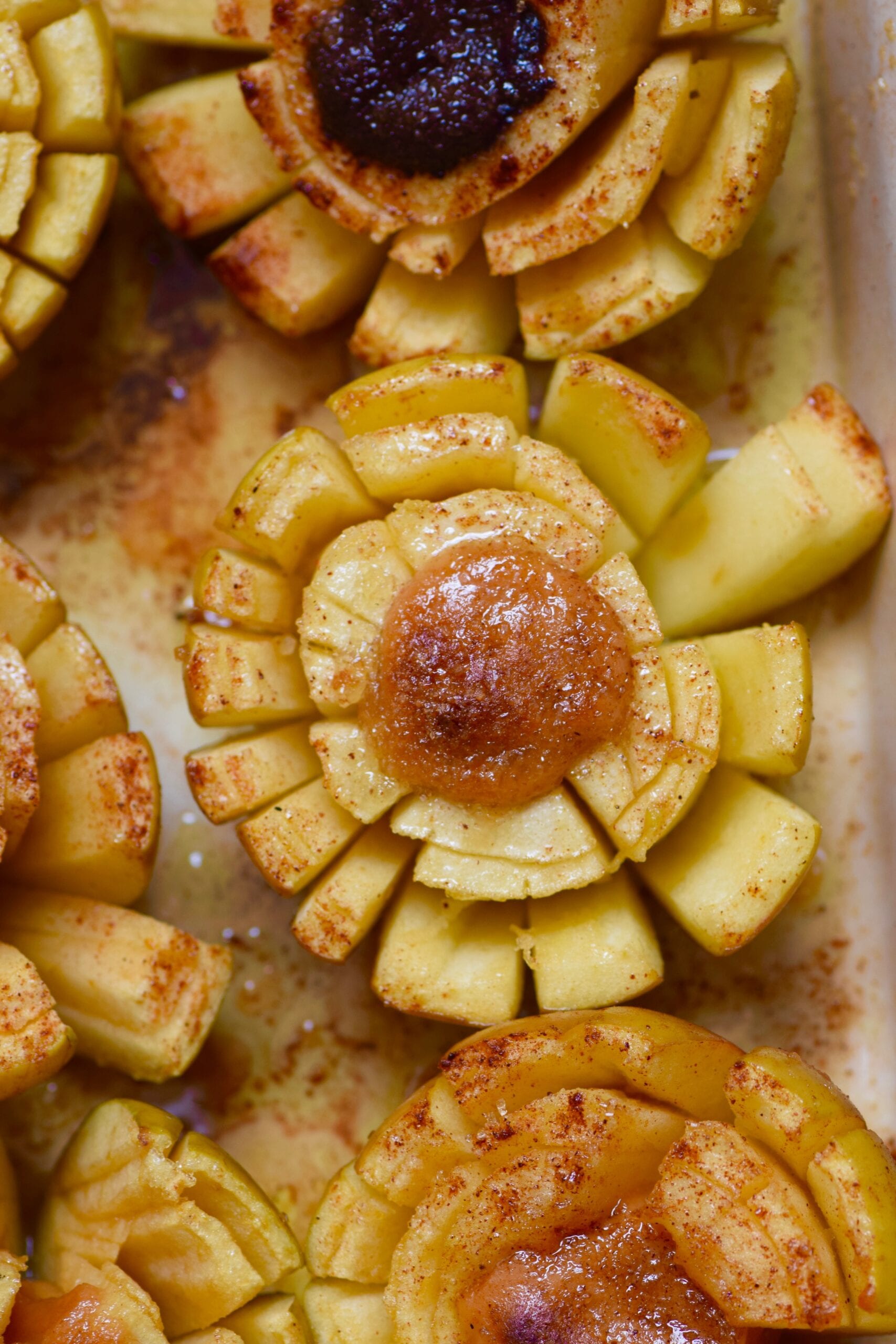 Caramel Apples
Nothing is better than baked apples during fall. When it comes to desserts, it takes a lot for me to move away from rich, chocolatey goodness. I honestly just love rich and fudge desserts. Mik on the other hand, enjoys apples in baking and requested I make some form of caramel apple that is hot a fudgey!
I was feeling particularly lazy, and didn't quite feel like doing the whole dirty-my-kitchen-and-make-a-mess type of story! I have to admit…..I wanted to find a shortcut that involved as little work as possible (haha!)
This recipe honestly hit the nail on the head. It is literally one ingredient (apples), looks super fancy, yet is SO incredibly easy you wont even believe it. All you have to do is slide the apples, take the seeds out, add the caramel filling and BOOM. You're left with this hot, fudgey caramel apple that is perfect for any thanksgiving meal, treat or snack!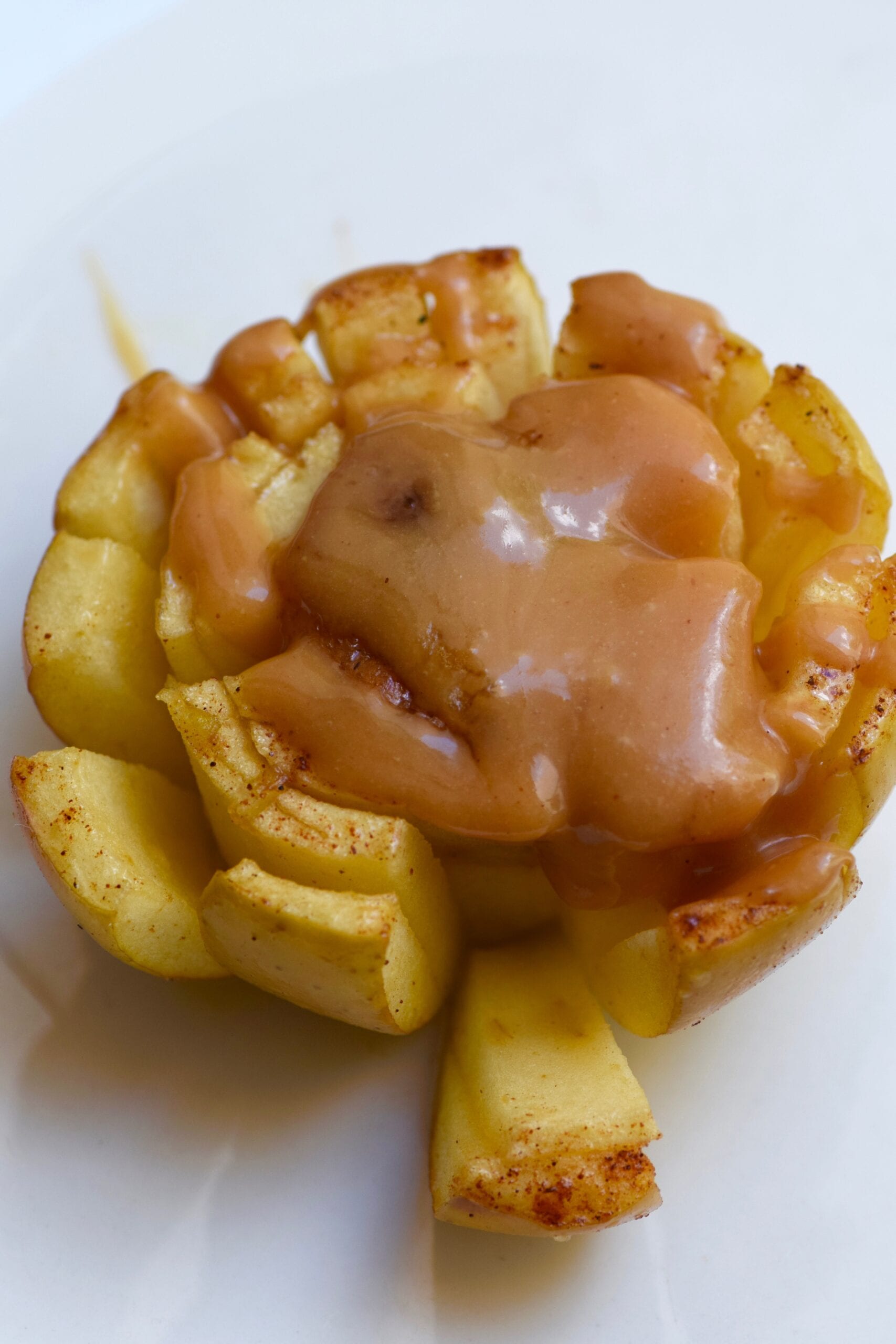 Homemade Caramel Apples
Earlier this year, in January, we went to NYC (back when travelling was still a thing). We had probably the best caramel apple I have ever had in my life. The apple to caramel ratio was just spot on!
This caramel apple recipe has that same feel, except it is a hot version that has a more apple pie feel. With less than 1/8 of the sugar & calories of that caramel apple- this is a much more worth it version to me!
Thanksgiving Dessert Recipe
Something is juts so comforting and warming about baked hot apples that almost has an apple pie feel. Nothing that screams fall more than flavours like warm cinnamon and hot apples. If you're feeling extra indulgent- try a scoop of plain vanilla ice cream on-top! This recipe is like a gluten free, grain free version of a caramel apple pie!
 You may also like my Fudgey Apple Pie bars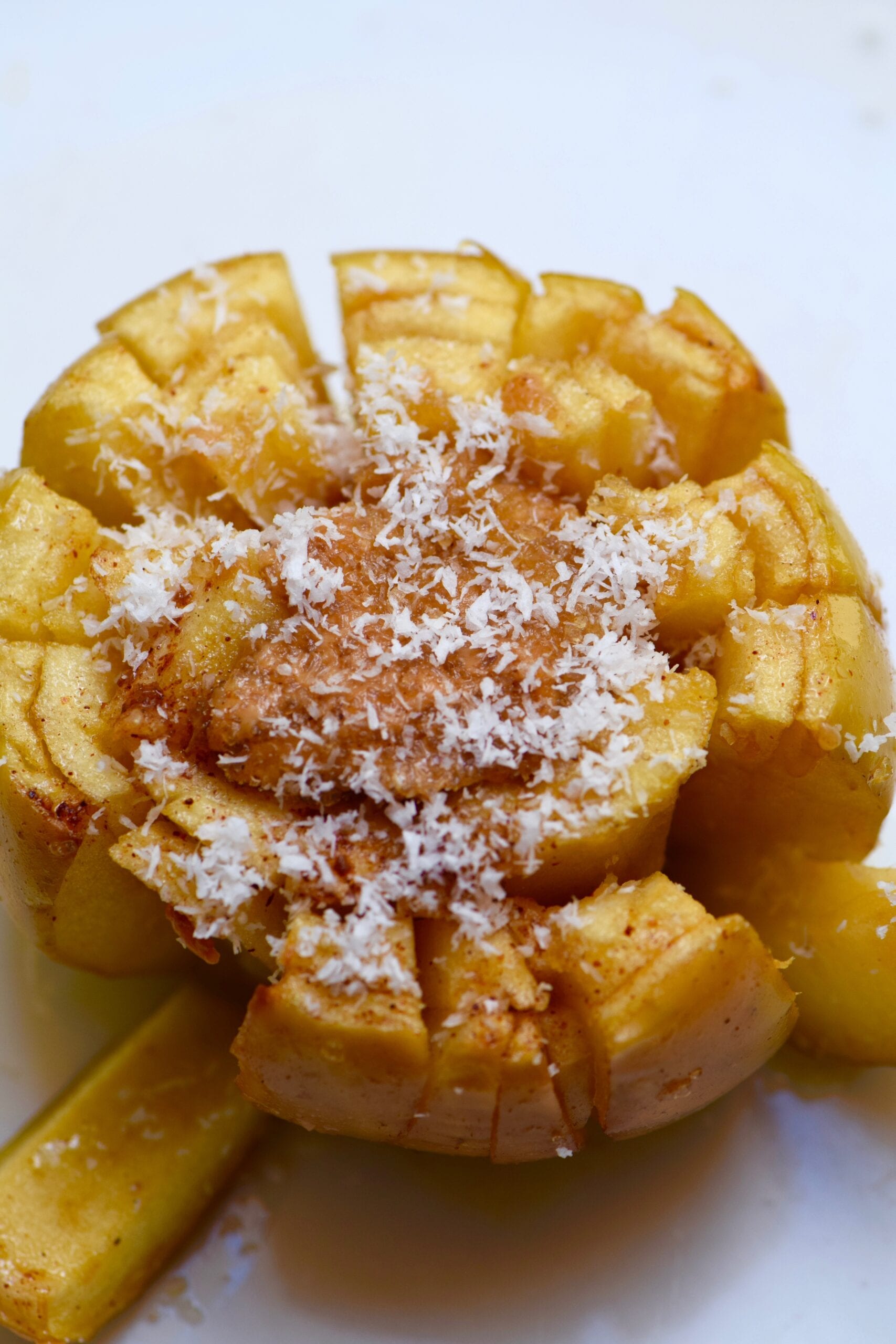 Home-made Caramel Apples recipe
                                                                               Ingredients:
Apples: Pick your favourite apple of choice! I personally love a granny smith apple, as they are slightly sour which balances well with the sweet caramel
Honey or maple syrup: I make my own by blending oats in a high speed blender to make a flour consistency.
Peanut butter: This can be replaced by any nut/seed butter of choice
Dash of cinnamon: To give it that apple pie feel
Method:
1.
Preheat the oven to 180 degrees celisus. Grease a medium baking dish with cooking spray. Prepare your apples by slicing the top off each one. Using a teaspoon, scoop the seeds out. Use a sharp knife and make two circular cuts around the apple. Flip the apple over and place it on a cutting board. Slice crosswise
2.
Make your 2 ingredient caramel, and place in the middle of each apple.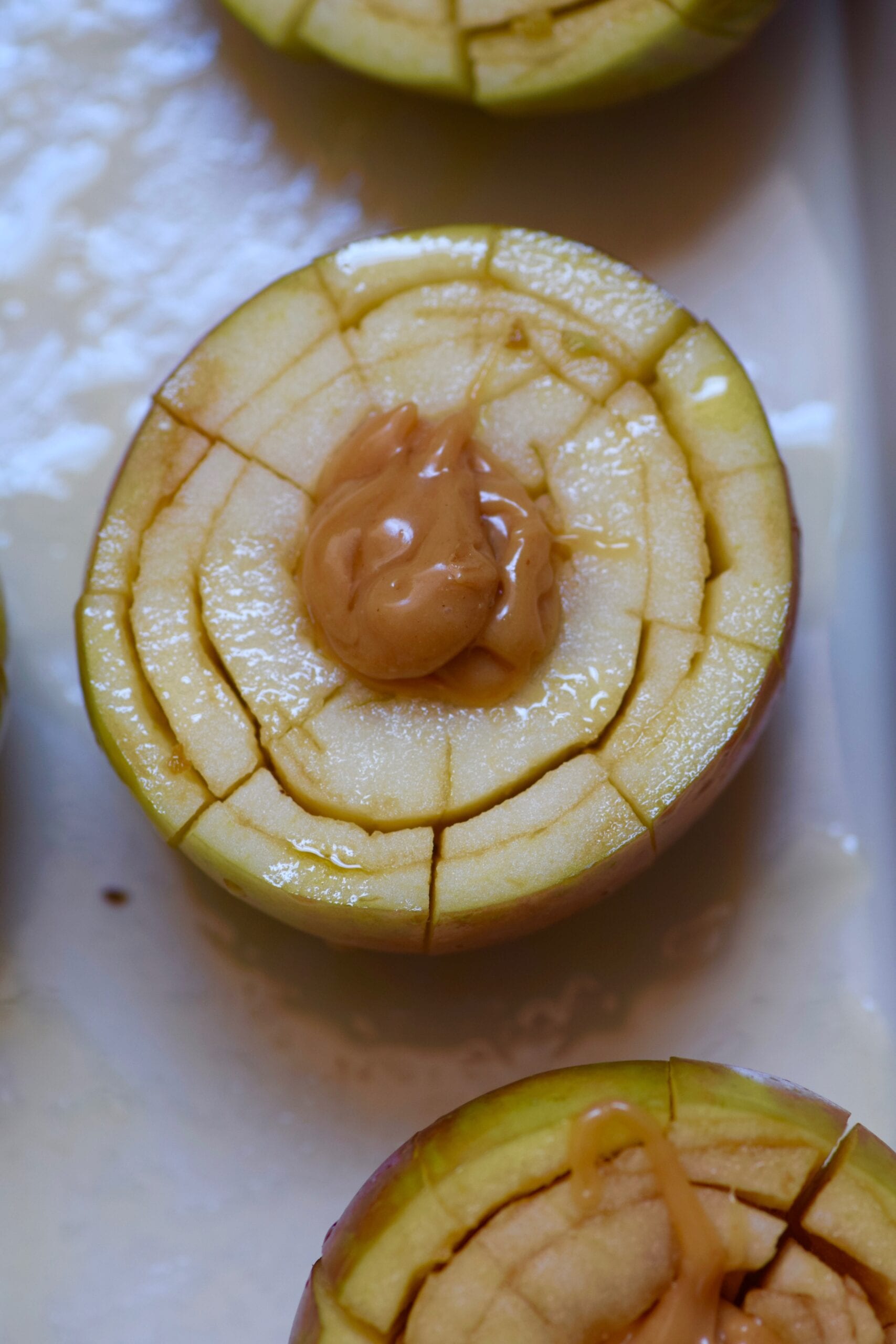 3.
Spray your caramel apples with oil spray and dust with some cinnamon and more (optional) granulated sweetener of choice. Bake in the oven and enjoy!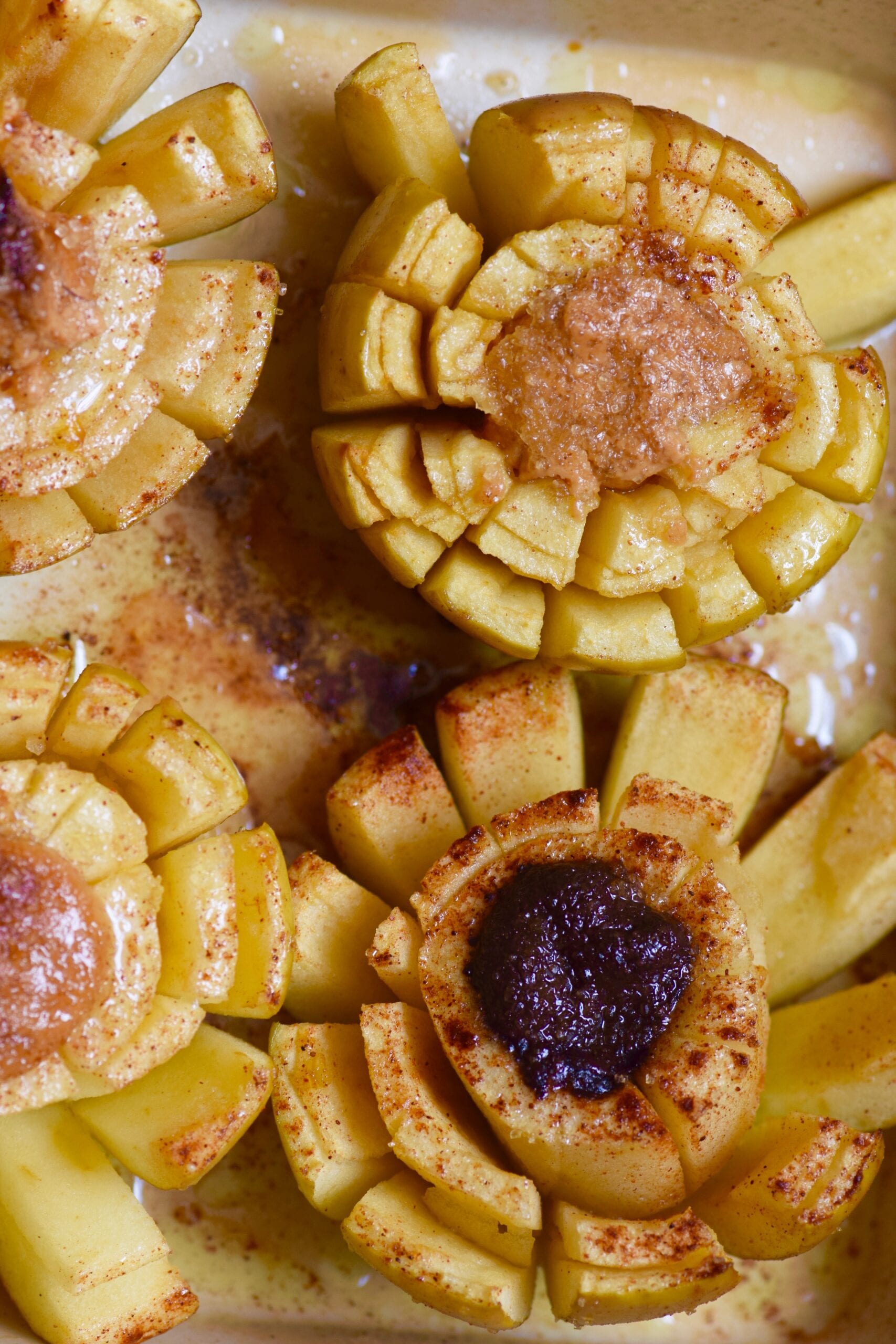 5 Caramel Apple Flavours
Here are some optional variations to change up the flavour!
Caramel crumble: Top with your favourite granola of choice
Chocolate apple: Instead of homemade caramel, you can replace it with a chocolate of choice for a chocolate filled apple
Coconut caramel apple: After baking, sprinkle some desiccated coconut over your caramel apples
Peanut butter apples: Instead of caramel, stuff your apples with peanut butter or nut butter of choice!
Cranberry caramel apples: Top your apples with a sprinkle of dried cranberry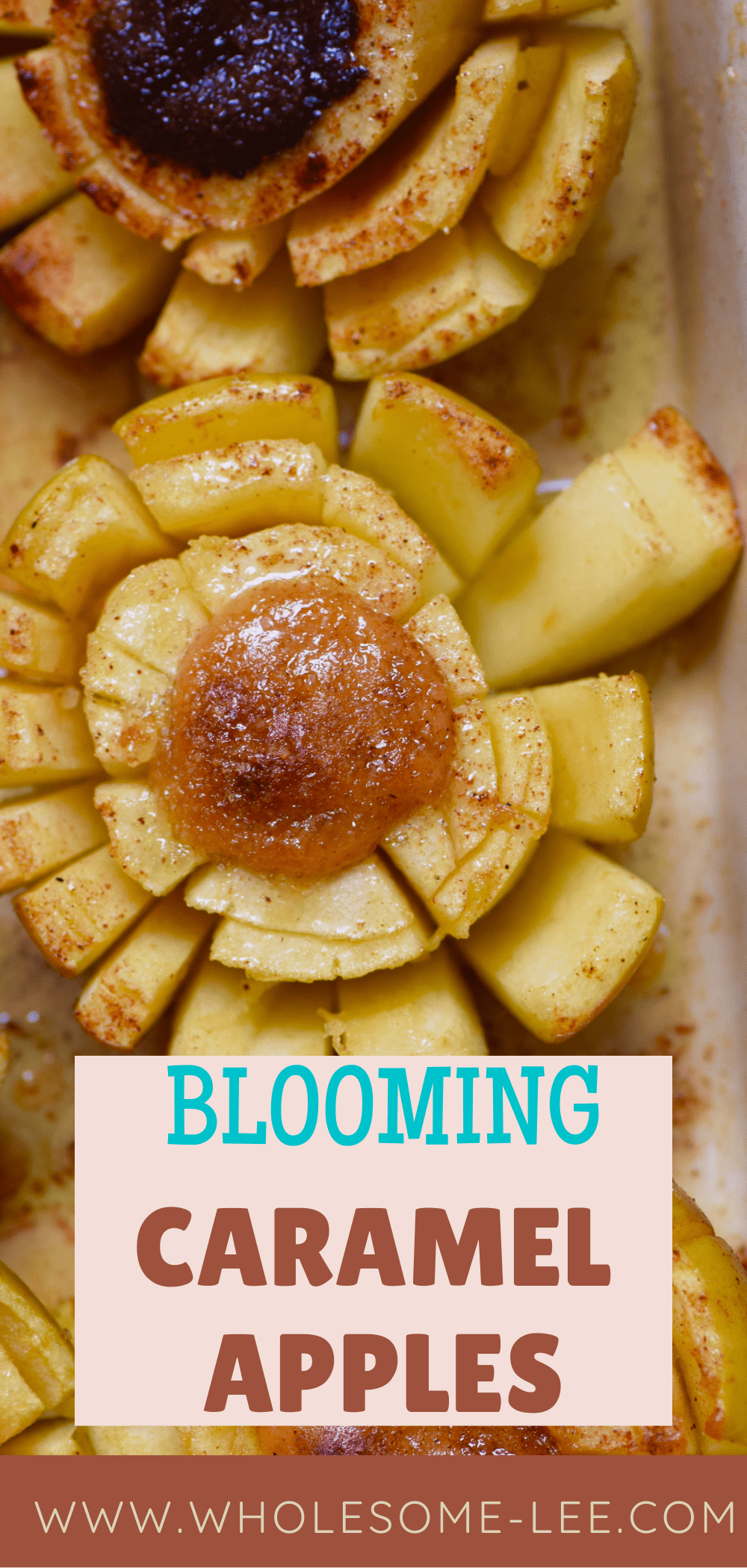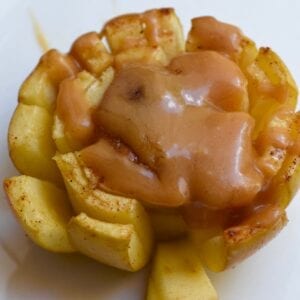 Blooming Flower Caramel Apples
Wholesome Lee
The most delicious caramel apple recipe that is low calorie, refined sugar free and gluten free! This easy apple recipe tastes like apple pie and is so incredibly easy and quick to make! The perfect fall snack or recipe, if you like hot gooey apples and caramel
Ingredients
6 Apples
cinnamon for dusting
Additional granulated sweetener of choice for dusting (optional)
For the caramel
2 tsp honey
1 tsp nut/ seed butter of choice I used peanut butter
Instructions
Preheat the oven to 180 degrees celisus.

Great a medium baking dish with cooking spray. Prepare your apples by slicing the top off each one. Using a teaspoon, scoop the seeds out. Use a sharp knife and make two circular cuts around the apple. Flip the apple over and place it on a cutting board. Slice crosswise

Make your 2 ingredient caramel by mixing all ingredients. Fill each apple with 1/2 teaspoon of the caramel sauce

Spray your caramel apples with oil spray and dust with some cinnamon and optional granulated sweetener of choice.

Bake in the oven for 12-15 minutes until golden brown
Nutrition
Calories: 90kcalCarbohydrates: 22.7gProtein: 0.6gFat: 0.7gFiber: 3.6gSugar: 17.5g