Blueberry Homemade Vegan Gummies
Since posting my protein berry gummies, I have had so many questions about a vegan alternative! I have finally made a blueberry gummy that is totally vegan & delicious.
So, even if you're not vegan but you just can't stand the idea of gelatine these are for you! These are the perfect gelatine free sweets that still give you that satisfying gummy texture and flavour!
LOW CALORIE | NO-BAKE| VEGAN | GLUTEN FREE | CAN BE SUGAR FREE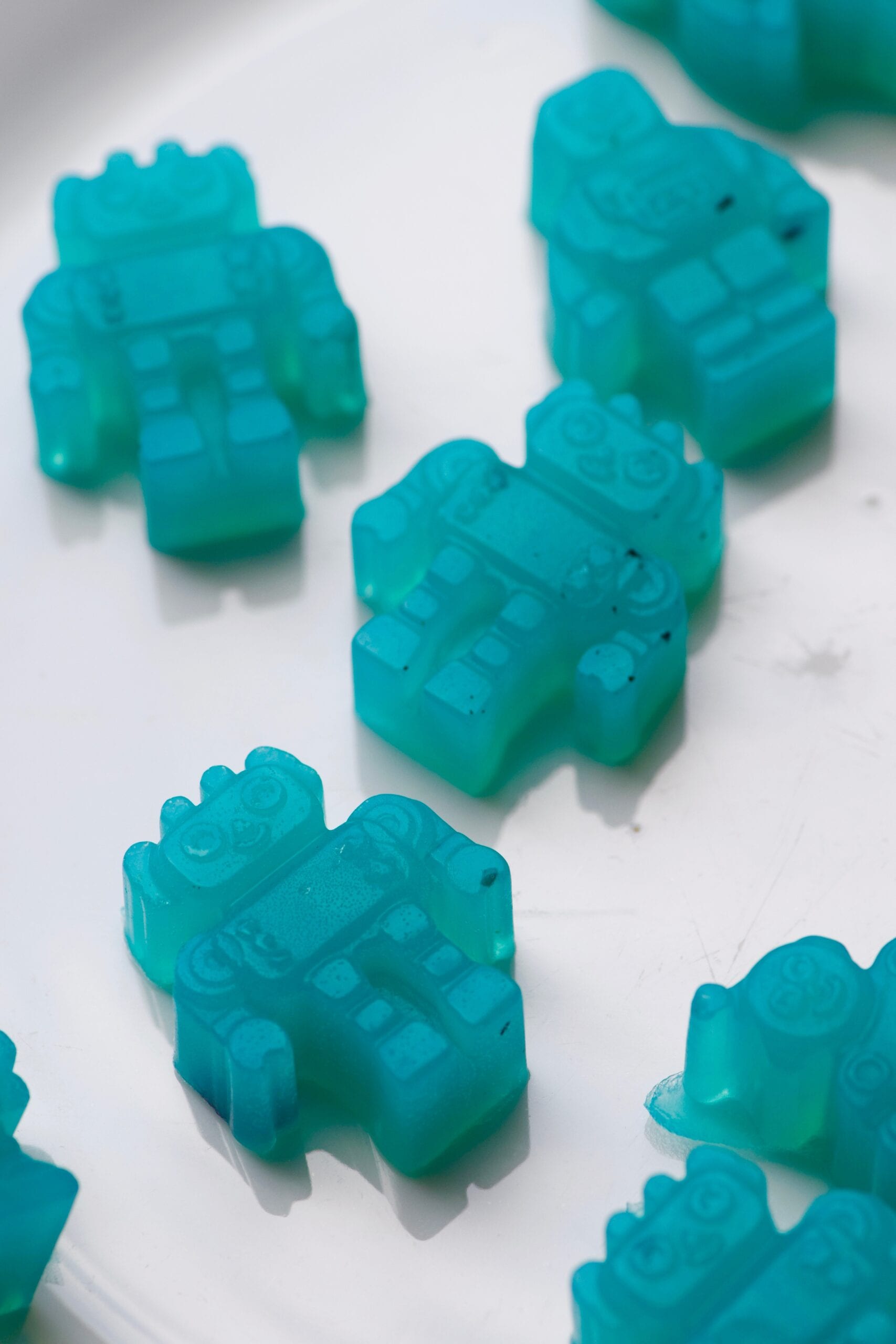 How to make Homemade Vegan Gummies
When I was a kid, I would (believe it or not) pick sweets over chocolate any day! The thought of sour candies, gummy bears, sour worms and all things brightly coloured excited me beyond measure! These days I have definitely become more of a chocolate girl, but these vegan gummies will forever hold a special place in my heart for that reason.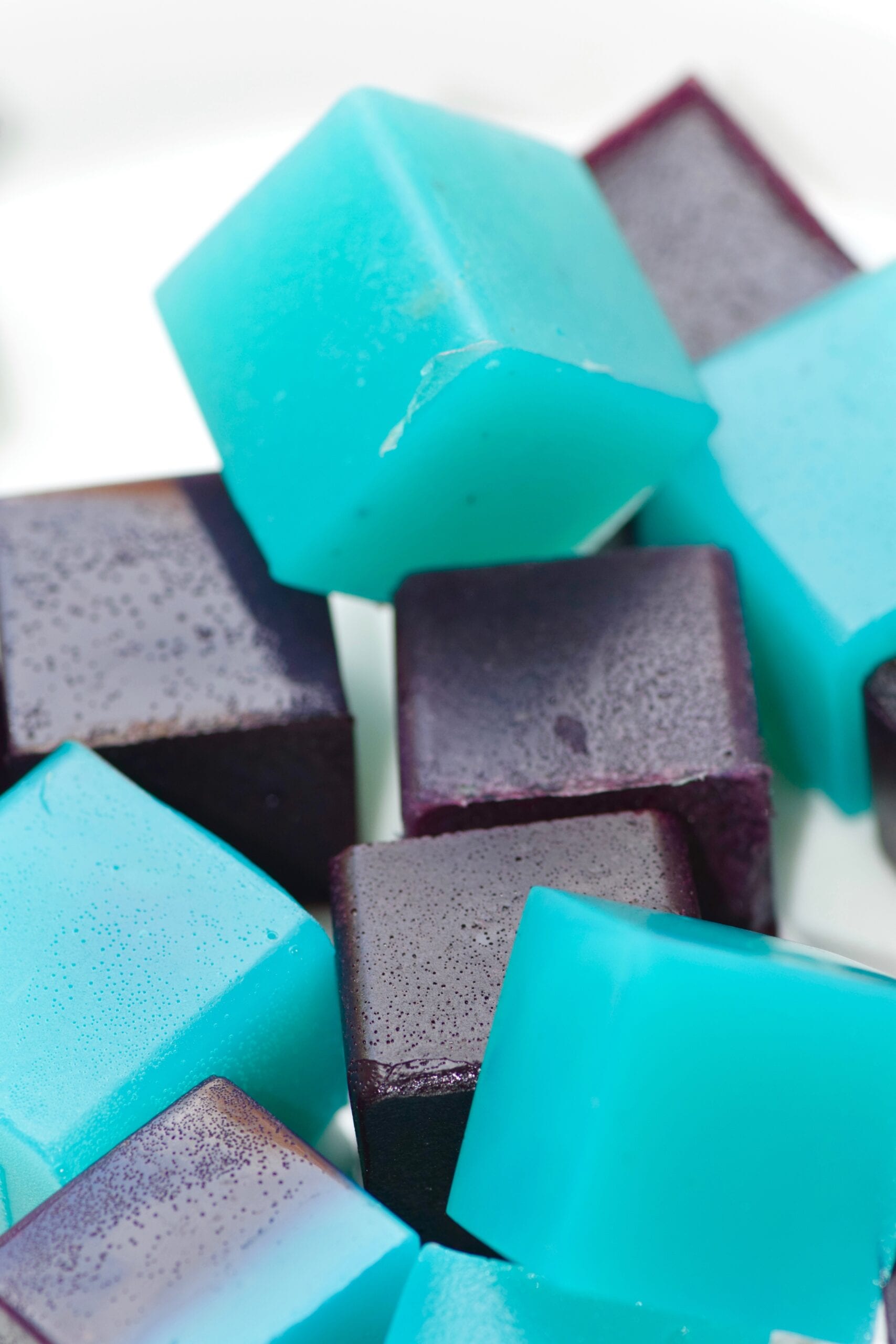 Video Of How To Make Vegan Gummies
Healthy Gummies
Now, we all know that gummy bears are usually just sugar and food colouring. A lot of people would classify them as empty calories, and in some ways they are. Now don't get me wrong, I love having a few Haribo gummies here and there. But truth is they provide little to no nutritional value! This version atlas involves using real fruit, 0 added refined sugar & takes a total of 5 minutes to whizz up! They are also naturally gluten free, which is such a win!
Blueberry Vegan Gummies
When I was little, I would always go for the blue flavoured gummy! For some reason, this gummy would always look and taste the best. I have included two varieties. One where the blueberries are juiced then strained ( to create a clear type gummy) and the other where the blueberries are left in as is (the colour goes a little murkier & darker).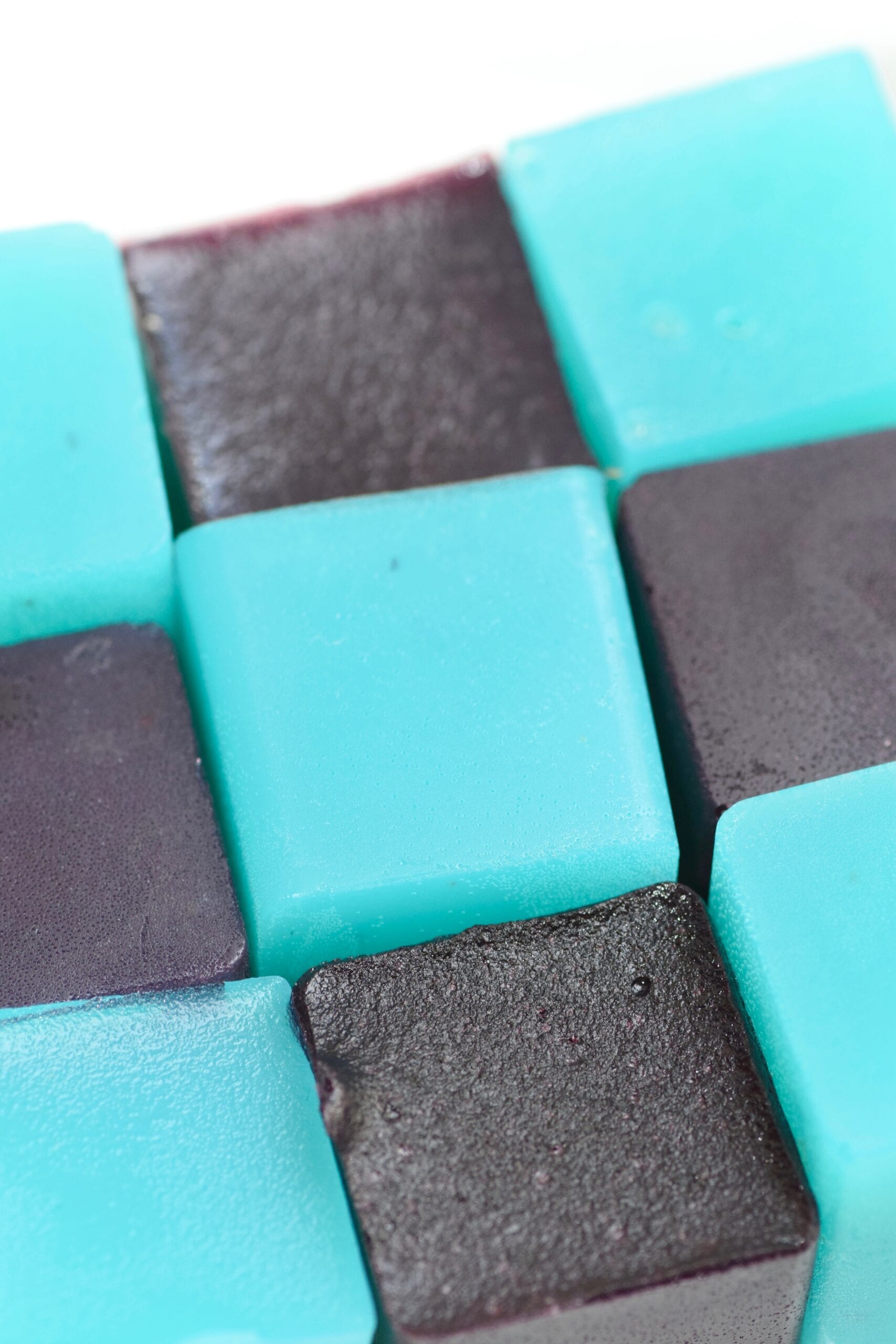 Blue Bear Gummies
Getting gummies to be blue was probably one of the hardest things to do! While I usually use blue spiralina, which can be used in this recipe. I am well aware that most readers probably do not have access to such an ingredient! I searched for many alternatives, and found that the best was to use a little natural blue food colouring. This ingredient is totally optional, but is important if you're looking for a deep blue colour.
Homemade Gummies?
Now, I know it may seem a little intimidating! But, making your own gummies is SO INCREDIBLY EASY! Making them yourself, honestly takes you quicker than if you were to get in your car, go to the shops and buy them! All you need to do is blend up your ingredients, boil it on a stovetop, pour into your mould and you're done! The best part about these vegan gummies is that they have no hidden nasties, are low calorie and great if you're looking for something sweet to much at your desk or as an after dinner sweet snack
How Do You Make The Vegan Gummies?
The Ingredients
Blueberries- You can replace this with any berry of choice! For clear gummies, you can use blueberry juice instead of blending whole blueberries.
Lemon juice- Adds a delicious zing flavor
Stevia- I use stevia drops, but you can replace it with honey or maple syrup if prefereed
Agar Agar- Essential to it having a gummy texture
Method:
1.
In a high speed blender or food processor, combine all the ingredients above.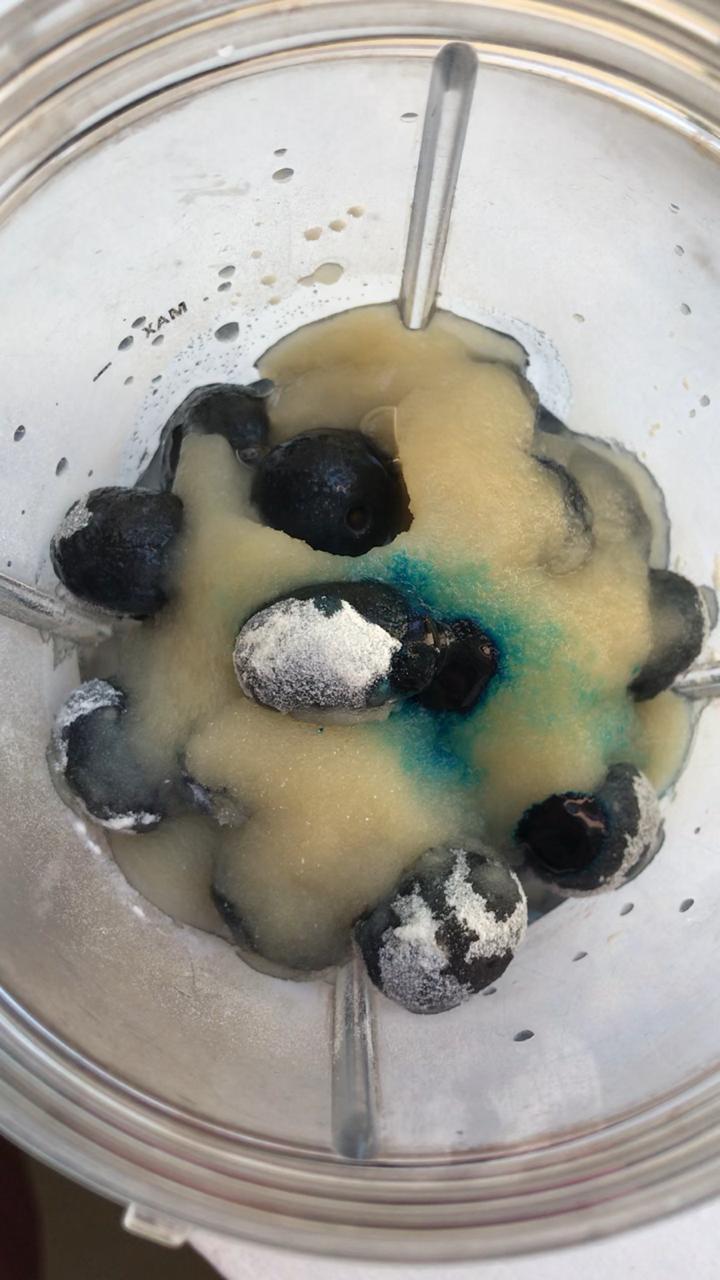 2.
Place in a saucepan on stovetop, and turn on a medium heat. Whisk for 2-3 minutes, until agar has dissolved and the mixture starts to thicken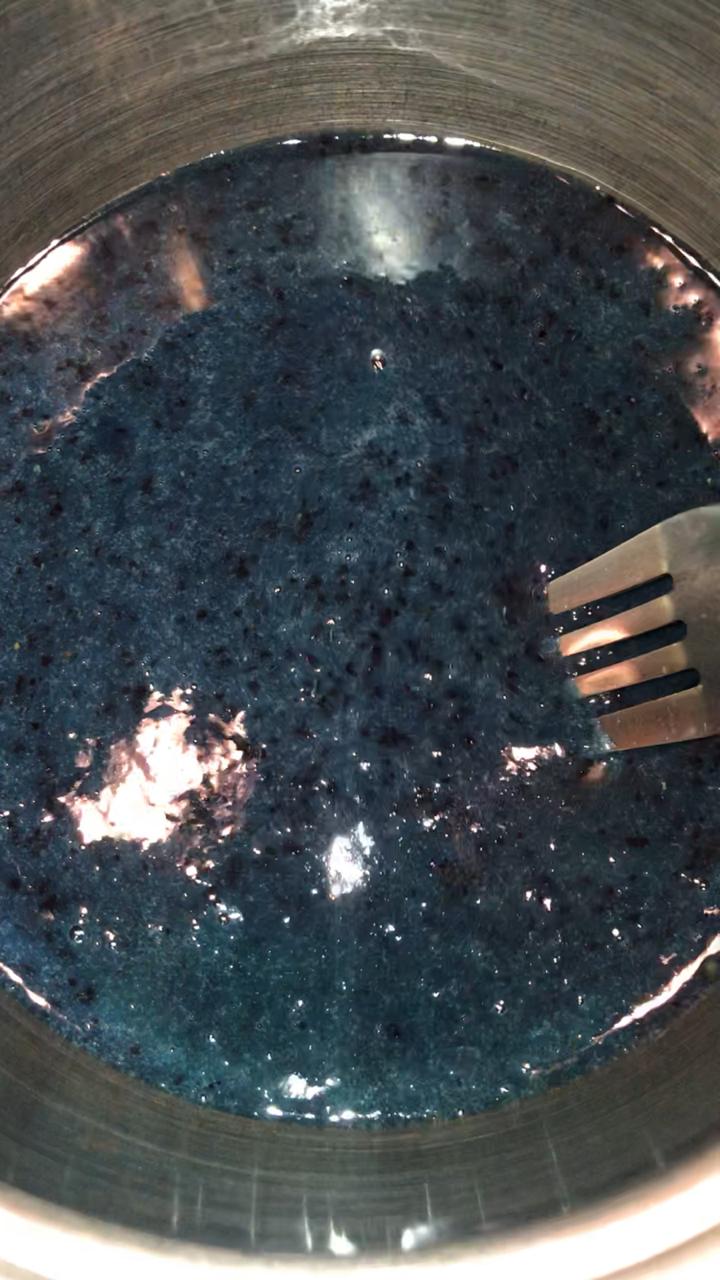 3.
Take off heat and pour into your mould. Allow to set in the refrigerator or at room temperature for 1 hour until it makes vegan gummies!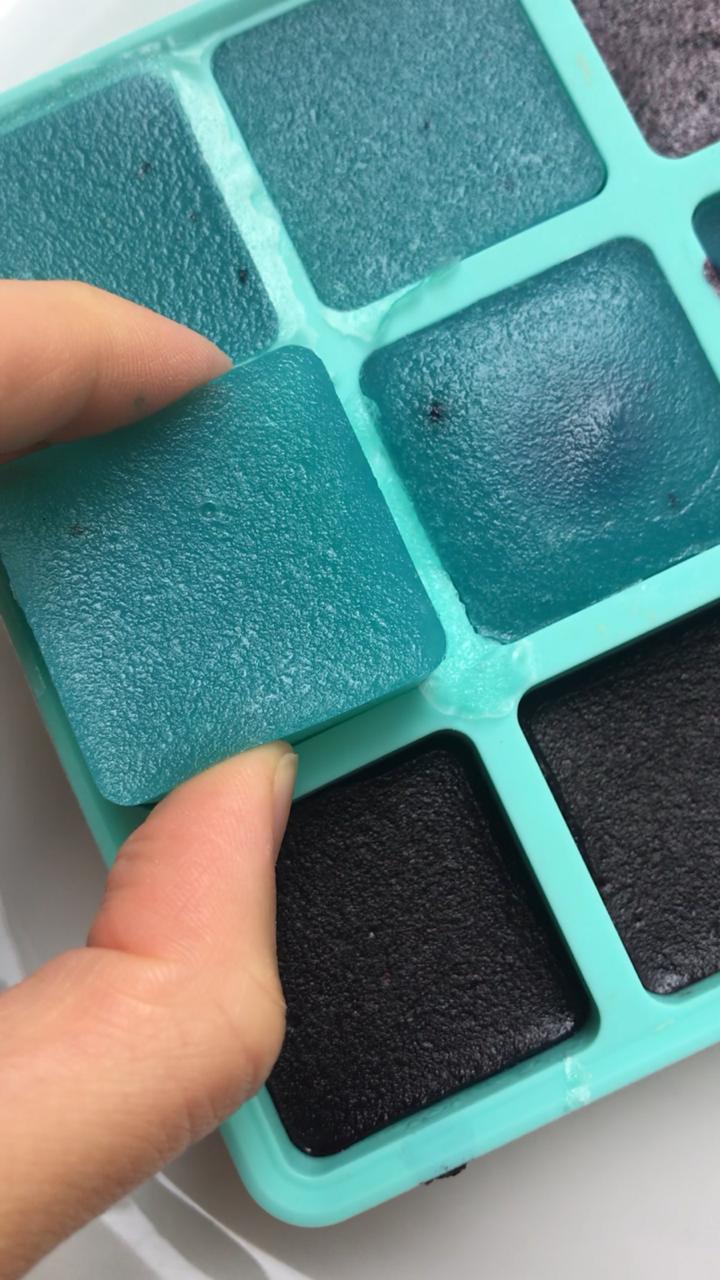 5 Blueberry Vegan Gummy Flavours
Here are some flavour combinations to change it up
Clear blue: be sure to use blueberry juice instead of whole blueberries (in the same measurement as mentioned below)
Dark blue: Recipe as is
Mix: Make half of the mixture for the clear blue, and half for the dark and layer it
Dusted: Dust your gummies in some sugar free granulated sweetener of choice
Extra blueberry: Place 1 blueberry inside your gummy before it sets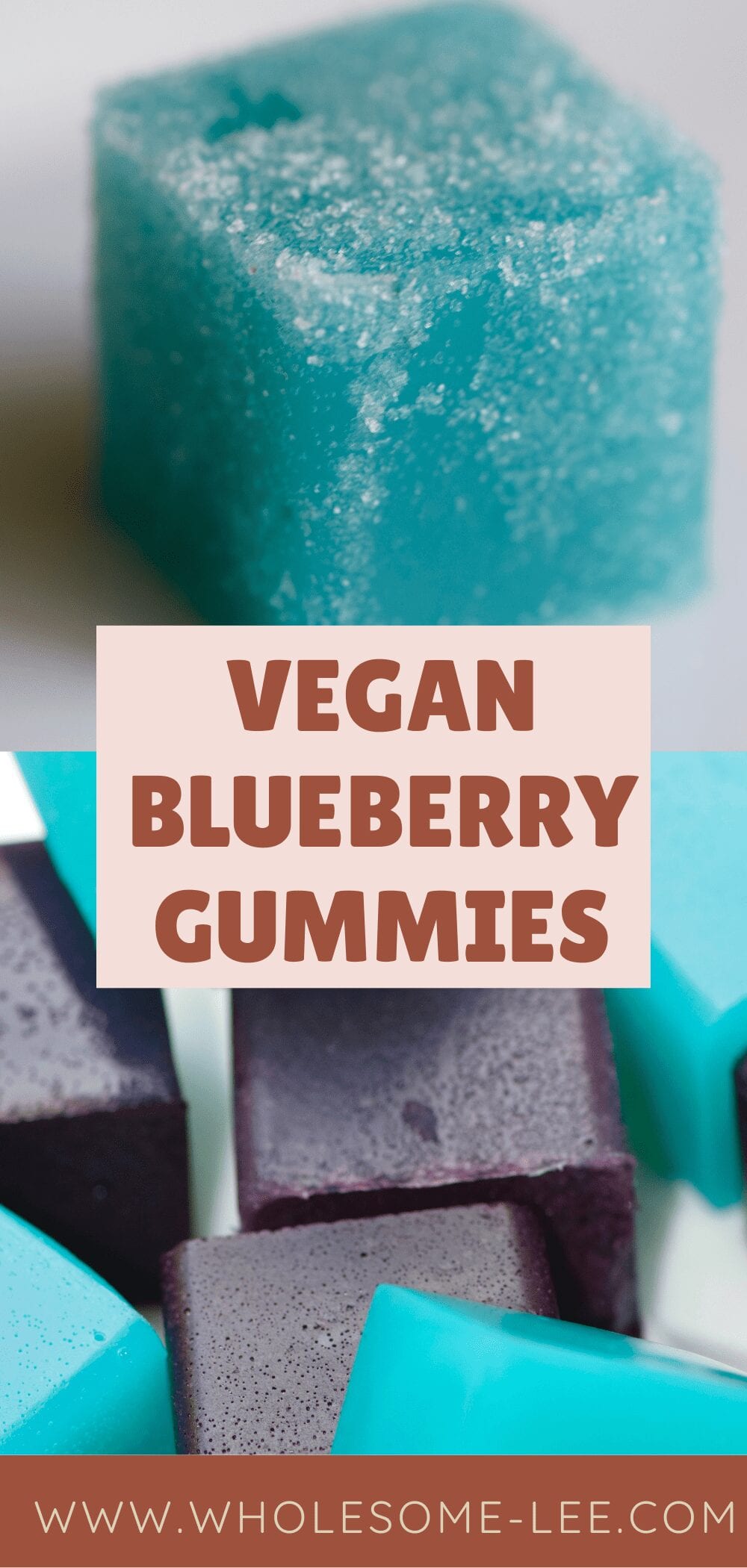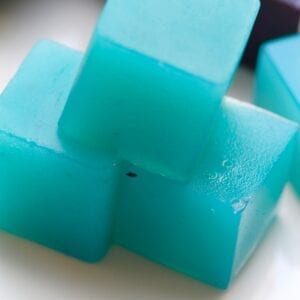 Blueberry Homemade Vegan Gummies
A delicious sweet candy snack! These homemade vegan gummies have no gelatine, and are the perfect sweet gummy bear snack that is gelatine free, refined sugar free & easy to make!
Ingredients
1,5

cup

blueberries

222g

1/2

cup

water

OR litchi juice

3-4

drops

stevia

OR 1-2 tbsp honey

1/4

cup

lemon juice

2

tbsp

agar agar

1

drop

natural blue food colouring

(optional)
Instructions
Blend all ingredients in a high speed blender until smooth. If wanting clear gummies, you can use strained blueberry juice instead (in equal amounts)

Place in a saucepan on stovetop, and turn on a medium heat. Whisk for 2-3 minutes, until agar has dissolved and the mixture starts to thicken

Take off heat and pour into your mould

Allow to set in the refrigerator or at room temperature for a minimum of 1 hour
Nutrition
Calories:
4.5
kcal
Carbohydrates:
1.2
g
Fat:
1.1
g
Fiber:
0.1
g