Easy Christmas Cookies Recipe
Whether your celebrating Hanukkah or Christmas, these cookies are bound to be a hit!! Think of a delicious oatmeal cookie, with crunchy popcorn bits and hard shell candy chocolates. When it comes to the holidays, all I want are quick and easy recipes. Not Ones that take up the whole kitchen, using every piece of equipment that I have!
This one-bowl recipe is honestly the best healthy cookie recipe. It is perfect for if you're looking for an easy christmas cookie recipe, that is fuss-free and super festive!
Best Ever Christmas Cookies Recipe
I will always have a special place for my oatmeal cranberry cookies. If you haven't already tried them, I beg you to give them a go because they are also so delicious. My cookie jar is filled with a mix of them, and this new cookie recipe!
It wouldn't be the festive season without the sweet scent of freshly baked cookies, and seeing christmas lights hanging. The best part is that this recipe is mostly refined sugar free (minus the m&m's) , high fiber and packs in the flavour!!
Kitchen Sink Christmas Cookies
What I love about these cookies are how there are so many different variations. You can add in whatever mix-ins you personally prefer, but I like to add in popcorn and M&M's. I also sometimes like to add some pretsels, nuts or cranberries for an extra festive feel! The best part about this is that there is no set recipe! Instead, you can simply add whatever you have in your pantry and mix it up!
If you don't like m&m's, I suggest replacing it with chocolate chips! DO NOT omit the chocolate element in this recipe, it is honestly essential to a delicious tasting flavour packed cookie!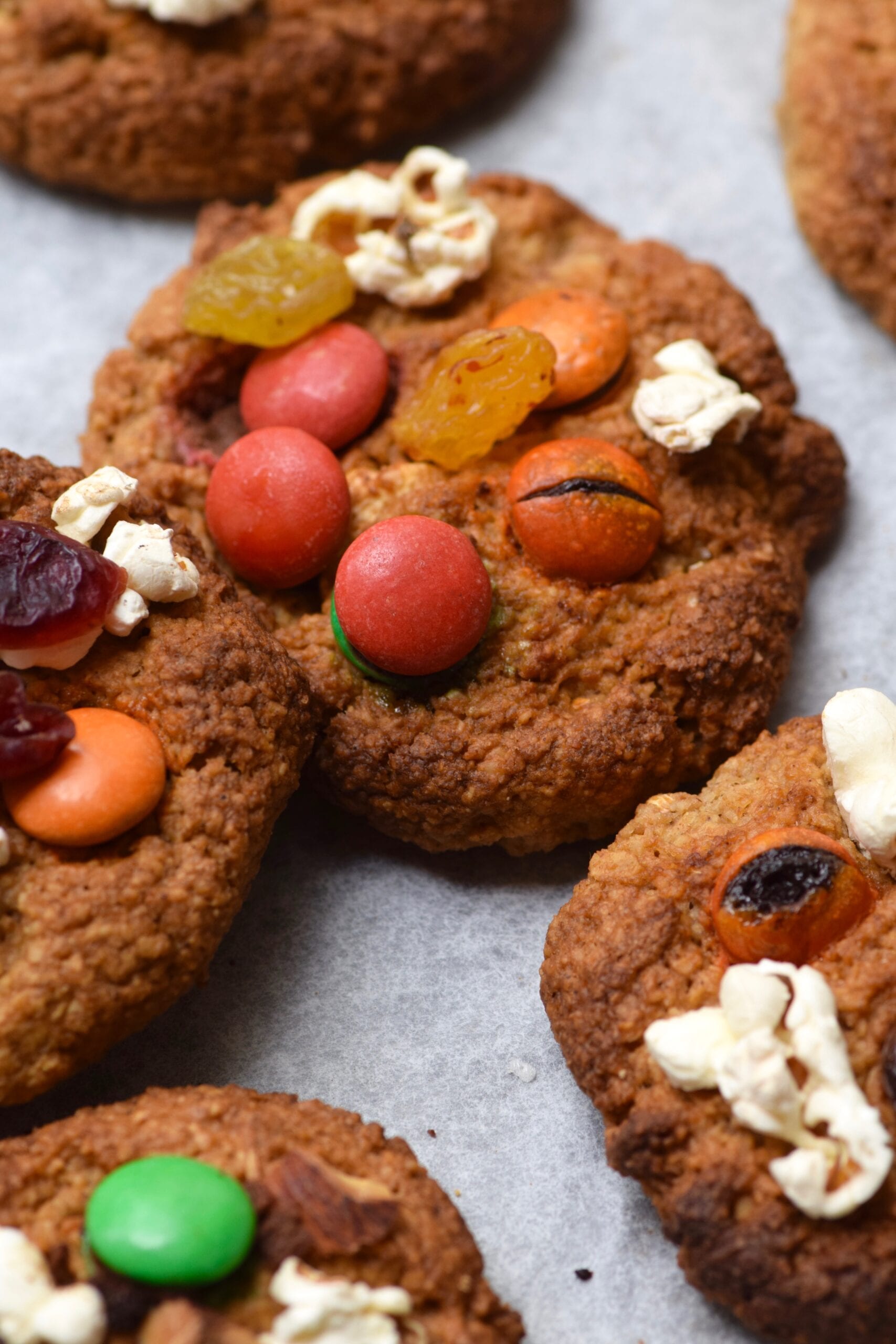 How To Make Overnight Oats:
                                                                               Ingredients for the base recipe:
Oat flour: Rolled oats work the best!
Granulated sweetener of choice: I used a calorie free monk fruit sweetener, but any granulated sugar could work.
M&m's or chocolate chips: I use a fat free variety, and it gives a delicious creamy texture! You could replace this with coconut yoghurt if looking for a vegan variety
Egg: Can be replace with a flax or chia seed egg
Popcorn: I use air popped popcorn
Vanilla extract: Perfect to add that vanilla flavor
Baking soda: Essential to allow the cookie to rise
Cinnamon: To add that festive feel 
Water or milk of choice: I personally use water, but any milk of choice works equally as well!
Method:
1.
Mix all ingredients in a mixing bowl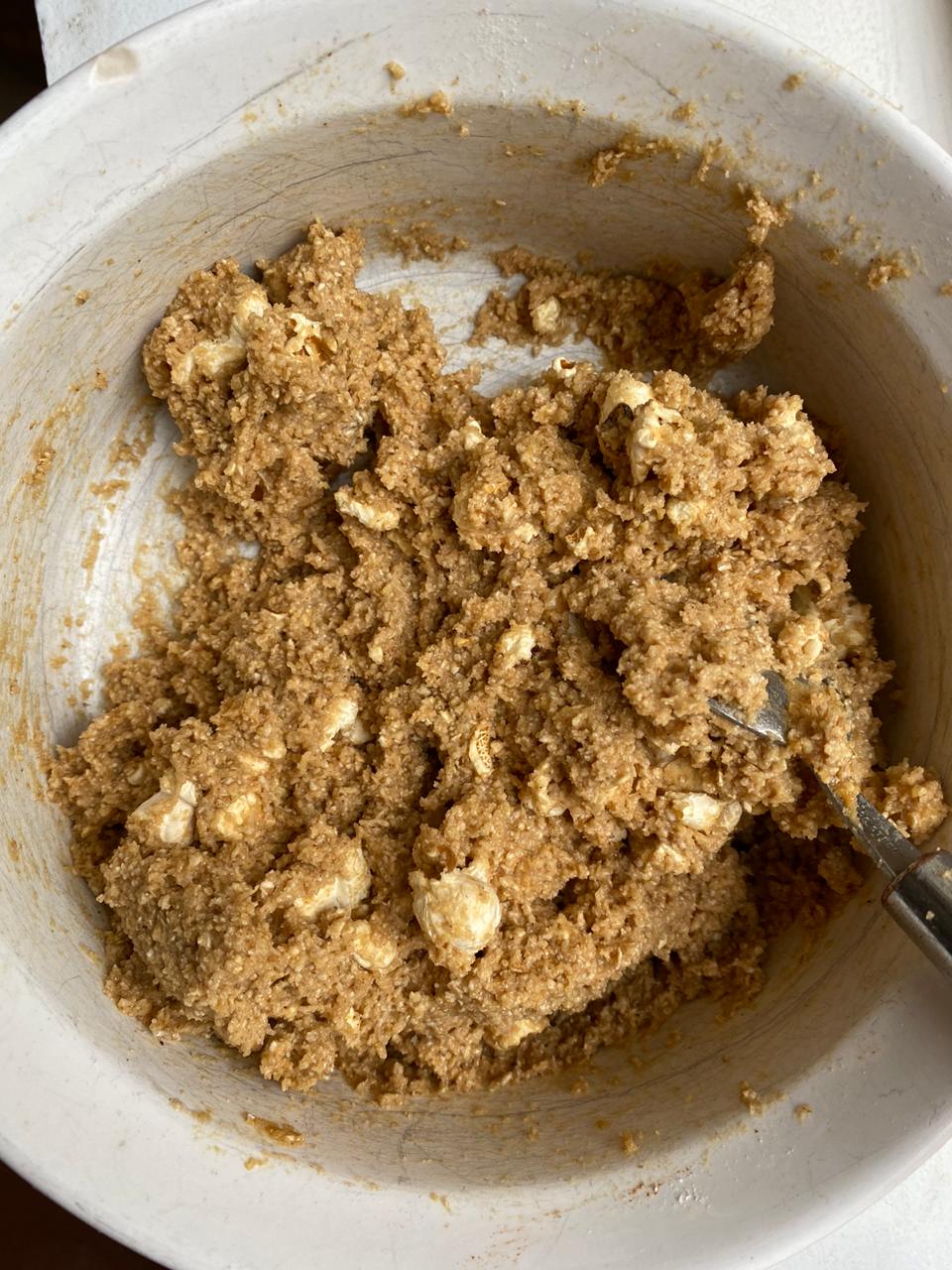 2.
Roll out cookie dough into balls on your lined baking sheet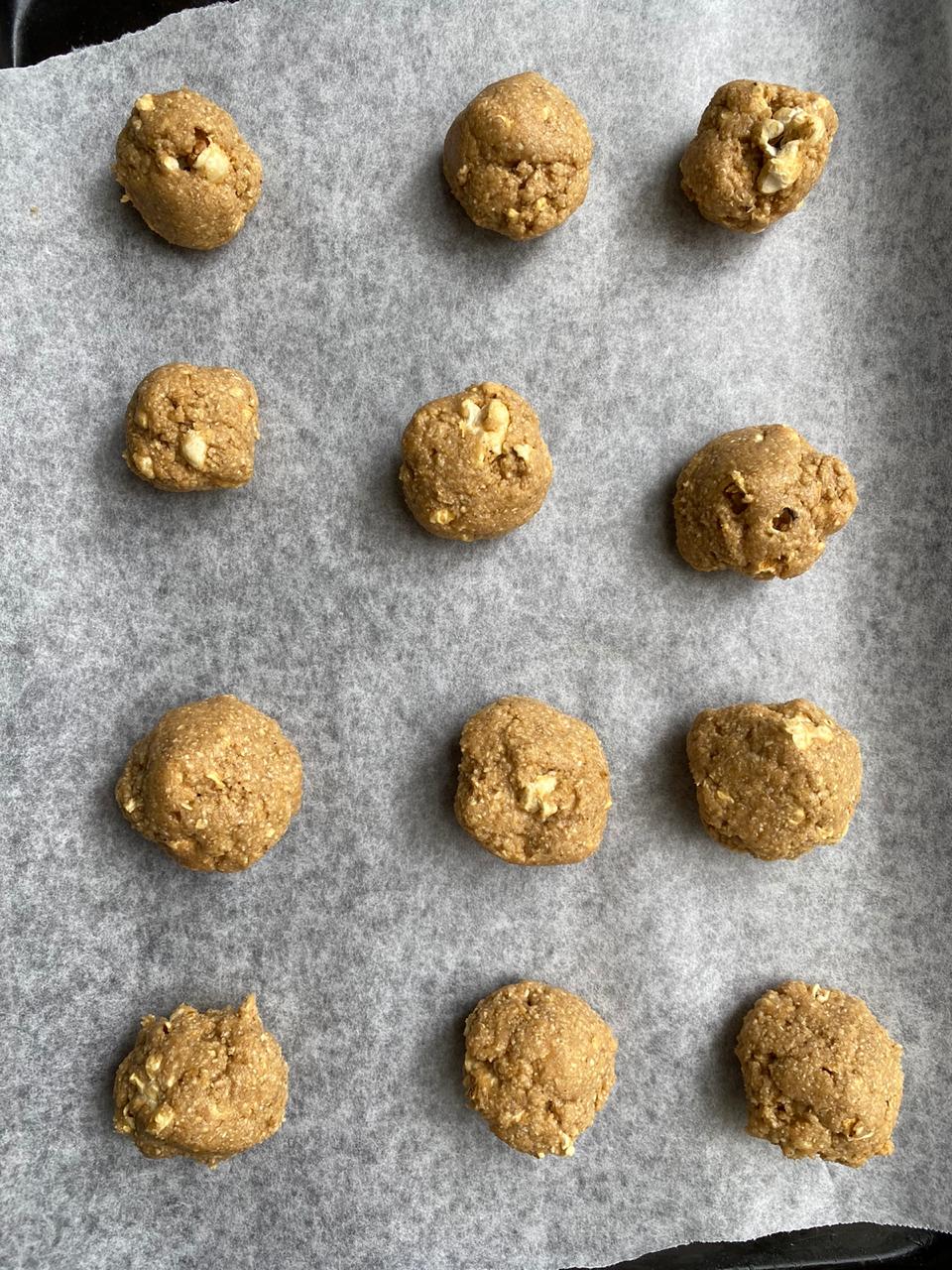 3.
Press down using a fork and top with additional extra toppings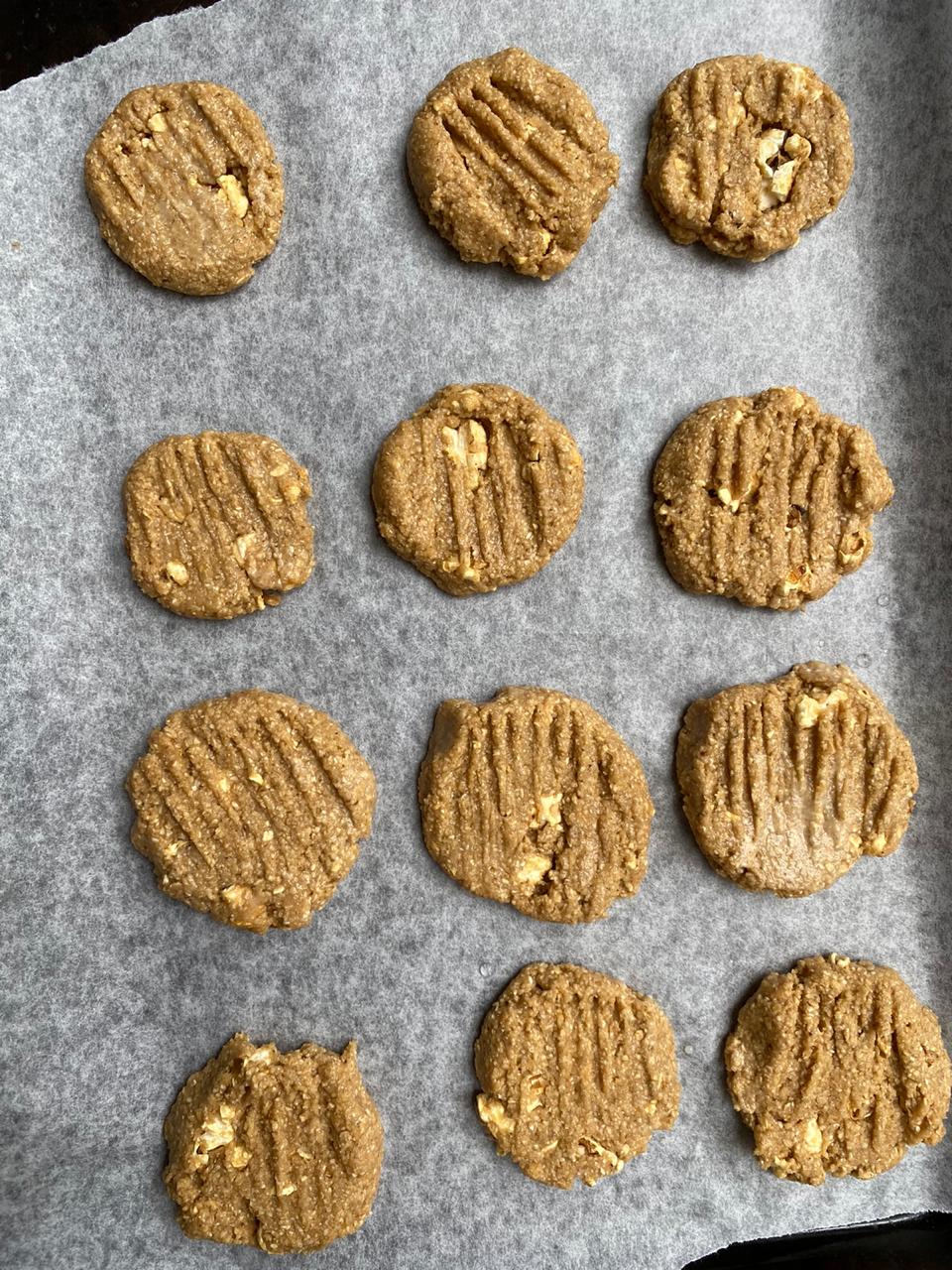 4.
Bake in oven until golden brown and enjoy!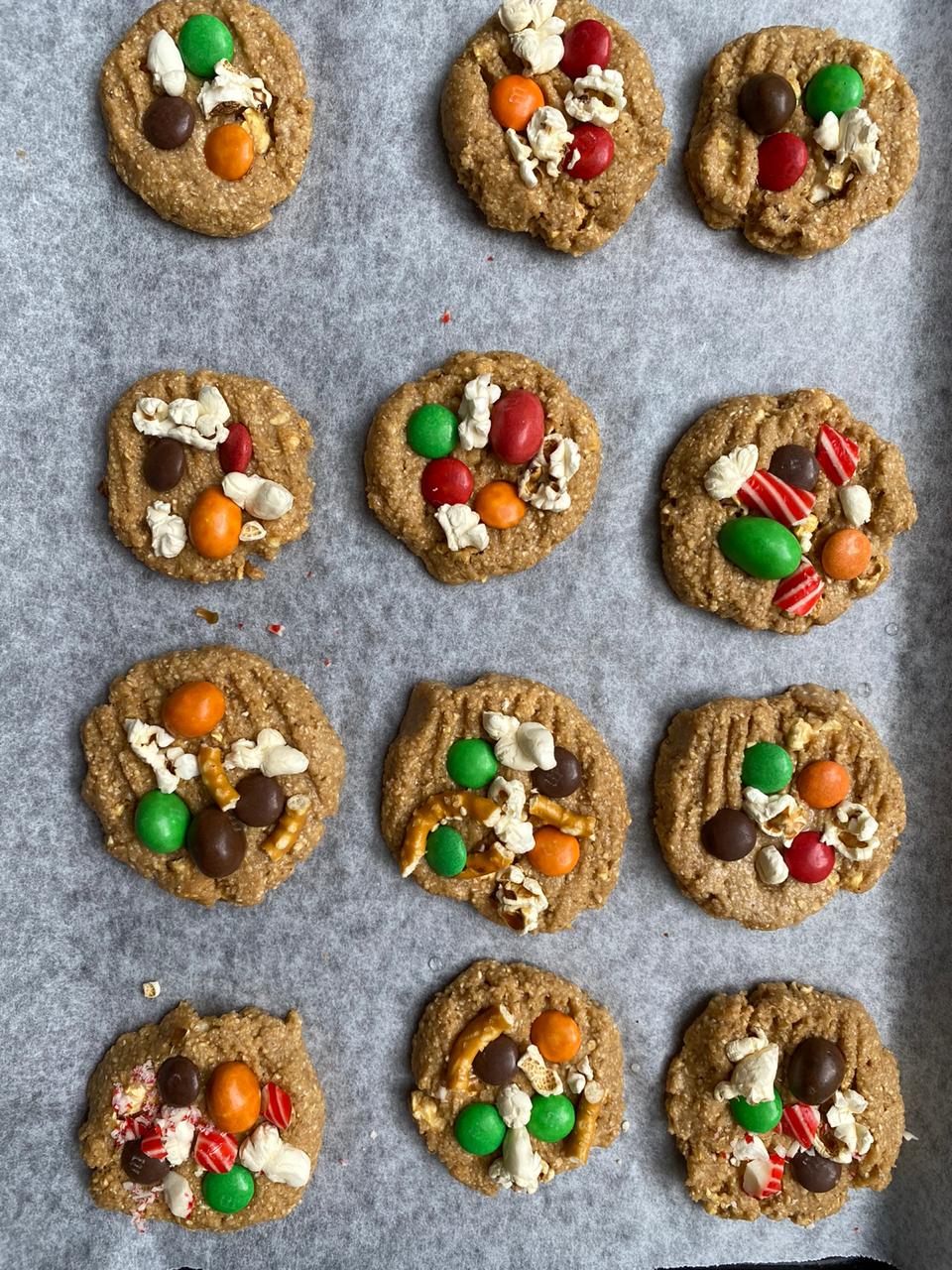 5 Recipe Varieties:
Pretzel: Top with crushed pretzels
 Candy Cane: Top with crushed candy canes
Cranberry: Add extra cranberries to your mixture
Raisin: Add extra raisins to your mixture
Nuts: Add nuts of choice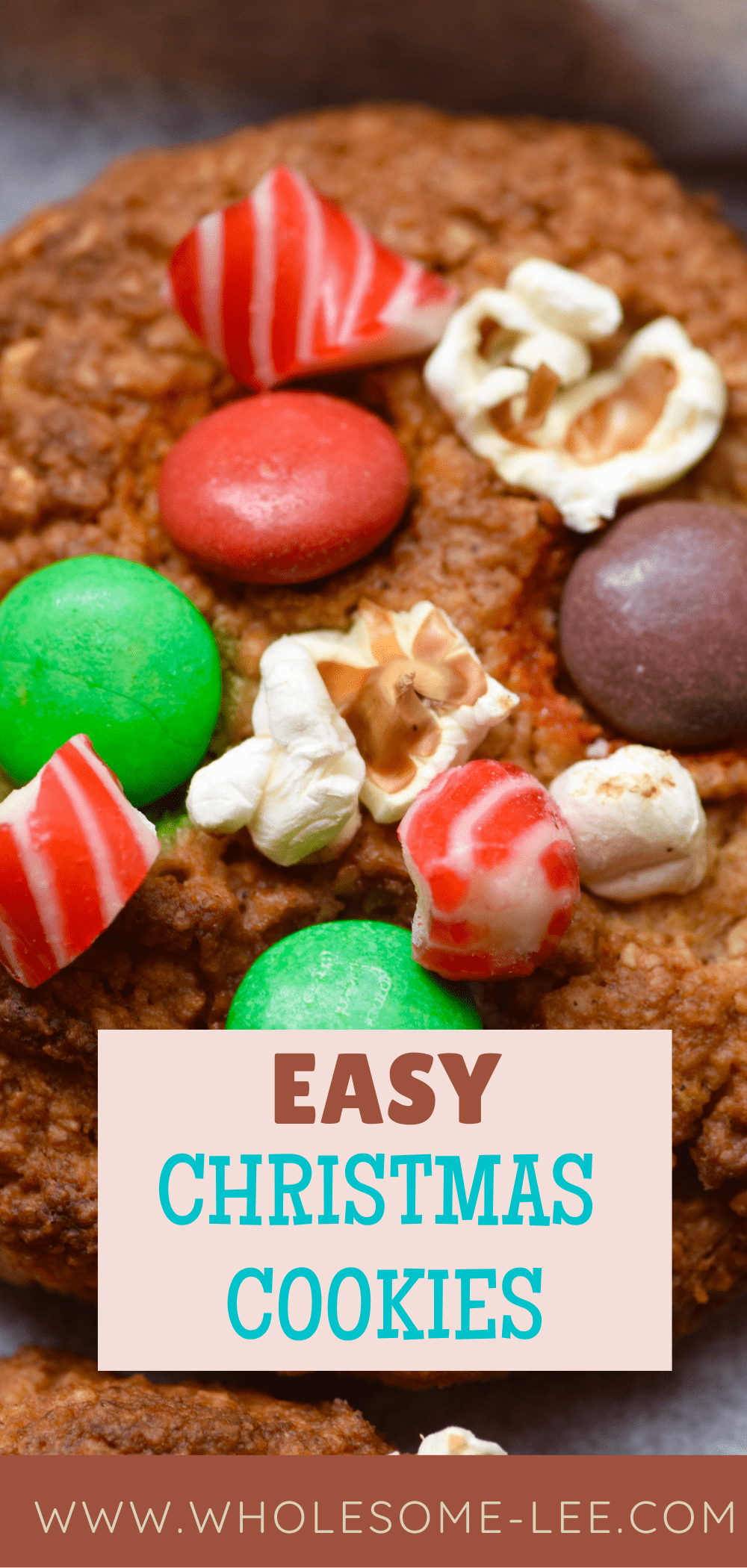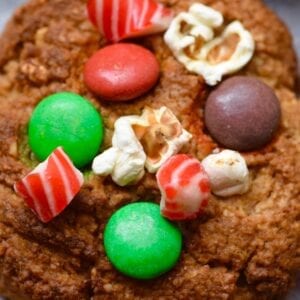 Easy Christmas Cookies
Wholesome Lee
The most delicious quick and easy one bowl christmas cookie recipe! These are almost like a chocolate chip cookie recipe, but with some delicious festive mix in's. With hints of vanilla, chocolate, popcorn and cinnamon- this recipe is an absolute MUST for the festive season.
Ingredients
1,5 cups oat flour 156g
½ tsp baking soda
½ cup granulated sweetener of choice 100g
¼ cup + 1 tbsp milk of choice
1 egg or flax egg
¼ cup peanut butter or butter 65g
¼ cup m&m's or chocolate chips 52g
½ cup air popped popcorn 4g
1 tsp vanilla extract
1 tsp cinnamon
Instructions
Preheat oven to 180 degrees celsius. Line a cookie tray with baking paper

Mix all ingredients above in a bowl, leaving out your popped popcorn and m&m's.

Once a cookie dough has formed, slowly stir in your popcorn.

Using a cookie scooper or spoon, scoop and roll cookie dough onto your lined cookie tray.

Using a fork, press down your cookies to form a cookie shape. Top with your m&m's and any additional optional add in's

Bake in the oven for 12 minutes until golden brown.

Allow to cool and store in an airtight container.
Nutrition
Calories: 91kcalCarbohydrates: 17.2gProtein: 3gFat: 4.3gFiber: 1.2gSugar: 2.8g