Hot Fudge Baked Oatmeal
The most sinfully delicious hot fudge baked oatmeal. This decadent, rich & dark chocolate baked oatmeal is honestly my new favourite way to eat oatmeal. A healthy bowl of oatmeal that honestly tastes better than dessert.
I remember when I first started my weight-loss journey, I came across everyone eating these creamy oatmeal bowls that just looked like a dream. Every time I would make it, it would disappoint my soul because it would just taste slimy with hints of sweetness. I was determined, and make bowl after bowl. Now, I grew to actually love oatmeal, but Mik still struggles to palate the texture!
*Cue* BAKED oatmeal!!!
Okay, So I know you're probably all sick of me posting oatmeal recipes ( ahem, my cookie dough baked oatmeal, brownie batter baked oatmeal & 60 second oatmeal cookie were all posted around this/last month). But I am just obsessing over oatmeal at the moment so please let me have my moment okay?
Baked Oatmeal Recipe
Everyone loves a good dessert oatmeal bowl!
Gone are the days of when you just have a little honey inside some stove top oats with a sprinkle of raisins if you're feeling adventurous! Now, don't get me wrong, that is delicious too but there is just something about having dessert for breakfast, that is secretly good for you!
I remember the first time I showed my father-in-law all my oatmeal creations and he was most unimpressed. He is used to the traditional old boring stove top oatmeal with nothing fun inside! I heard it all, the "you're taking this too far" and "oatmeal and chocolate just don't go" and "baked oatmeal sounds terrible, oatmeal needs to be cooked on stovetop" blah blah blah.
Let's just say he shut up very quickly after giving this bowl of oatmeal a try, and said it tasted like a hot fudge dessert oatmeal bowl!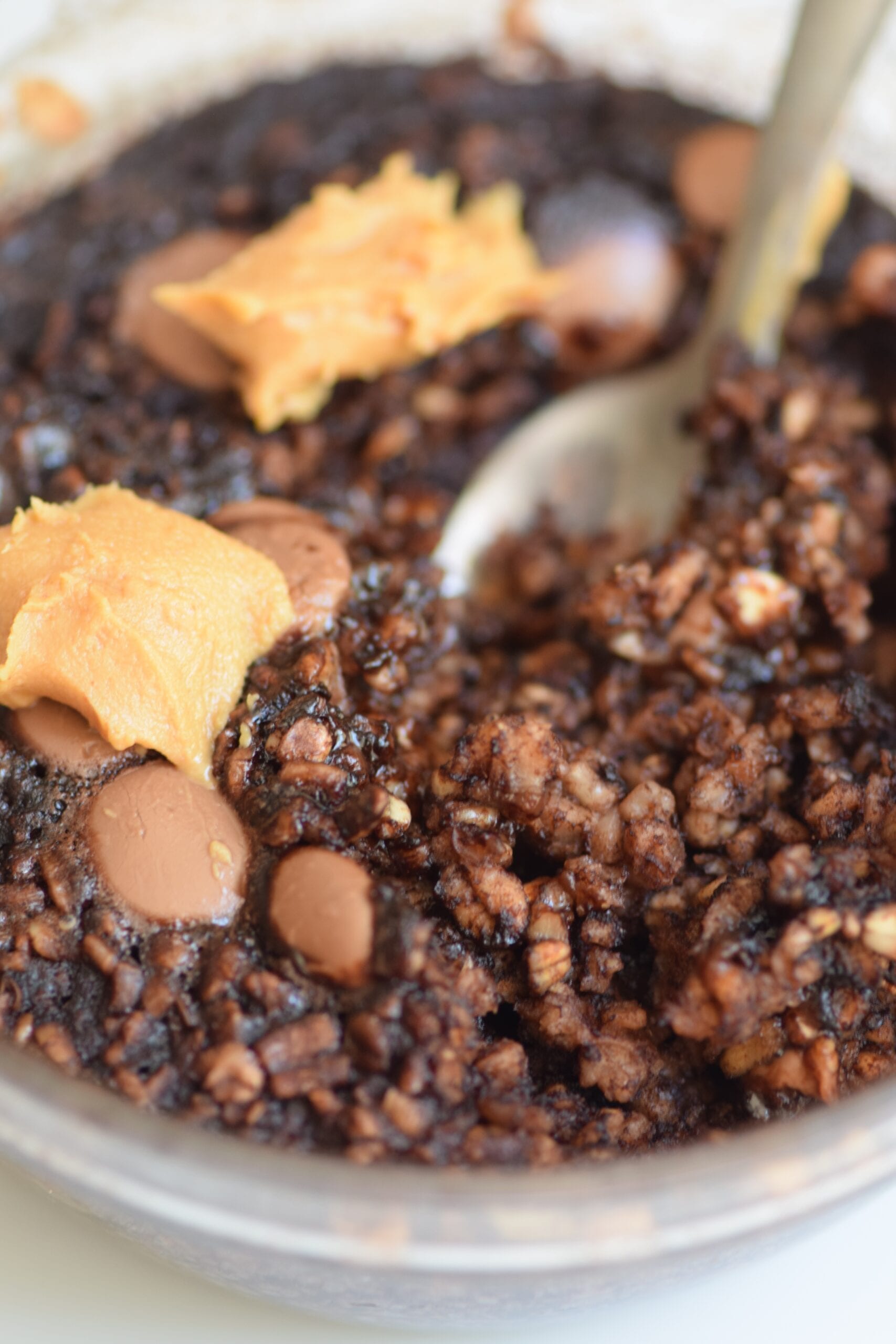 Charlie and The Chocolate Factory
This has always been one of my favourite childhood reads. I have always been a lover of all things chocolate and really really enjoyed getting lost in a world of Oompa Loompas and chocolate bars.
I feel like this baked oatmeal bowl encapsulates this, and this is what a typical breakfast in Charlie and the chocolate factory would look like (healthified, ofcorse 😉 )
Fudgy, gooey and rich- this is honestly one hot fudge mess!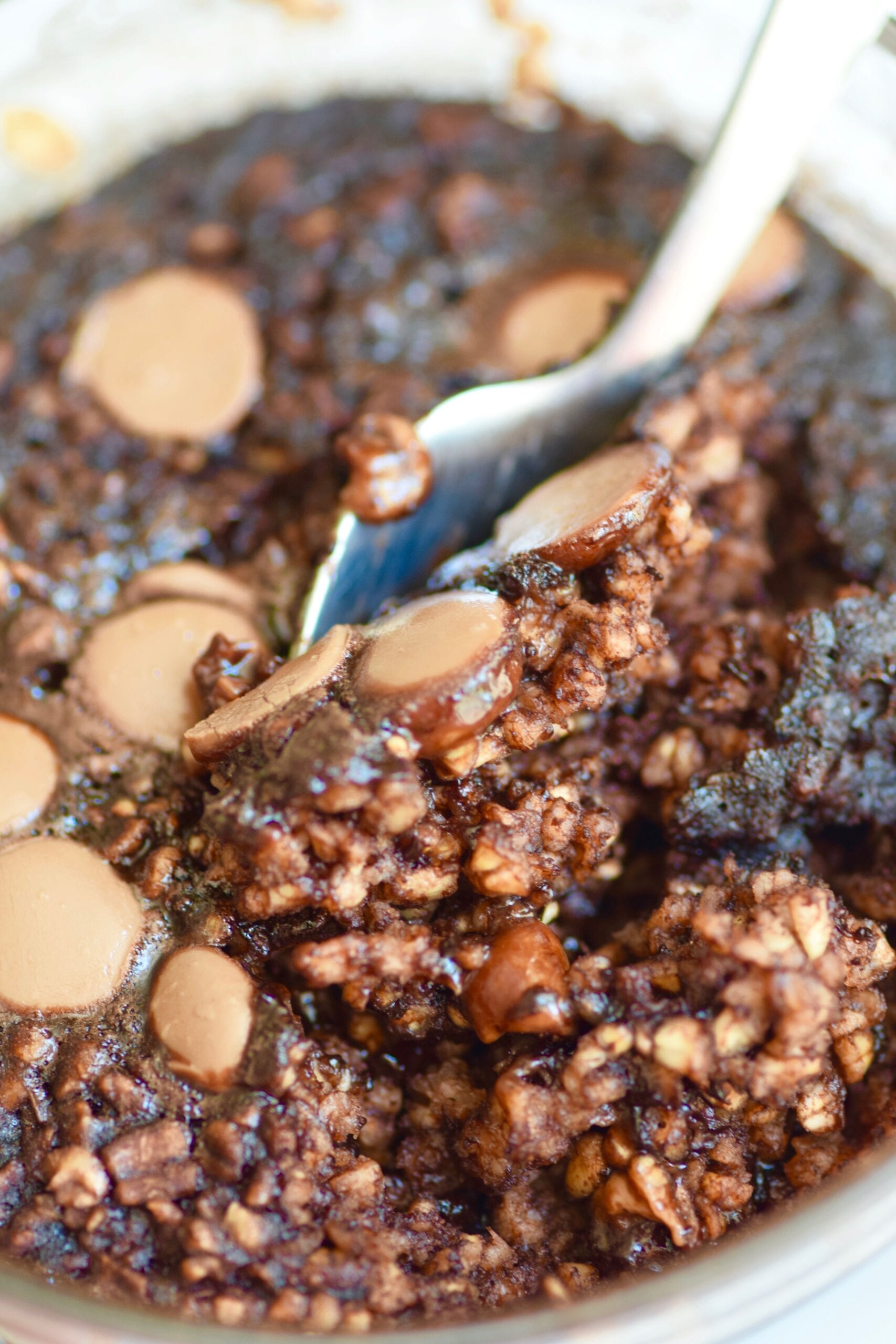 How To Make Hot Fudge Baked Oatmeal
                                                                               Ingredients:
Uncooked oatmeal: Rolled or instant oats are best!
Chocolate nut butter: You can use any chocolate nut butter OR chocolate spread of choice ( my best are lindt & nutella!)
Granulated sweetener of choice: I used a calorie free monk fruit sweetener, but any granulated sugar could work.
Baking powder: Essential to get your mug cake to rise
Chocolate chips: To add to its decadence
Method:
1.
 Mix all ingredients in a oven-proof bowl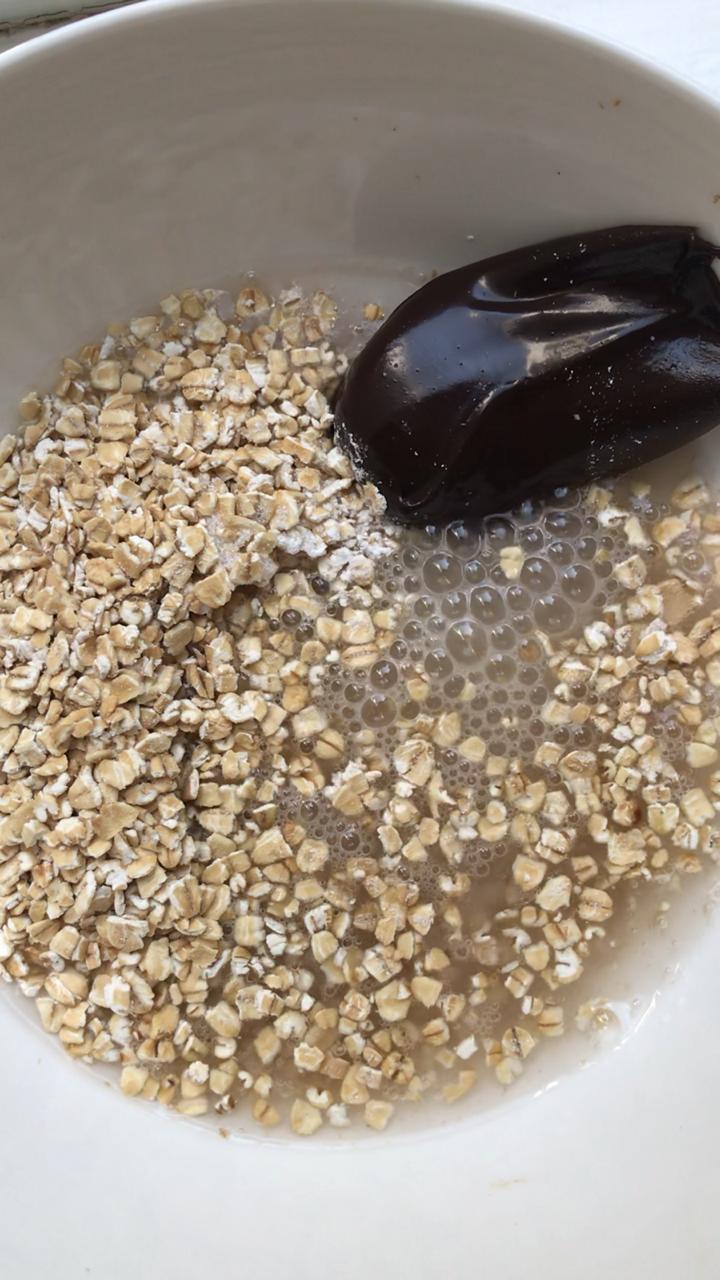 2.
Bake in oven until golden
5 Fudgey Baked Oatmeal Flavors
 We all know im all about changing it up! 
Bounty: add 1-2 tbsp dessicated coconut

Orange choc: Add 1 tbsp lemon zest to your batter

Top deck:Use white chocolate chips instead of milk
Dark chocolate:Use dark chocolate spread 

PB choc: top with some optional crushed peanuts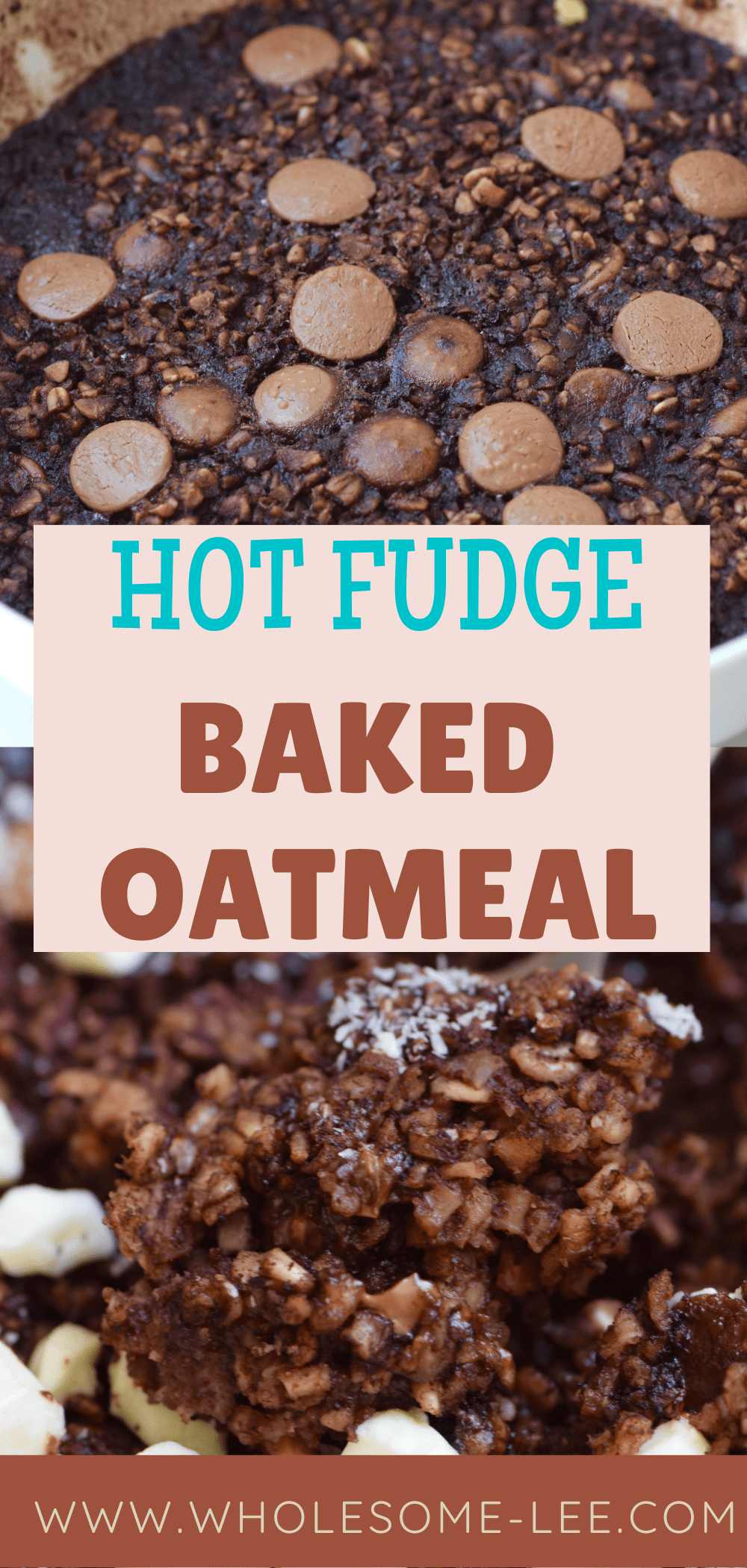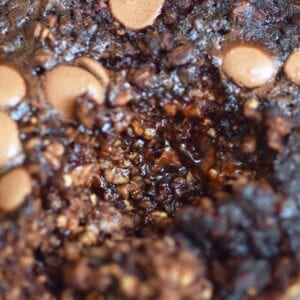 Hot Fudge Baked Oatmeal
The most decadent, fudgey baked oatmeal bowl. This is the perfect breakfast for any chocolate lover and honestly tastes like having dessert for breakfast. Secretly good for you, high fiber & the perfect chocolate breakfast recipe!
Ingredients
½

cup

dry oatmeal

(40g)

1

tbsp

chocolate nut butter of choice OR chocolate spread

2

tsp

chocolate chips

½

cup

water

½

tsp

baking powder
Instructions
Preheat the oven to 180 degrees celisus.

Mix all ingredients in an oven proof baking bowl

Bake in oven for 10-12 minuted until the top is nice and golden.

Remove from oven and enjoy immediately!
Nutrition
Calories:
302
kcal
Carbohydrates:
60.9
g
Protein:
6.8
g
Fat:
10.3
g
Fiber:
5.6
g
Sugar:
16
g