The perfect dessert with a gooey centre, and a crunchy outer layer! This single serving blueberry cobbler takes 12 minutes to make, and is the ideal if you're you have a craving and want and instant dessert! This 100 calorie single serving blueberry cobbler will blow your mind, it is so simple yet so incredibly tasty! This recipe is vegan, and can be gluten free if you use certified gluten free oats!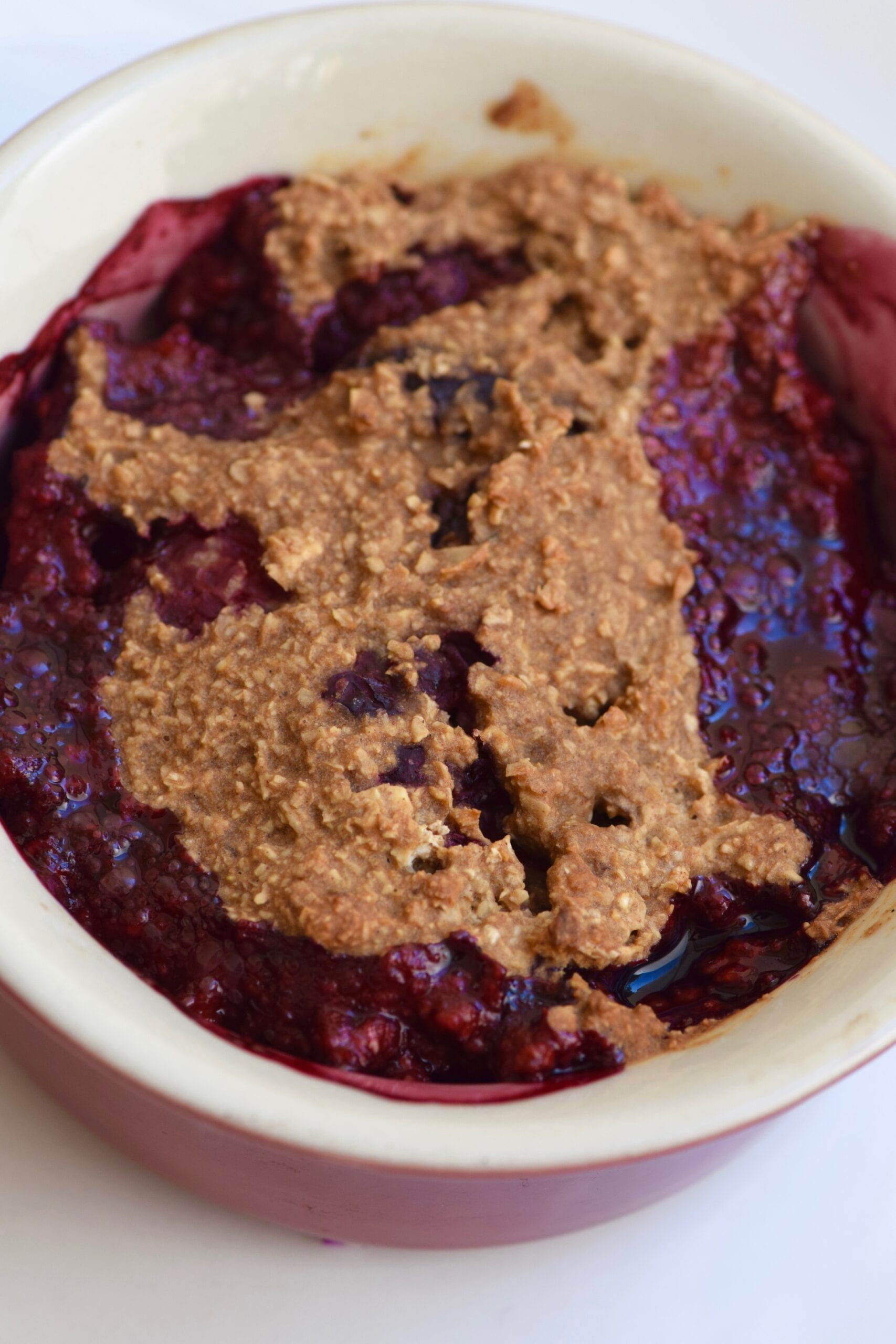 Single Serving Blueberry Cobbler
Now, I have to be honest. I have only ever tried blueberry cobbler once in my life. We were at a good friend for dinner one Friday night, and she made this delicious blueberry cobbler with the perfect crumble. My only critique would be that it was way too sweet, with all the sugar that was added. The dessert was also drenched in butter, which made me a little nauseas after eating it.
I recently got some delicious frozen blueberries at my local grocery store and was wondering what to make! After a lot of experimenting, this simple yet surprisingly flavourful single serving blueberry cobbler is honestly pretty mind blowing- if I do say so myself!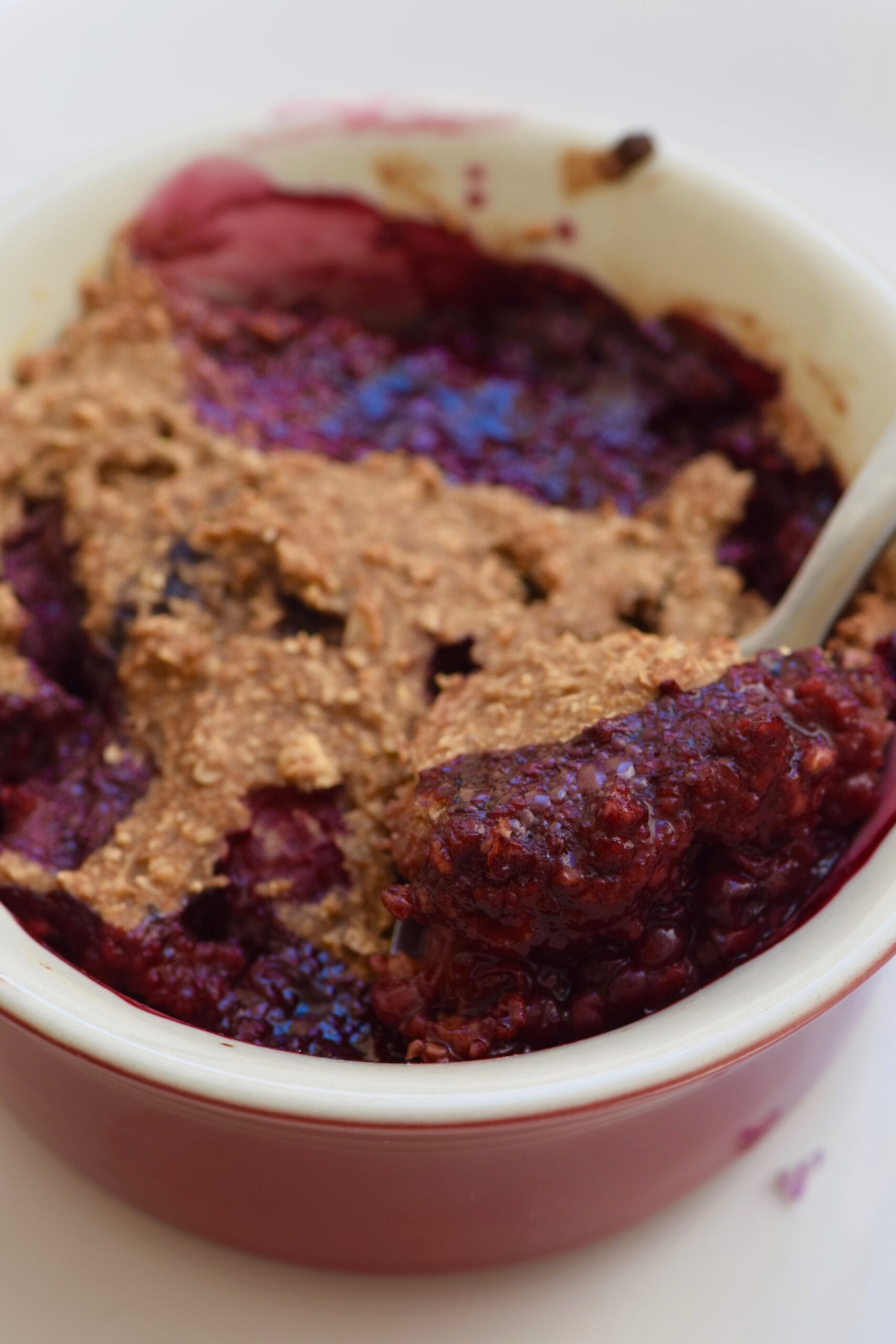 Single Serving Desserts
I've been loving single serving desserts lately! With my single serving chocolate chip cookie, red velvet mug cake, or even 60 second chocolate cake. There is something just so satisfying about not having to make a huge batch of something and messing the entire kitchen! It also works well because for those of us who can't seem to eat the entire batch of baked goods (myself included sometimes hehe), these are a great way to stick to portion size as all you make is what you eat! This single serving blueberry cobbler is truly a single serving dessert heaven!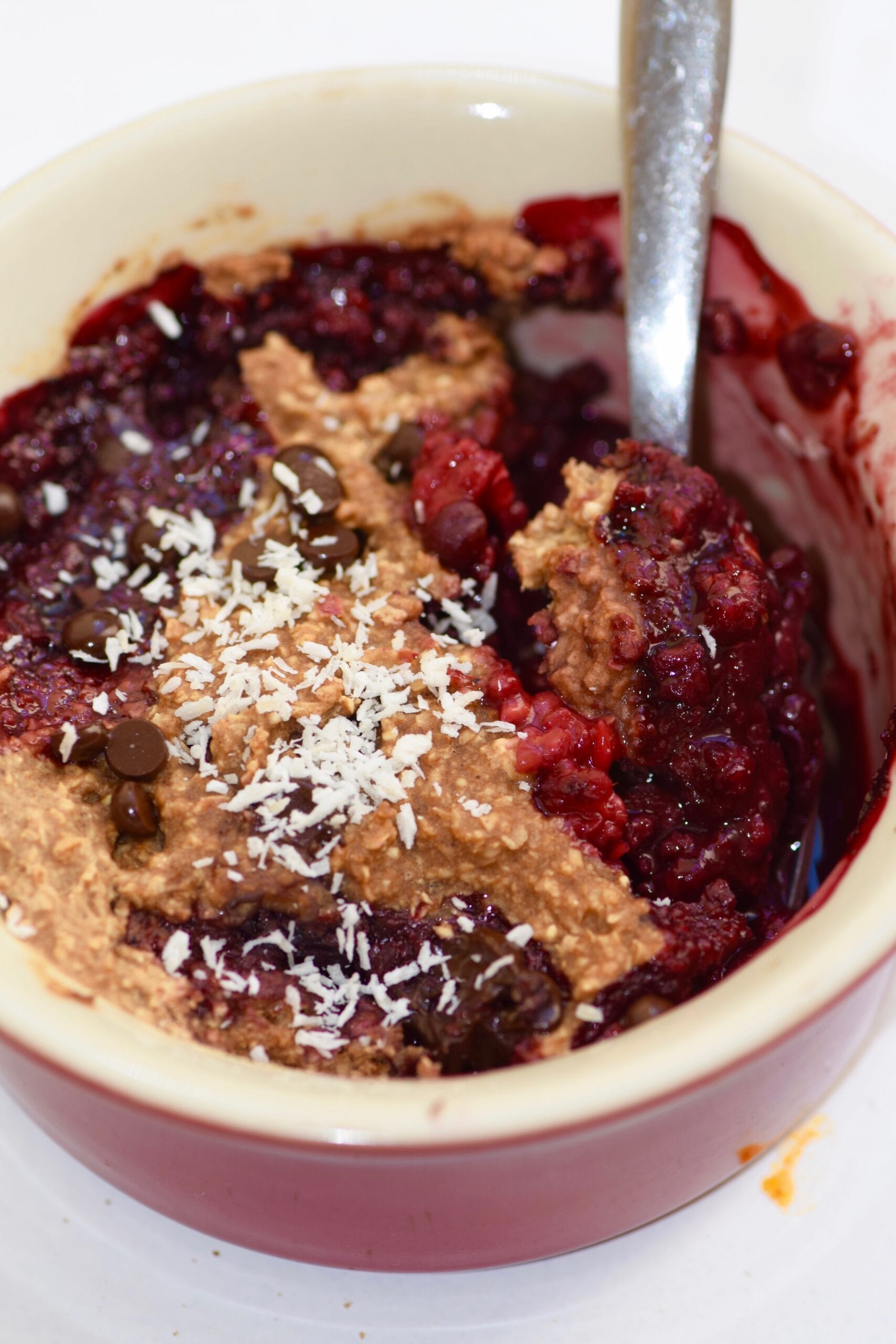 Single Serving Blueberry Cobbler
                                                                               Ingredients:
Blueberries: I use frozen blueberries as I find it creates a far better ooey goey centre. But fresh blueberries can be used too, it just wont be as gooey. 
Granulated sweetener of choice: I use golden monk fruit, but you could use any granulated sweetener of choice such as erythritol, stevia, xylitol, coconut sugar etc. 
Oat flour: I make my own through blending oats into a high speed blender
Dash of cinnamon: For a delicious cinnamon flavor
Lemon zest: To add freshness
Vanilla extract: Adding a delicious vanilla flavor
Milk of choice: I use almond but you could use any milk of choice
Method:
1.
Grab an oven proof ramekin or mug. Place your berries inside and mix it in with your lemon zest & some granulated sweetener of choice. Grab another bowl and mix ingredients in for the topping.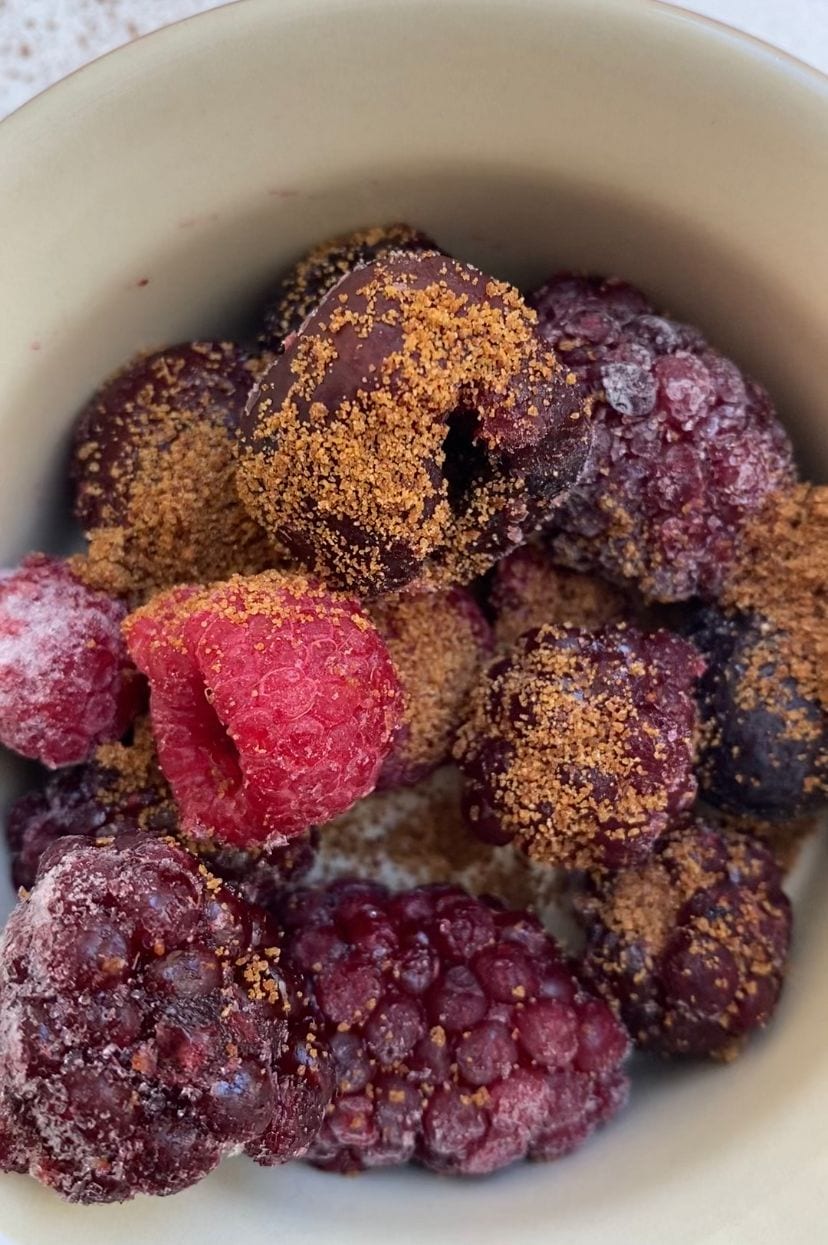 2.
Place your topping on top of your berries.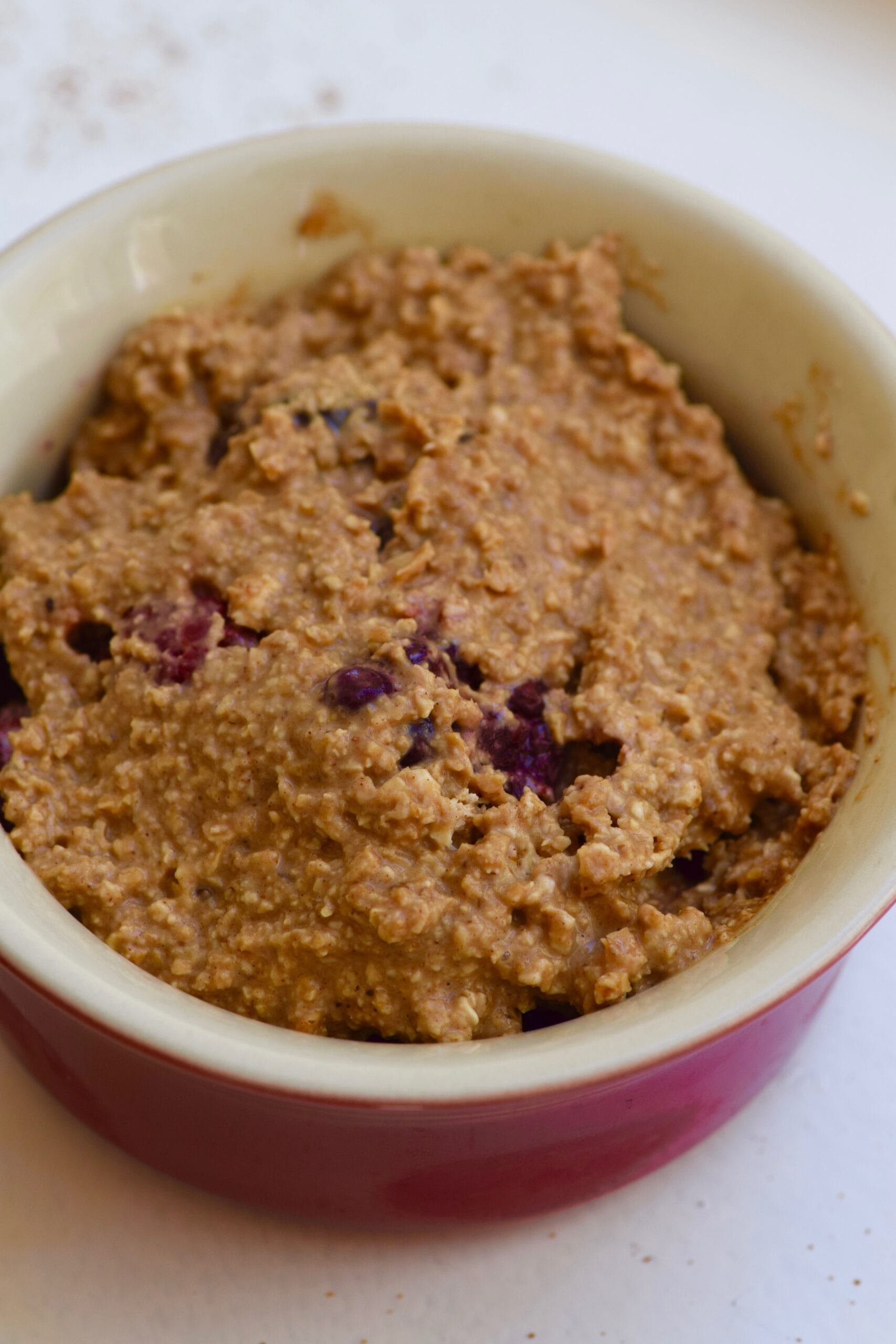 3.
Bake at 180 degrees celisus for 12-15 minutes until slightly golden.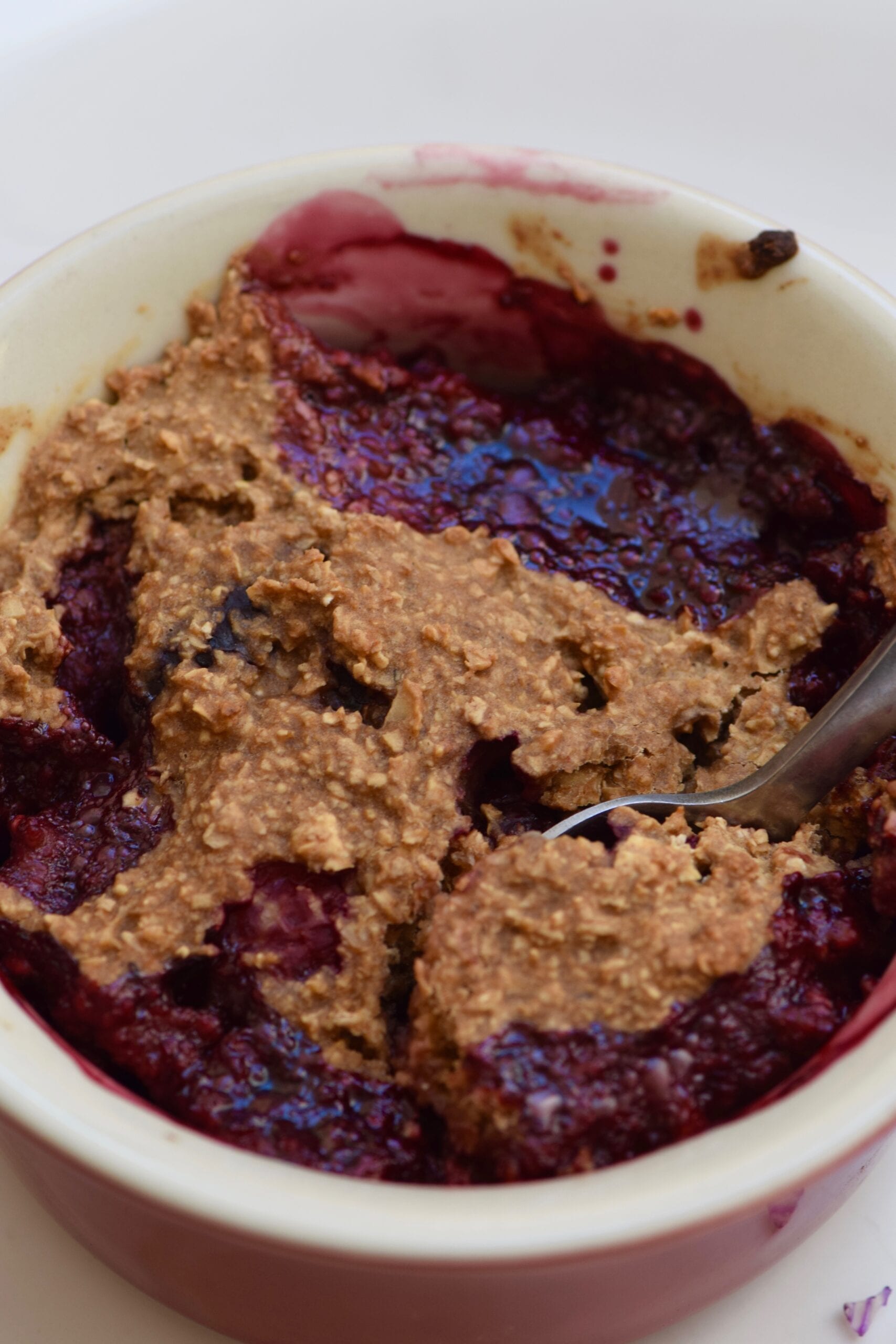 Blueberry Cobbler Varieties
Mixed berries: Use mixed berries instead of blueberries like strawberries, raspberries etc.
Chocolate chip :Add 1 teaspoon chocolate chips of choice
Coconut:Add a sprinkle of desiccated coconut 
Lemon blueberry: Add extra lemon zest and a squeeze of lemon juice to the berry micture
Yoghurt: Top with some yoghurt of choice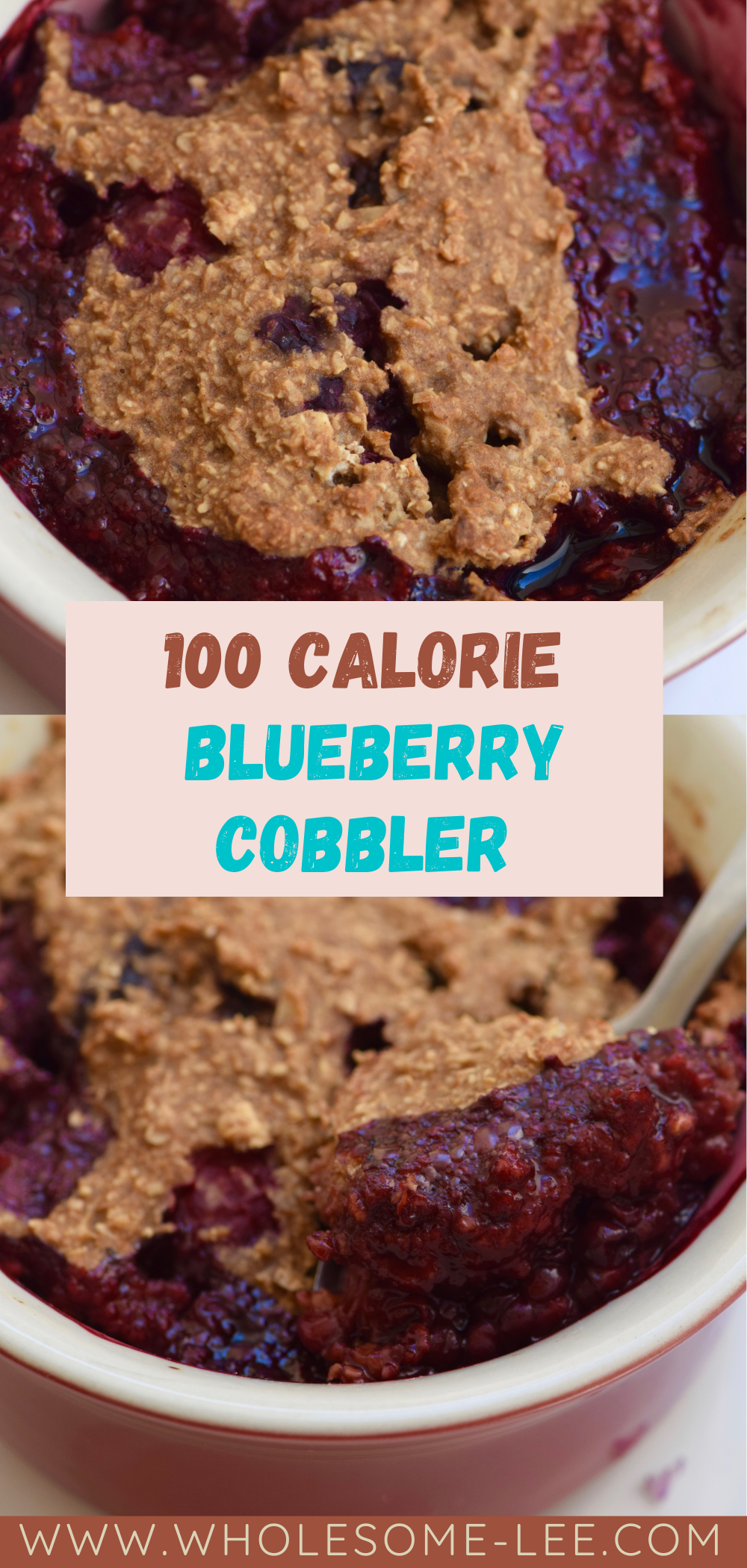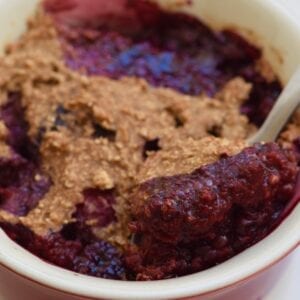 100 Calorie Single Serving Blueberry Cobbler
Wholesome Lee
This 12 minute single serving blueberry cobbler is the perfect healthy dessert of your dreams! No mess, fuss free and it is the best almost instant dessert
Ingredients
¼ cup frozen blueberries or mixed berries of choice
1 tsp lemon zest
For the topping:
2 tbsp oat flour
¼ tsp cinnamon
½ tsp vanilla extract
2-3 tsp milk of choice
Instructions
Preheat the oven to 180C/350F.

Place all your ingredients for the filling into an oven proof ramekin. Set aside.

In another bowl, mix all your ingredients for the topping. Place your topping on top of your blueberry filling.

Bake for 12-15 minutes until it forms a golden outer crust.
Nutrition
Calories: 99kcalCarbohydrates: 18.5gProtein: 3.7gFat: 1.6gFiber: 3gSugar: 3.7g