Single Serving Brownie Cookie
The most incredible high fiber, vegan, single serving, oil free and flour free cookie! Honestly, this single serving brownie cookie is perfect for if you're craving a sweet treat that can be made in 60 seconds without any fuss!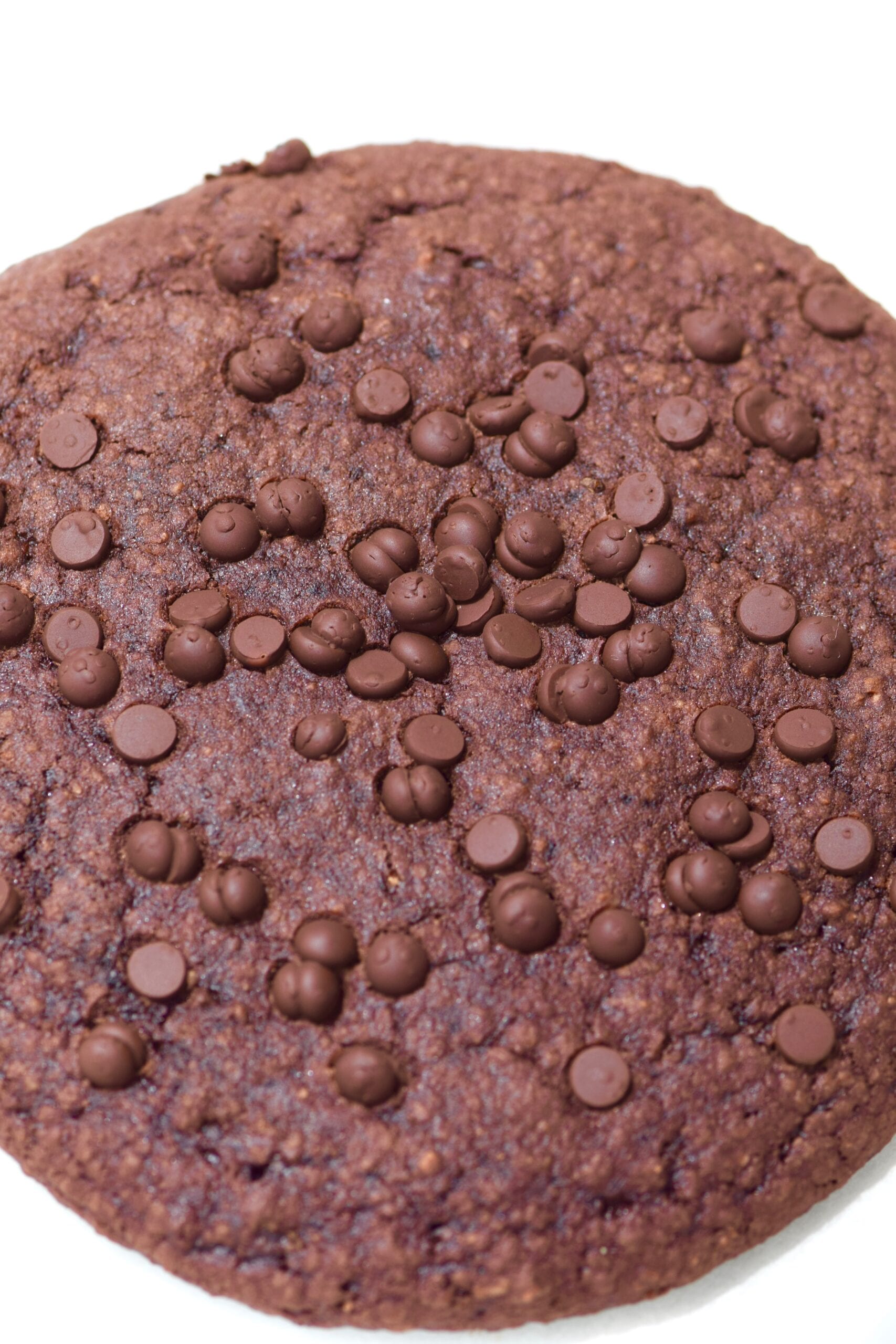 Brownie Cookies
Is this a brownie or a cookie? Honestly, it could be either or both! It is no secret that I have a special love for brownies, and also have an equally as special love for cookies. Since my fudge brownie cookie recipe, a lot of you have been begging me for a single serving version!
I LOVE single serving dessert recipes because firstly, they can be made instantly when you feel like having the treat and secondly they are great for portion control (You stick to only eating one cookie!). My 60 second chocolate chip cookie was such a hit on the blog, here is a fudge brownie cookie version!
Healthy Cookie
This cookie has to be one of the healthiest cookies in the world. Honestly, refined sugar free, high fiber, oil free, flour free & basically packed wit whole grain ingredients! Additionally, it also happens to be vegan for all my plant based readers out there!
Why do I personally prefer using these ingredients? Because of the increased fiber this cookie is likely to keep you full for longer, as opposed to traditional versions made with white flour that lacks fiber. Additionally, all these ingredients are likely to make you feel better (energised) and not have an energy spike and crash which usually happens with traditional versions that are often sugar loaded!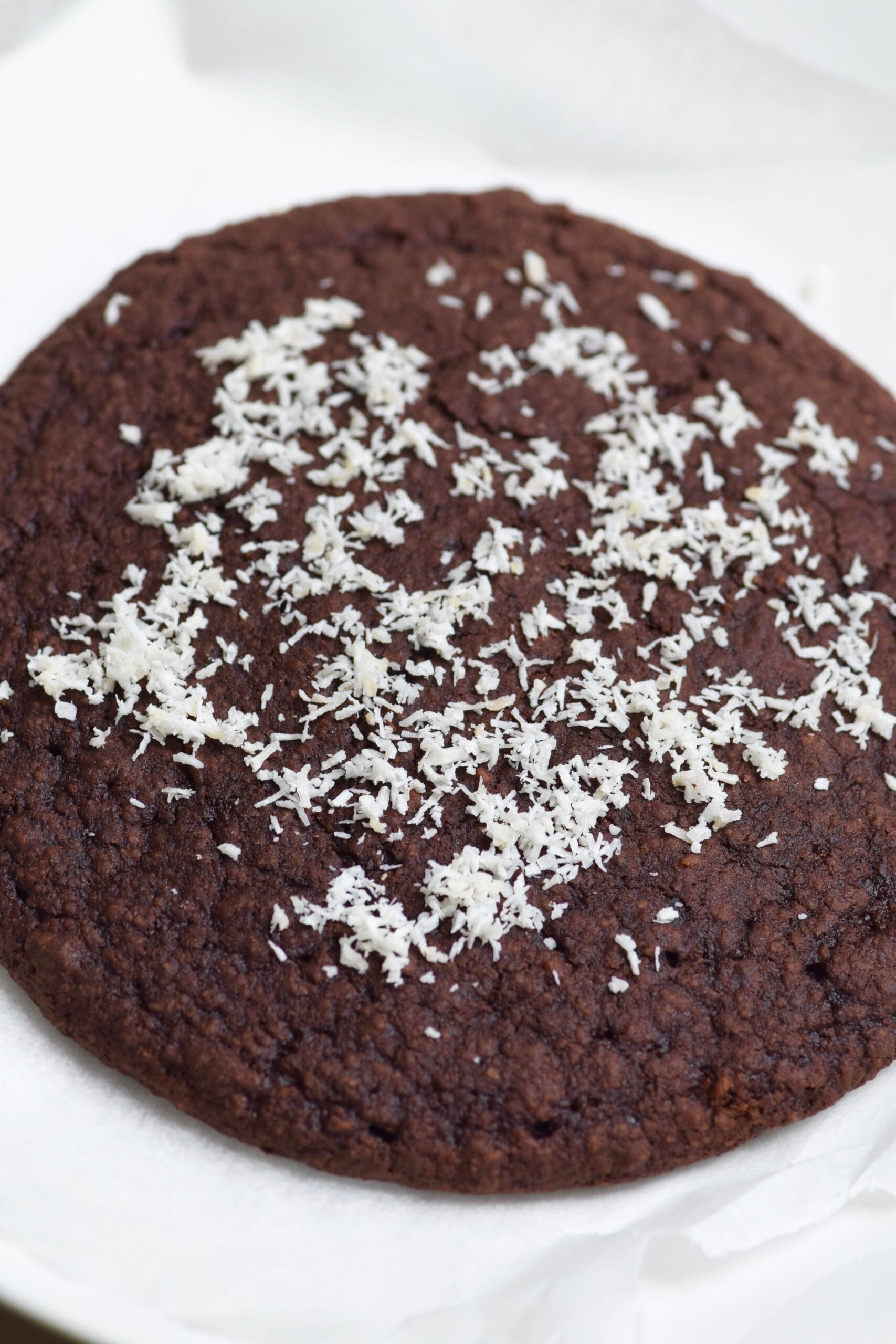 Fudgy Gooey Brownie Cookie
How do you like your brownies? I like mine ultra fudgy and gooey. It almost needs to taste like chocolate mud butter to me! If you want to get it to this level, I would say baking it for 8 minutes would work perfectly! However, if you prefer a slightly firmer cookie (This cookie texture of this recipe is designed to be more brownie like and will not be crispy, so if you prefer crispy cookies check out my double chocolate cookies instead) bake it for the full amount recommended!
Brownie Cookie Recipe
                                                                               Ingredients:
Oat Flour: You can buy or make your own! I make my own through blending rolled or quick oats in a high speed processor or blender until it forms a flour
Nut butter: you can use any nut or seed butter of choice.  I personally LOVE peanut butter, or chocolate hazelnut butter
Cocoa Powder: For that chocolatey flavor!
Apple sauce: unsweetened
Baking powder: To give it a fluflly texture
Sweetener of choice: I used granulated erythritol but any granulated sugar or sweetener could work
Water or milk of choice: Both work very well! 
Vanilla extract: For a delicious vanilla flavor
Method:
1.
 Mix all ingredients in a small bowl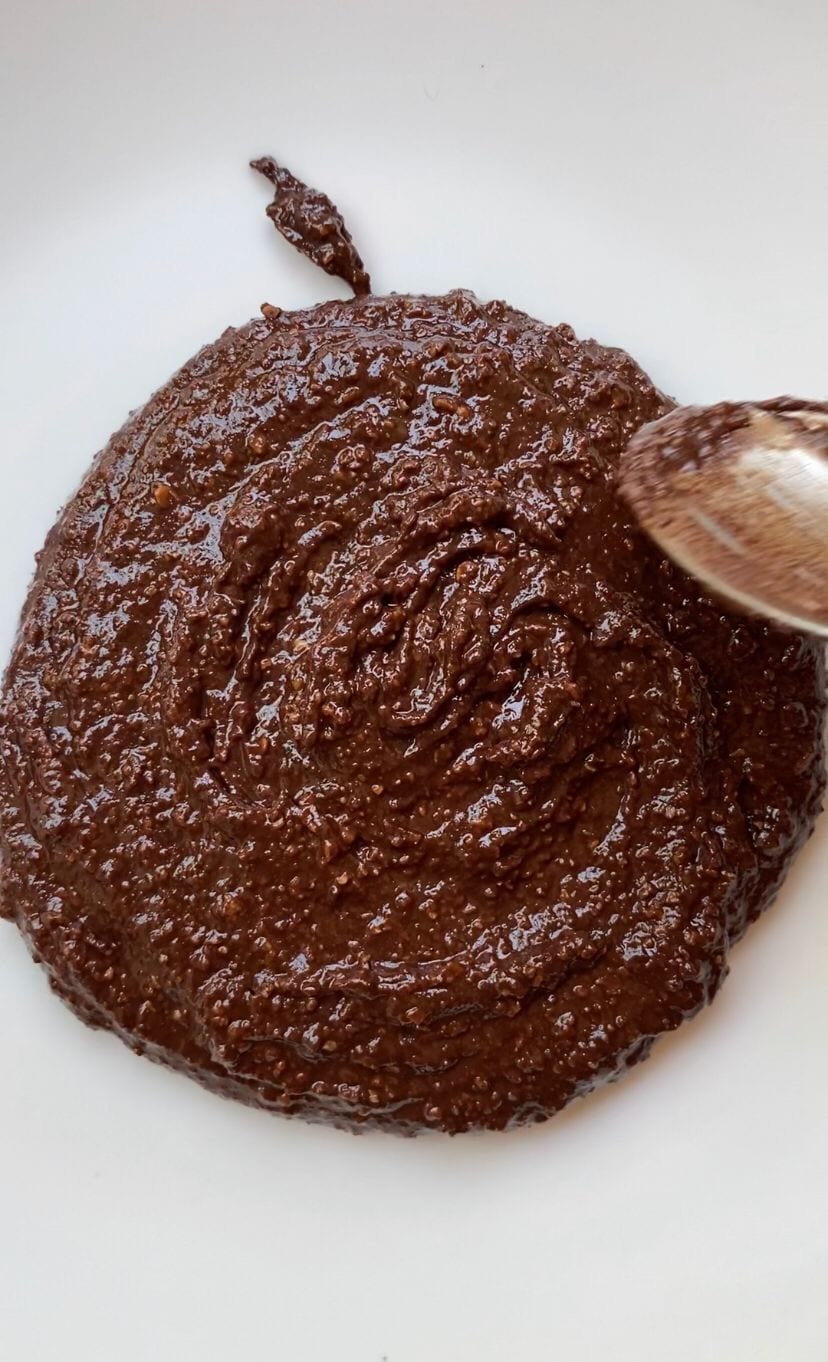 2.
Line an oven proof baking tray or plate with baking paper. Spread it into a cookie shape and microwave or bake!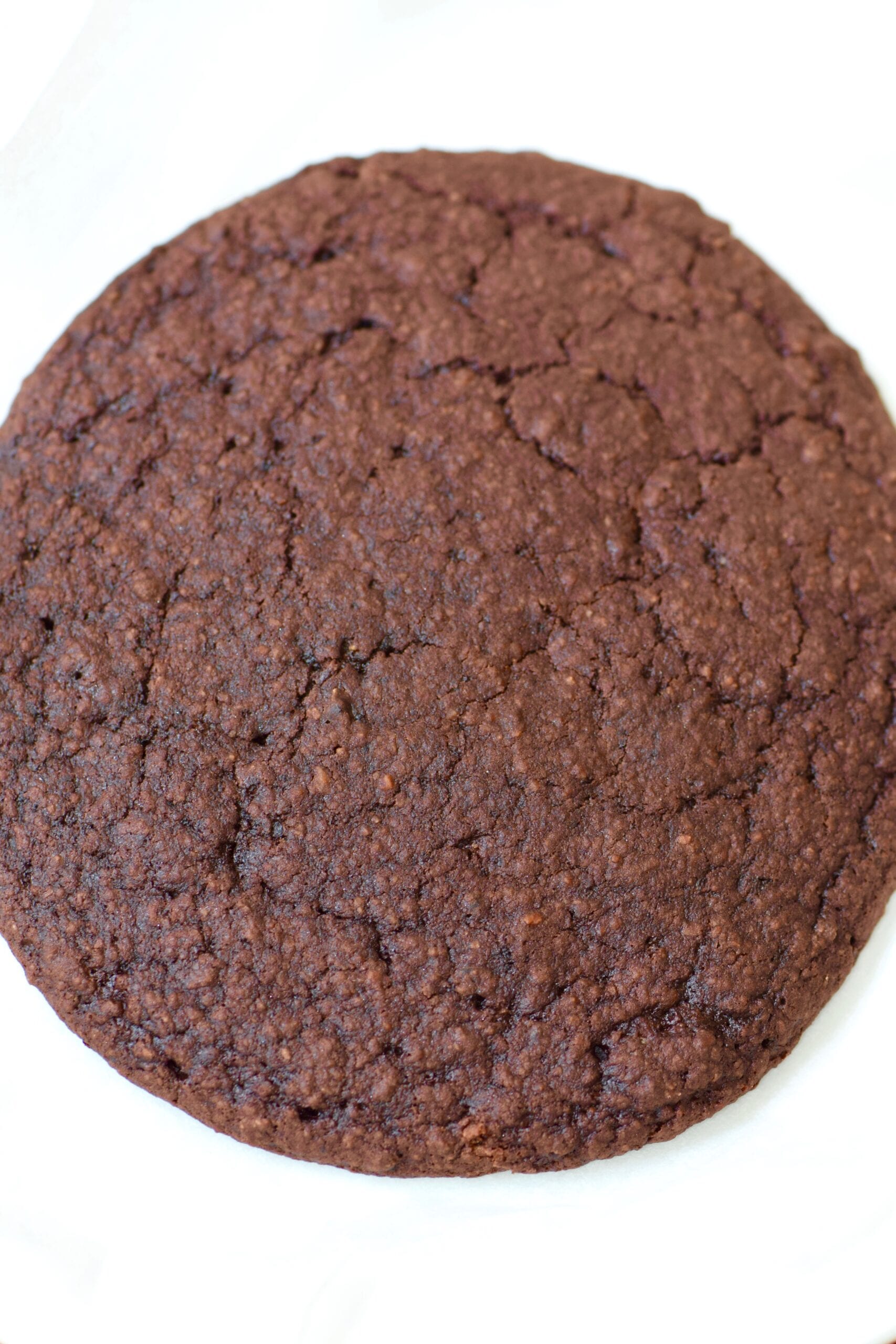 5 Brownie Cookie Flavors
Looking to change things up? Here are some of my favourite cookie toppers that will honestly take it to the next level!
Dark chocolate: Mix in some dark chocolate chips

Biscoff: If you're looking for something super indulgent add some biscoff topping!

Toasted Coconut: Add a sprinkle of desiccated coconut as a topping
Raspberry:Add some fresh or frozen rapsberries to the mixture

Peanut Crunch: Add some crunchy crushed peanuts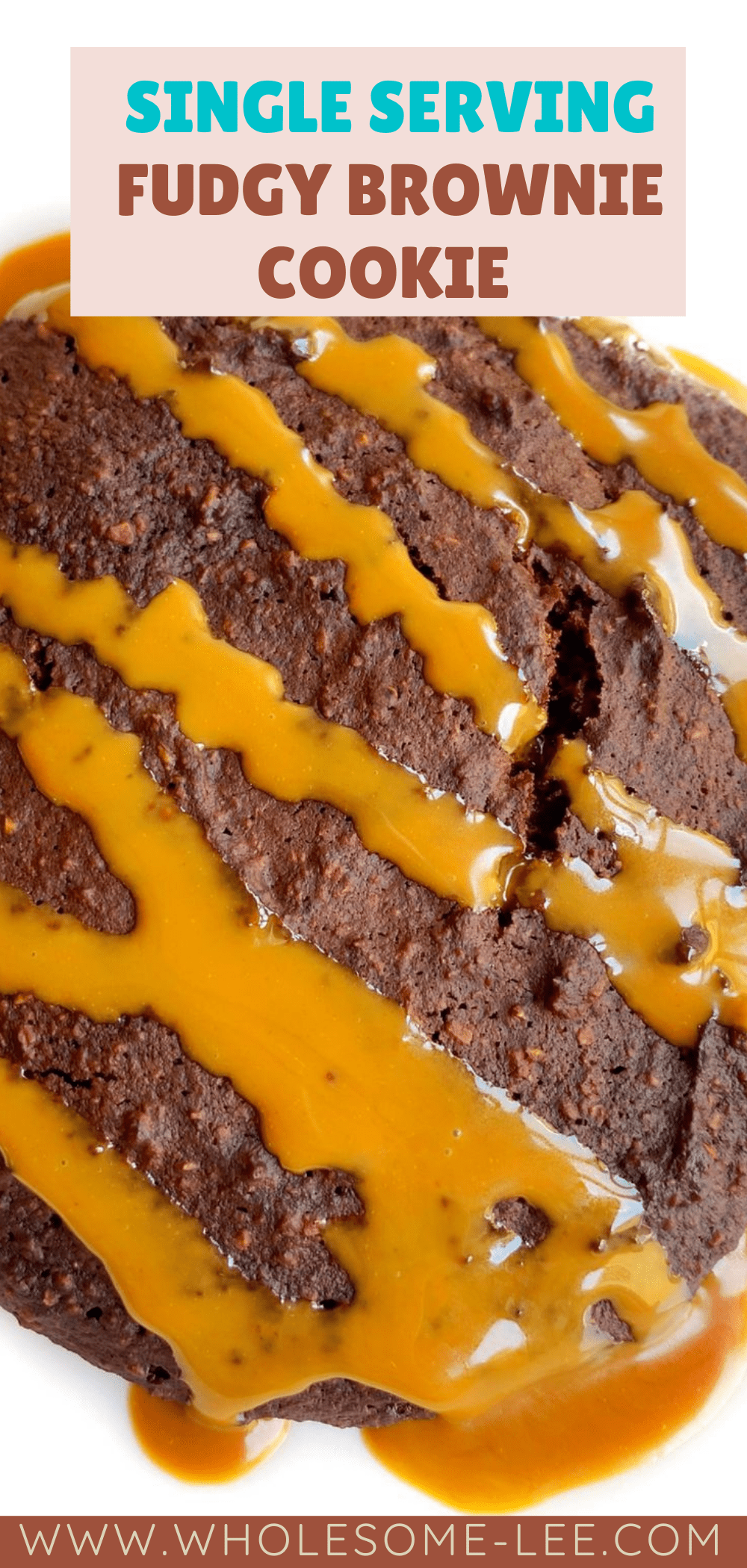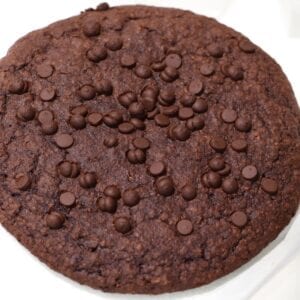 Single Serving Brownie Cookie
Wholesome Lee
The most incredible high fiber, vegan, single serving, oil free and flour free cookie! Honestly, this recipe is perfect for if you're craving a fudgy brownie cookie that can be made in 60 seconds without any fuss! It is the ultimate healthy dessert cookie that the most delicious single serving fudgy dessert
Ingredients
3 tbsp oat flour
1 tbsp cocoa powder
1/8 tsp baking powder
1 tbsp apple sauce
1 tsp nut/seed butter of choice OR melted chocolate
1 tbsp water or milk of choice
1/2 tsp vanilla extract
Instructions
For the microwave
Mix all ingredients above in a bowl

Place dough onto a microwave safe plate and shape in cookie shape. You may want to line the plate with parchment paper

Microwave cookie for 60 seconds

Enjoy immediately
For the oven:
Preheat oven to 180 degrees celisus

Place dough onto a oven proof plate and shape in cookie shape. You may want to line the plate with parchment paper

Bake for 8-10 minutes until edges are crispy

Enjoy immediately or store in an airtight container
Nutrition
Calories: 136kcalCarbohydrates: 19gProtein: 5gFat: 5gFiber: 4gSugar: 2.5g