Strawberry Cheesecake Recipe
The most delicious, creamy, high protein strawberry cheesecake recipe! With hints of strawberry shortcake, this a sweet creamy dessert! Think about fresh strawberries, mixed with hints of vanilla and fresh cottage cheese. This is a delicious low calorie, healthy cheesecake that is refined sugar free and packed with protein.
You may also like Low calorie chocolate cheesecake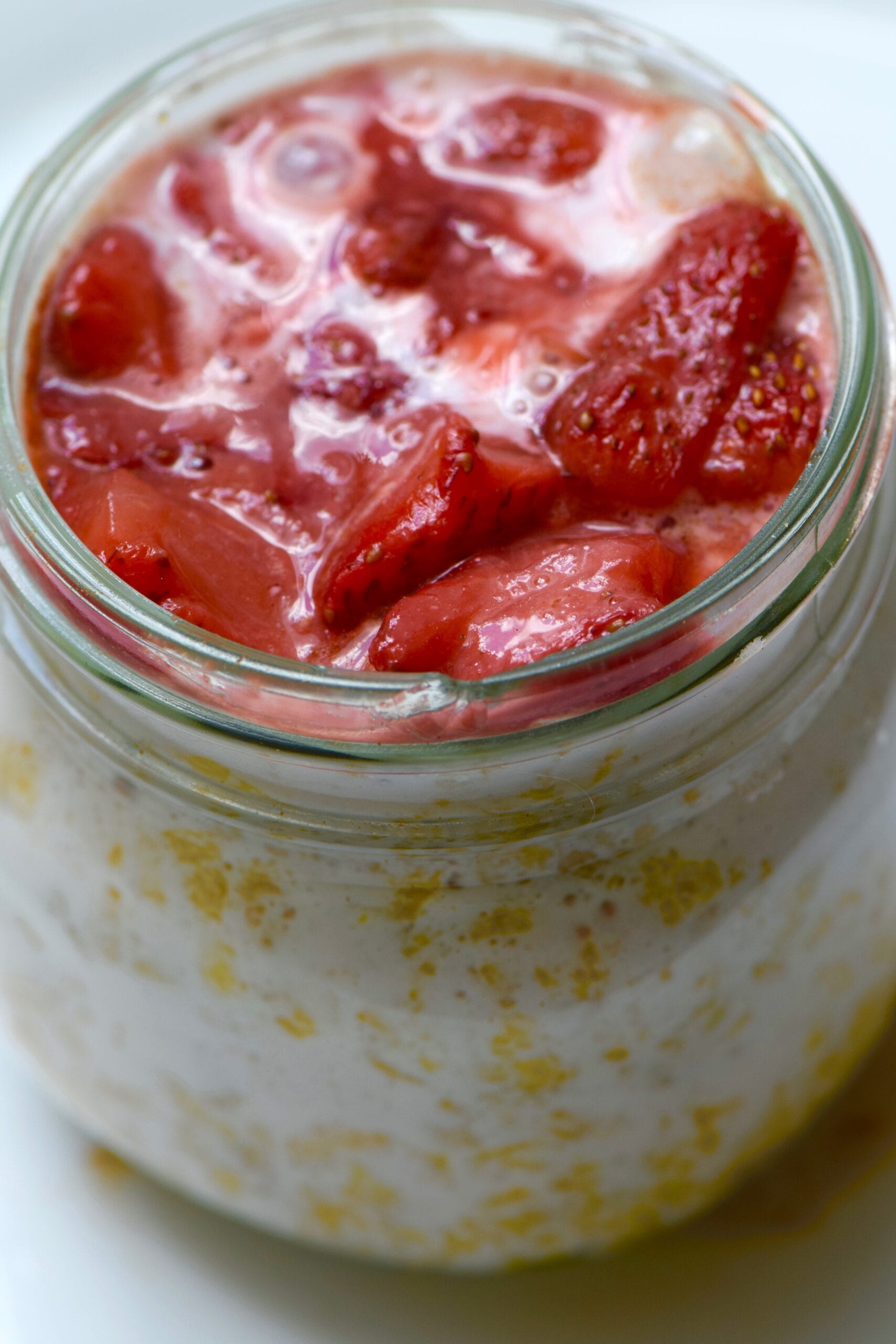 Homemade Cheesecake
My dads favourite sweet dessert recipe has to be a cheesecake! Every year for his birthday, he would request I make a vanilla baked cheesecake. I love making the recipe, but would often be shocked at the ingredients list ( even in my younger years!).
I distinctly remember it containing heaps of heavy cream, cream cheese, butter and cups and cups of sugar! While it was delicious, I remember getting stomach ache after eating a slice as it would be so rich and sweet. Not only were the ingredients questionable, but it used to take hours and hours to prepare. I remember having to follow all sorts of confusing instructions, and the cheesecake would take an average of 4-5 hours to prepare!
This experience put me off home-made cheesecake and with the exception of my dads birthday, I would pop to the local bakery if the craving ever hit! But like most things, home-made always tastes better.
This recipe is a simple cheesecake recipe that takes a total of 5 minutes to prepare! It is light and fluffy, and so easy to prepare that you can eat cheesecake like it's my dads birthday every day. With none of those unnecessary ingredients, this is a high protein, low calorie cheesecake that is ultra creamy, not overly sweet with hints of fresh strawberries. It is honestly the easiest strawberry cheesecake recipe out there!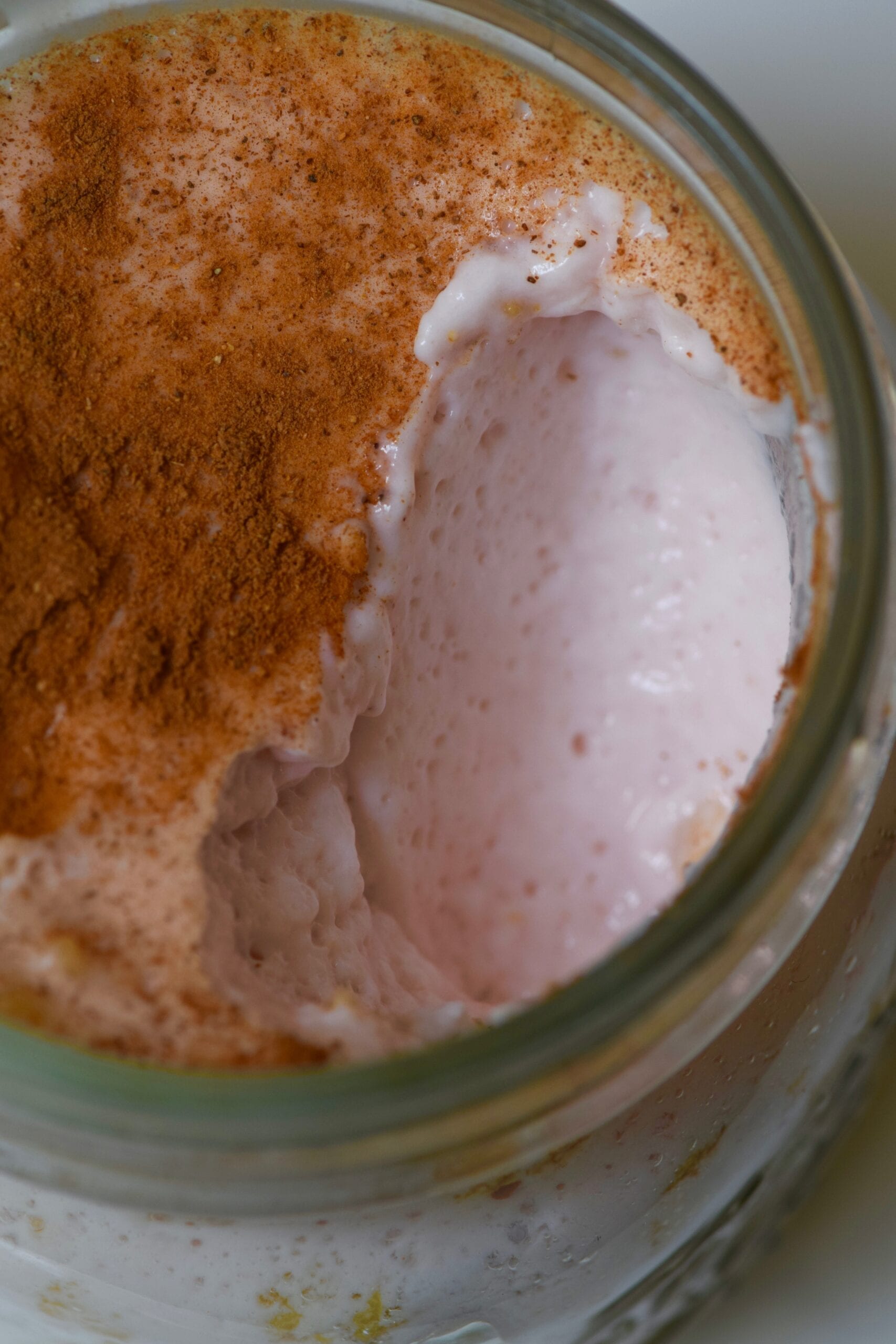 No Bake Strawberry Cheesecake
In all honesty, I didn't even know that there was such a thing as a no-bake cheesecake until a couple years ago! Before that, I always thought that a cheesecake had to be baked. I remember being at my friend chloe's house, and her brother girlfriend made a no-bake cherry cheesecake. I was baffled at how smooth and creamy it was, and was even more shocked to hear that she didn't have to go through the tedious baking instructions to avoid the dreaded cheesecake crack.
If you're someone that loves the texture of baked cheesecake, but you're still looking for a low calorie easy option- I have a perfectly delicious vanilla baked cheesecake in my You Can Beat Your Cravings Guide.
This recipe is perfect if you're looking for an every day, high protein strawberry cheesecake recipe that is the ideal snack or after dinner dessert!
Cheesecake Calories
I used to dread finding out the calories in my favourite desserts as I felt like it took the fun out of things! I by no means advocate only eating low calorie foods or options, but it is a great tool to learn about your favourite foods and their caloric content if your goal is weight-loss.
These days, I find knowing the calorie content of an item to be far more empowering because I can make an informed and educated decision on if I really feel like that particular food is worth it for me.
Most of the time I find, I can make a less calorie dense version that is JUST as satisfying!
This strawberry cheesecake recipe is an exact example of this. The cheesecake factory strawberry cheesecake is a whole 733 calories per slice! This recipe is only 81 calories per jar. Yes, you heard me correctly, that means you could eat 9 jars of this cheesecake recipe and it would equal one serving of the strawberry cheesecake from the cheesecake factory!
Now don't get me wrong, if you enjoy cheesecake and want the real deal then you do you! I just find this strawberry cheesecake recipe to be AS SATISFYING, ultra creamy with an added protein boost!
Strawberry Cheesecake Ingredients
The Ingredients
Smooth Cottage Cheese- An essential ingredient. I use smooth cottage cheese, but if you're struggling to find you could blend up chunky cottage cheese. If you have no access to cottage cheese, try out some low fat cream cheese. It wont be as high in protein, but still delicious!
Low Fat plain yoghurt- Any low fat plain yoghurt works well! You could use flavored too, if you want to add extra flavor
Stevia drops- You could use stevia drops or any granulated sweetener of choice ( 2-3 tbsp)
Corn Flakes- Perfect to add a crunch and give that shortbread type feel
Hot water- Essential to help the gelatin set!
Milk of choice- Any milk could work but I personally prefer using almond milk!
Gelatin powder– Essential to help the cheesecake set!
Strawberries- For that added strawberry flavor
Method:
1.
Add your almond milk to a bowl and add your gelatine. Leave it to sit for 5 minutes.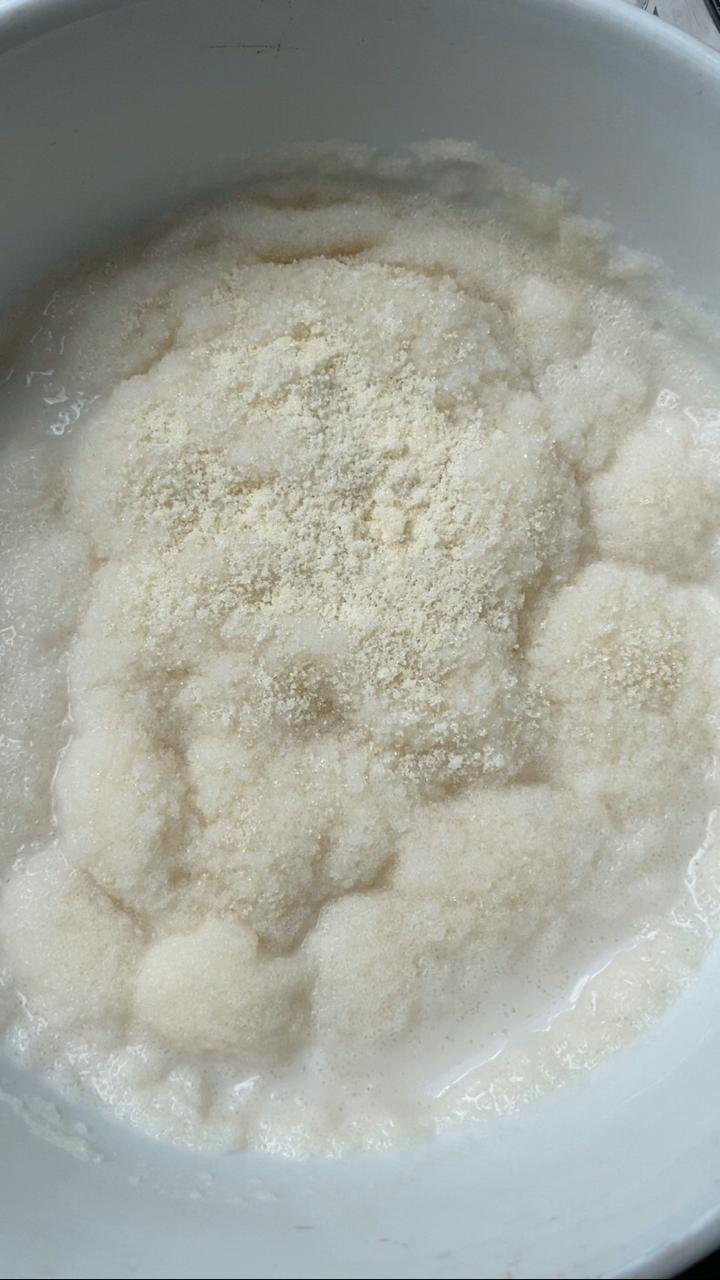 2.
Blend all your other ingredients except for your corn flakes, in a high speed blender until well combined.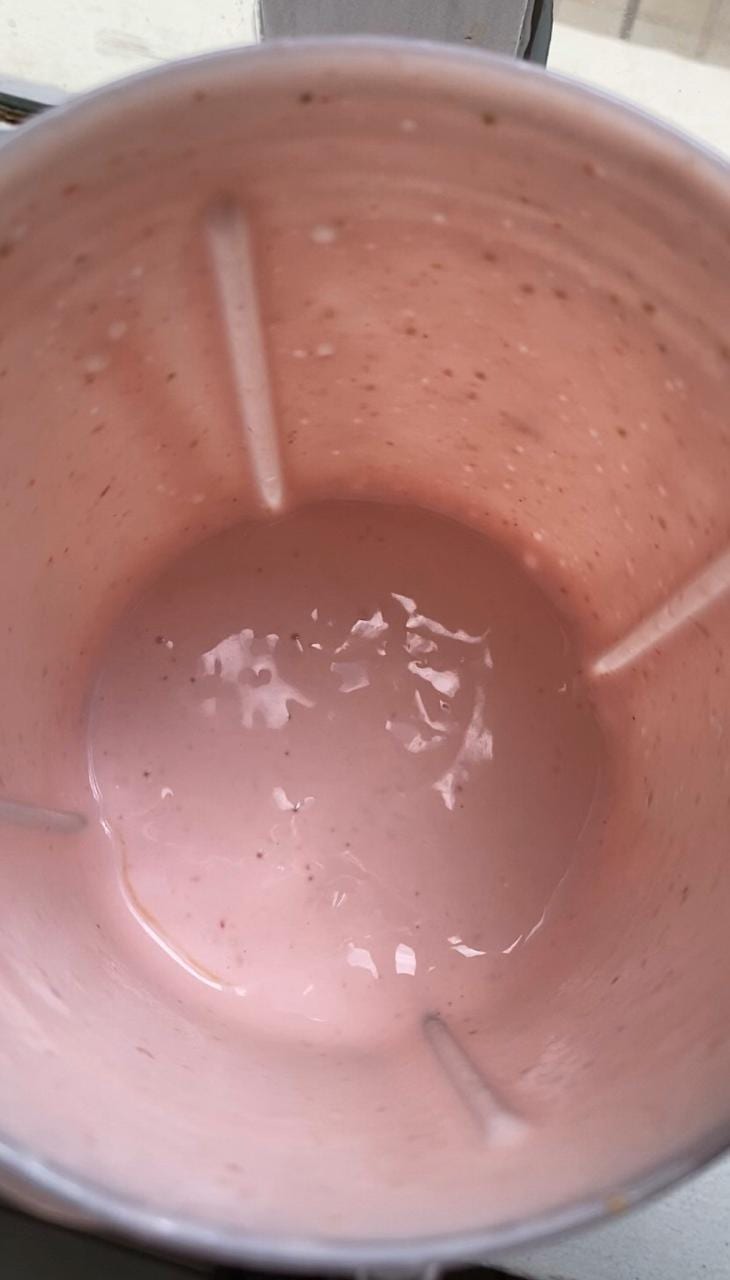 3.
Add your hot water to your gelatine and stir until dissolved. Pour gelatine mixture into your blender mixture. Swiftly blend until all ingredients are combined well.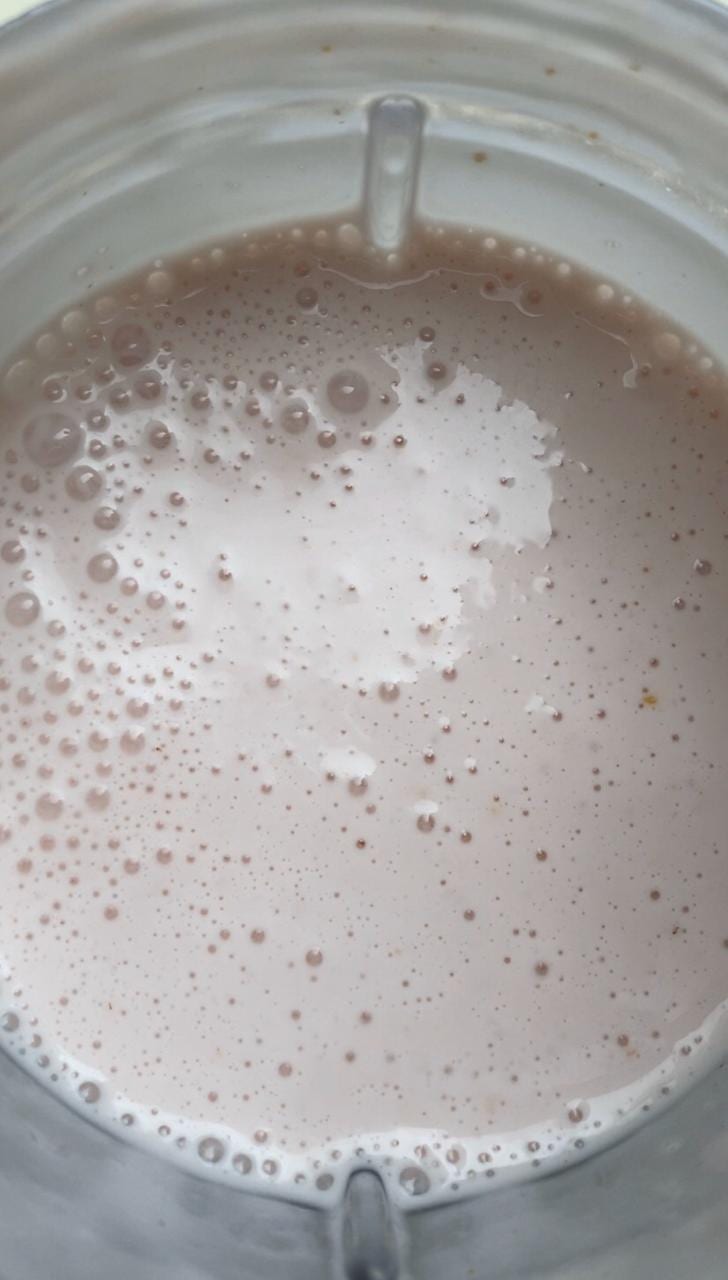 4.
Take 4 jars and line them each with your cornflakes. pour your mixture on-top ( the cornflakes will float up and mix into the cheesecake). Allow to set for a minimum of 2-3 hours in the fridge!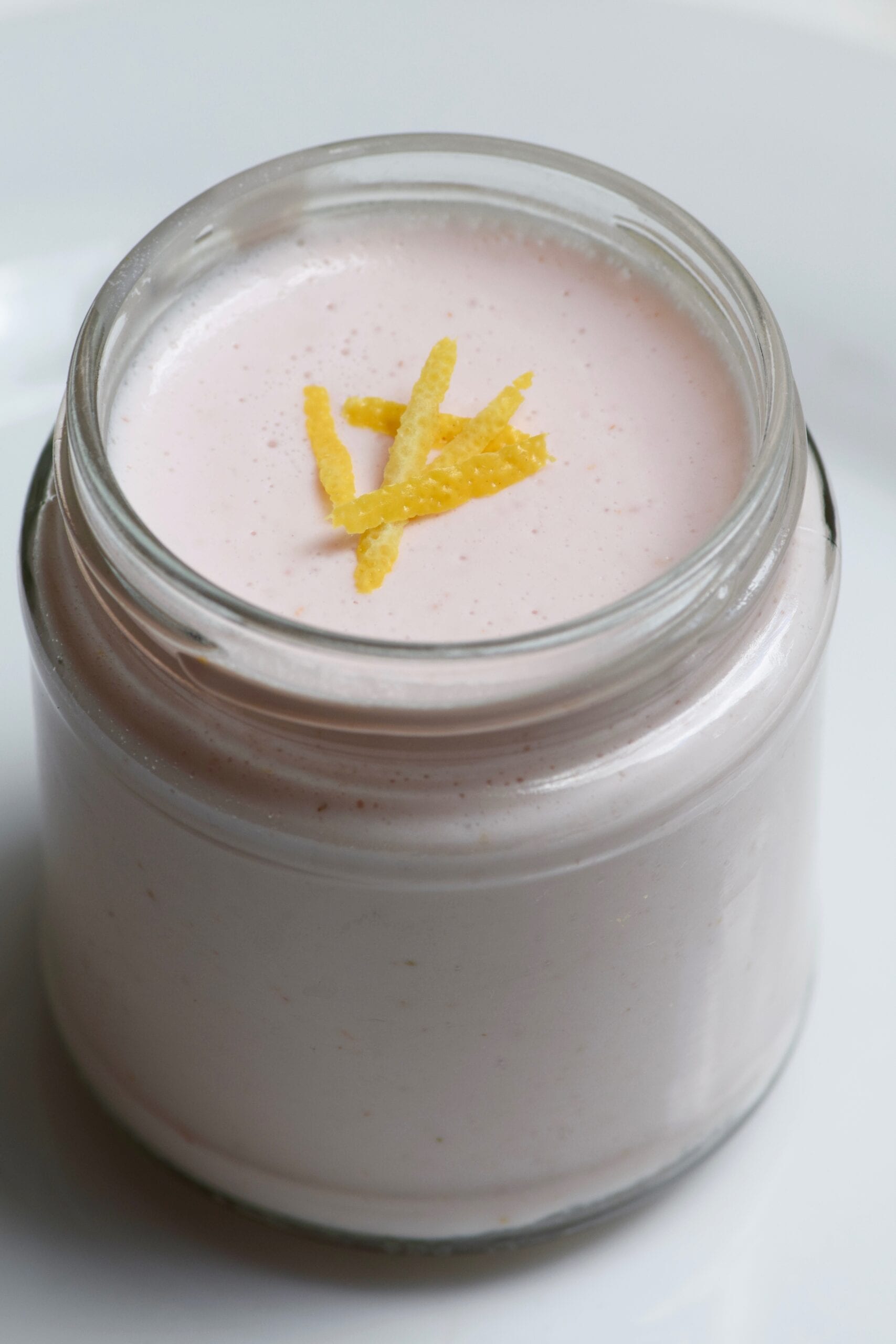 Strawberry Cheesecake Topping
It is of corse delicious as is, but here are some delicious strawberry cheesecake topping ideas!
Lemon strawberry shortcake cheesecake: add the zest of one lemon to the recipe
Cinnamon strawberry shortcake cheesecake: Add a dash of cinnamon to the recipe
Strawberry topping: Once you have made your cheesecake, in a saucepan simmer 1/2 cup strawberries, 1/4 cup water and 2 teaspoons granulated sweetener of choice. Top your cheesecakes with 1-2 tablespoons of this topping
Raspberry strawberry shortcake cheesecake:Top your cheesecake with 3-4 raspberries
Blueberry strawberry shortcake cheesecake: Top your cheesecake with a couple blueberries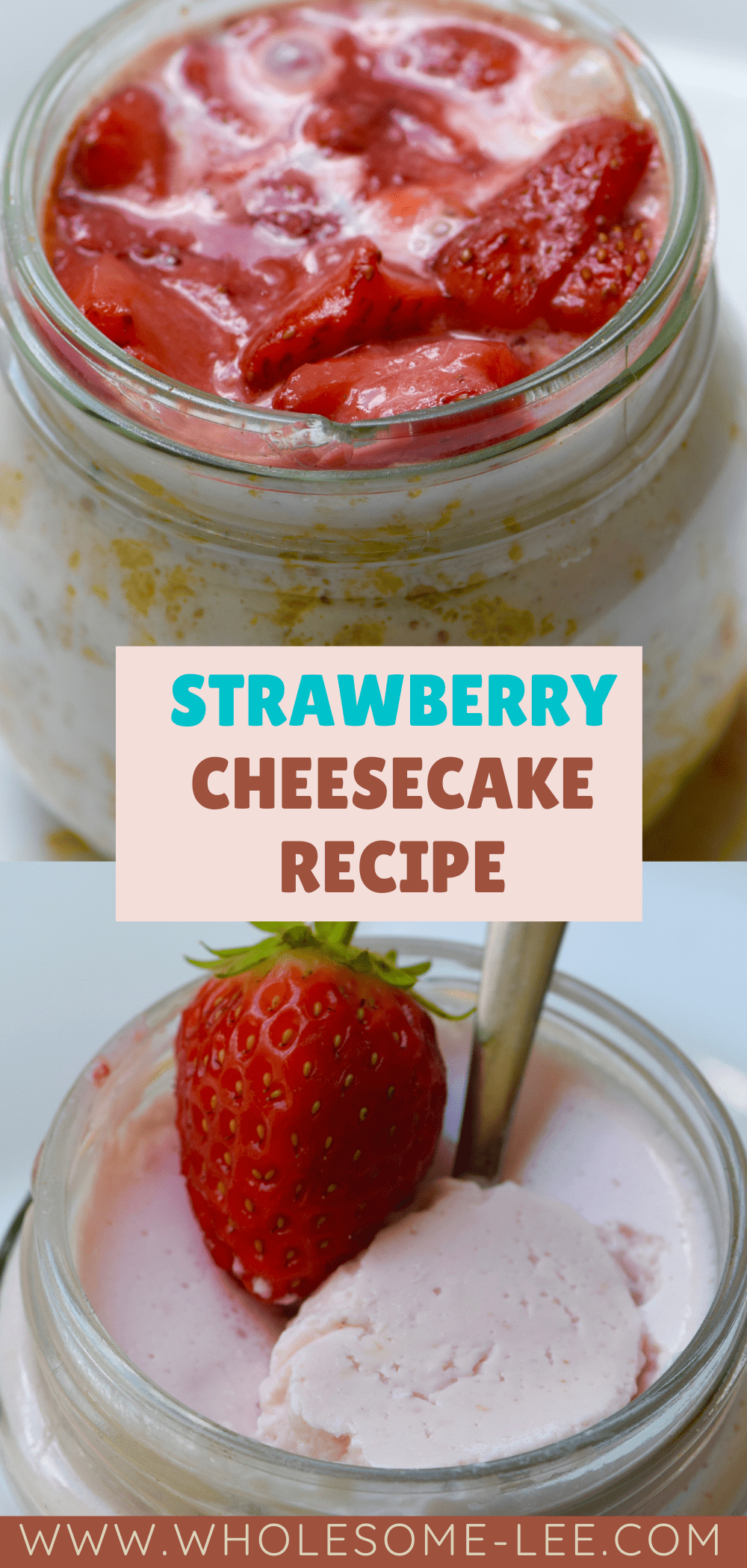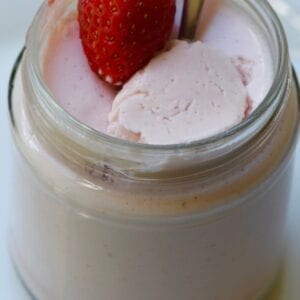 Strawberry Cheesecake Recipe
Wholesome Lee
A delicious no-bake, high protein strawberry cheesecake! Creamy, light & fluffy this is the perfect cheesecake for any cheesecake lover! With hints of strawberry & vanilla this is the most heavenly cheesecake. The perfect low calorie alternative to traditional cheesecake varieties
Ingredients
1+⅛ cups smooth low fat cottage cheese 250g
3 tbsp low fat plain yoghurt
6-7 drops of stevia OR 2-3 tbsp granulated sweetener of choice
½ cup almond milk or milk of choice 125ml
½ cup hot water 125ml
1 teaspoon pure vanilla extract (optional)
1½ tbsp gelatine powder
½ cup strawberries 76g
For the base
12 tbsp crushed corn flakes 32g
Instructions
Place gelatine in the 1/2 cup almond milk and let it sit for 5 mins

Place all ingredients for filling in a bowl and combine well. Pour into a high speed blender and blend until smooth.

Pour 1/2 a cup of boiling water over the almond milk gelatine mixture and stir until dissolved. Pour mixture into the blender along with the cheesecake mixture and blend until combined well.

Line 4 jars with crushed corn flakes (8g per jar). Pour in your cheesecake mixture over your cornflakes (don't worry if the mixture combines with the corn flakes and makes it float up)

Allow to set in the fridge for a minimum of 2-3 hours. Store in fridge, best served chilled.