Protein Mini Cookie Cereal
Since my first ever cookie cereal recipe was posted, it went completely viral and it still amazes me to see how many of you love making that recipe!
One of the things you all have been asking, is for a protein version! I recently decided to revamp the recipe, with an added protein boost! If you're looking for a protein powder free recipe, you can make my healthy cookie cereal.
There is just something about starting off your day with a big bowl of cookies. The best part is, unlike traditional varieties that are sugar-loaded, this high fiber, refined sugar free and healthier cookie cereal is the perfect snack or breakfast option to satisfy any sweet craving.
Healthy Protein Cookie Cereal
HIGH FIBER|  | PROTEIN | CAN BE GLUTEN FREE | CAN BE SUGAR FREE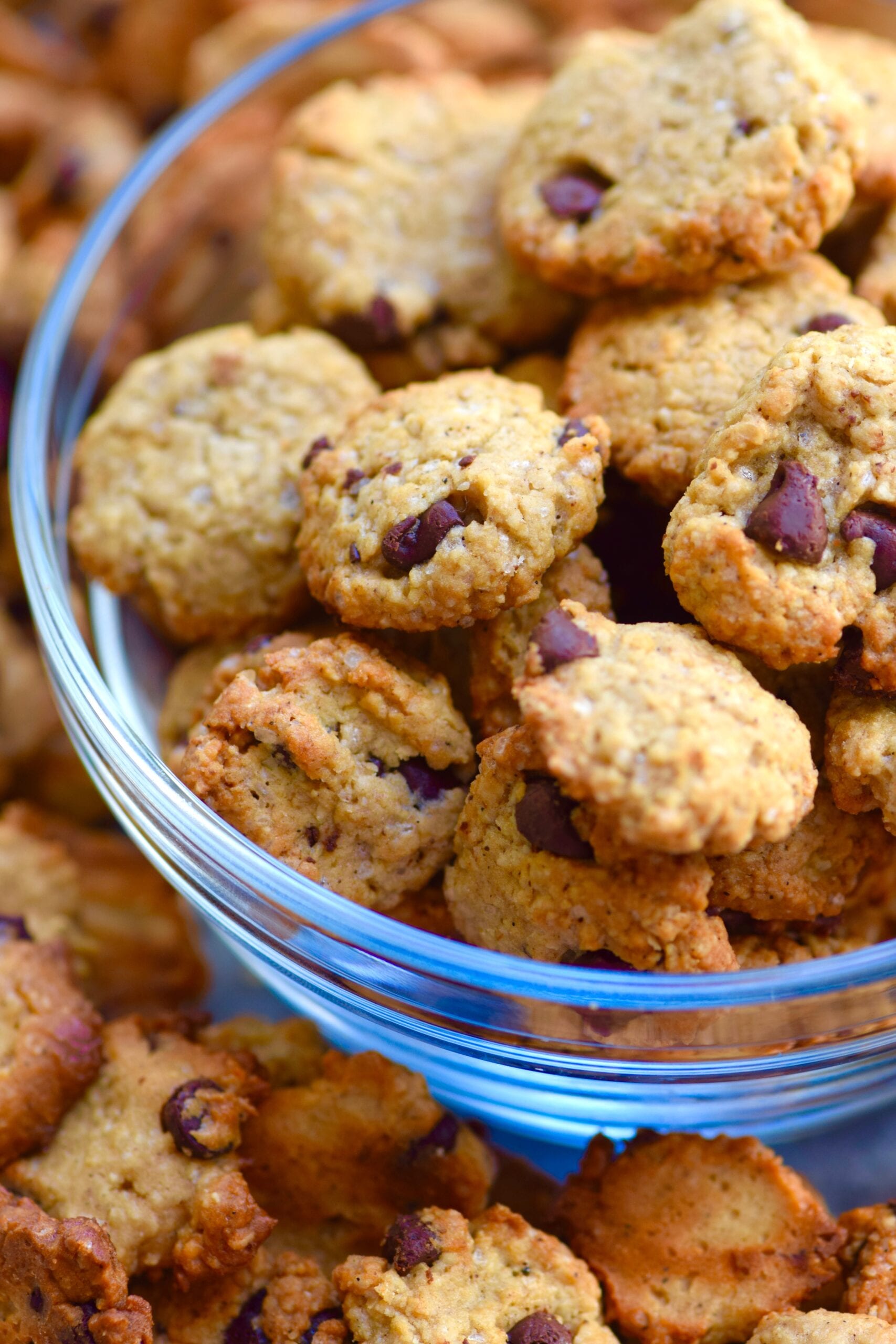 Cookie Crisp Cereal
So, I have to be honest. I tried cookie crisp cereal for the first time last year and lets just say that it was a huge disappointment! I expected there to be the delicious taste of crunchy, sweet, vanilla chic-chip cookies! However, it tastes just like any other cereal just in cookie shapes and the chic-chips were pretty tasteless.
From that day onwards I was determined to create my own! Who knew that it would be a secretly good for you recipe that is one bowl! Whenever I make this recipe, my whole family fights over the cookie scraps and they always ask that I make more.
.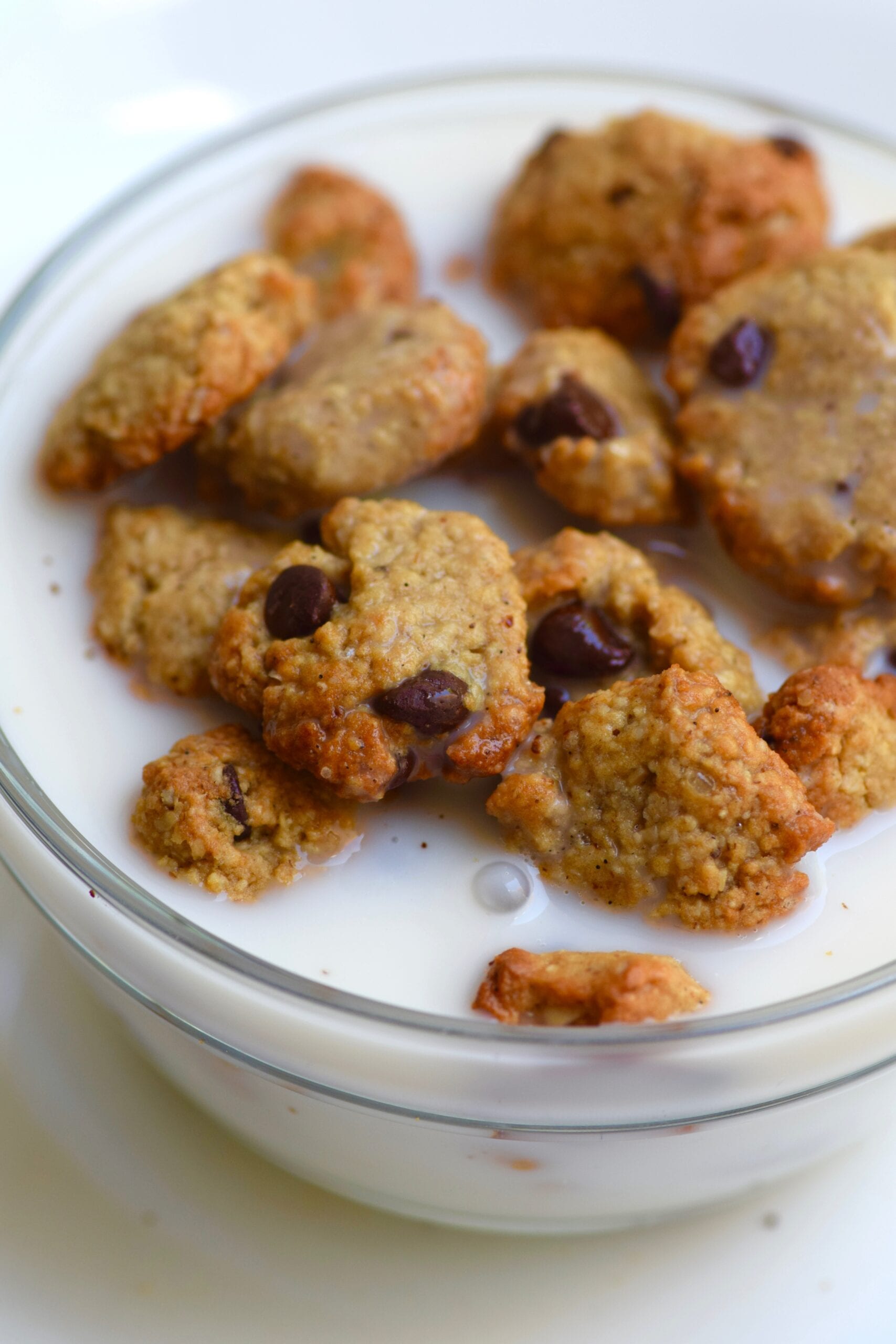 Cookie Cereal Recipe
What does this cookie cereal recipe taste like? Think of delicious, crisp, rich chocolate chip cookies with a hint of vanilla. These crunchy cookies in some ice cold milk of choice takes me straight back to the childhood memory of having cookies and milk. If you're looking for a vegan recipe, try my healthy cookie cereal recipe instead! It is just as delicious!
If you're looking for a grain free cookie cereal recipe, I got you covered! 
Mini Chocolate Chip Cookie Cereal
Who doesn't like chocolate chip cookies? It is by far my favourite cookie variety! You can omit the chocolate chips in the recipe, but do so at your own risk! If you would like to change things up, I would recommend trying different mix in's. If you're not looking for mini cookies, you could make this recipe into one gigantic choc-chip cookie, or try out my ultimate chocolate chip cookie recipe.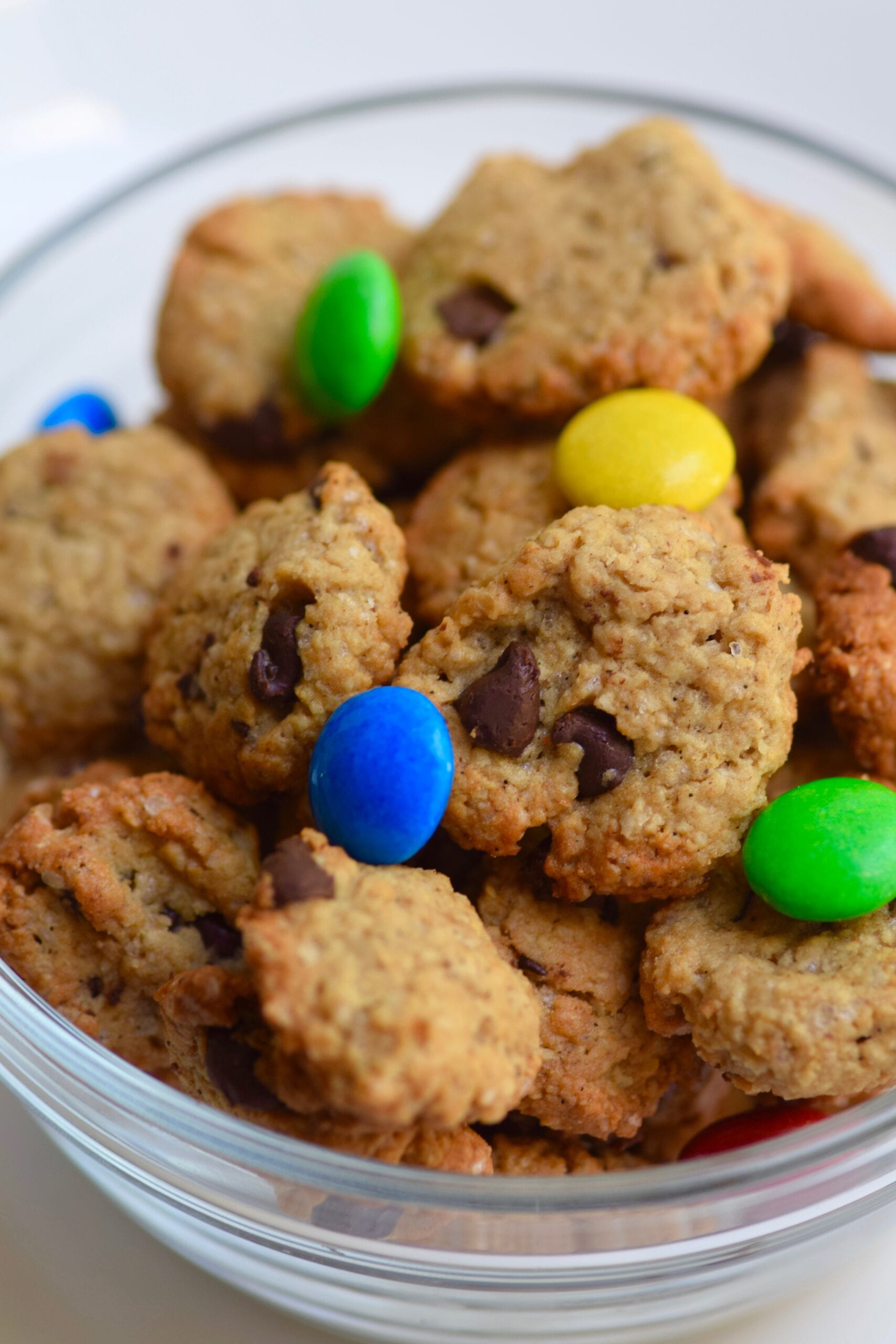 Storing Protein Cookie Breakfast Cereal
I store my cookie cereal in an airtight container! This helps keep them nice and crispy, and prevents them from going stale! I find glass jars and ziplock bags work best. This recipe can also be frozen, If you would like the cookie cereal to last for longer!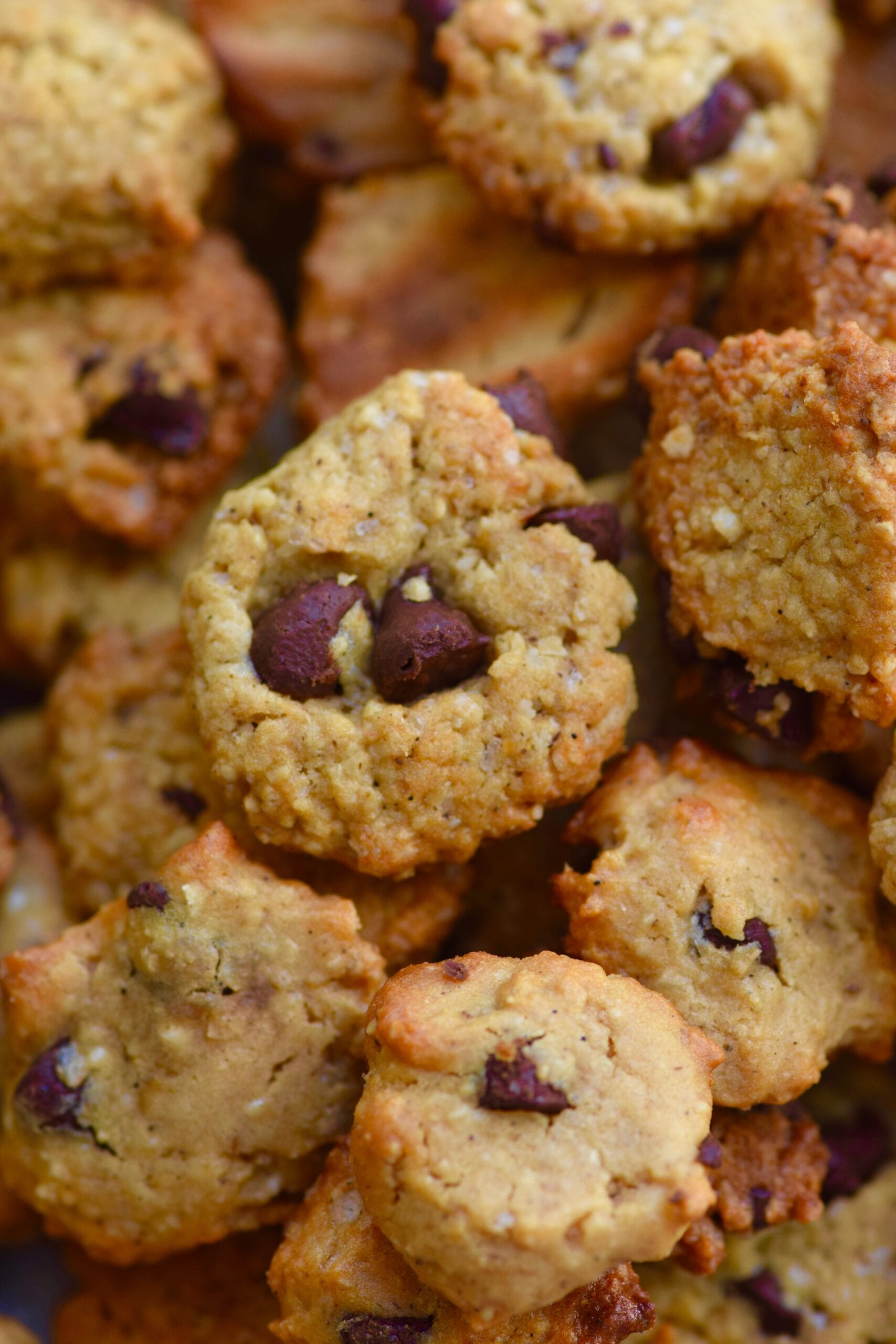 'How do you make protein cookie cereal? 
                                                                               Ingredients:
Oat flour: I make my own by blending oats in a high speed blender to make a flour consistency.
Oil of choice: I like to use avocado oil but any oil will work
Granulated sweetener of choice: I used a calorie free monk fruit sweetener, but any granulated sugar could work.
Baking soda:Essential to get your mug cake to rise
Protein powder: I used vanilla pea protein powder, but any other protein powder should work except for whey
Milk of choice: I used almond milk, but you can use any milk of preference
Egg: If you're vegan, try this recipe 
Vanilla extract: To add that delicious vanilla flavour while not being over powering!
Chocolate chips: Wouldn't be a chocolate chip cookie without it!
Method:
1.
 Add all ingredients into a mixing bowl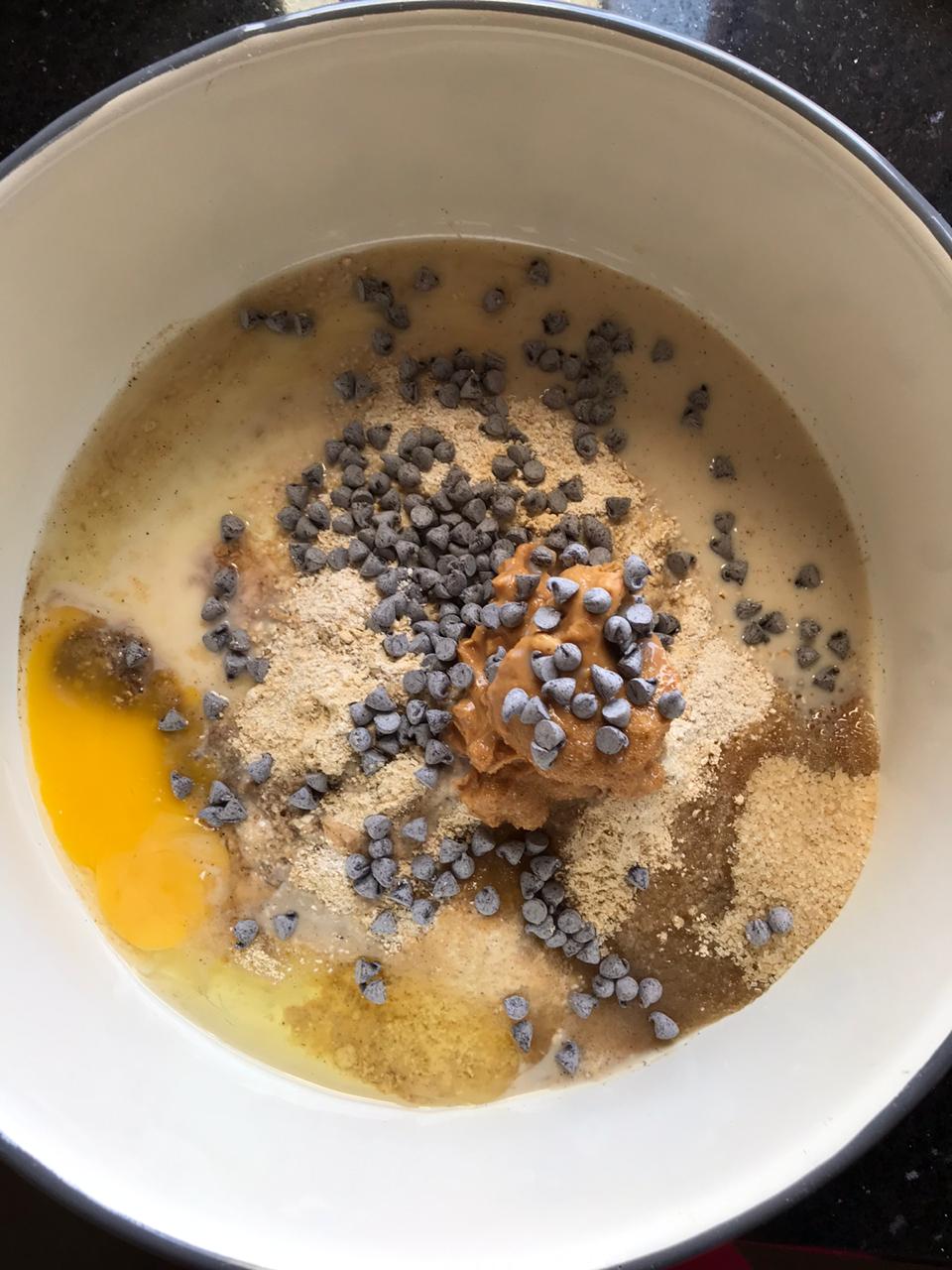 2.
Mix well until a thick dough forms, adding milk as needed to form a cookie dough texture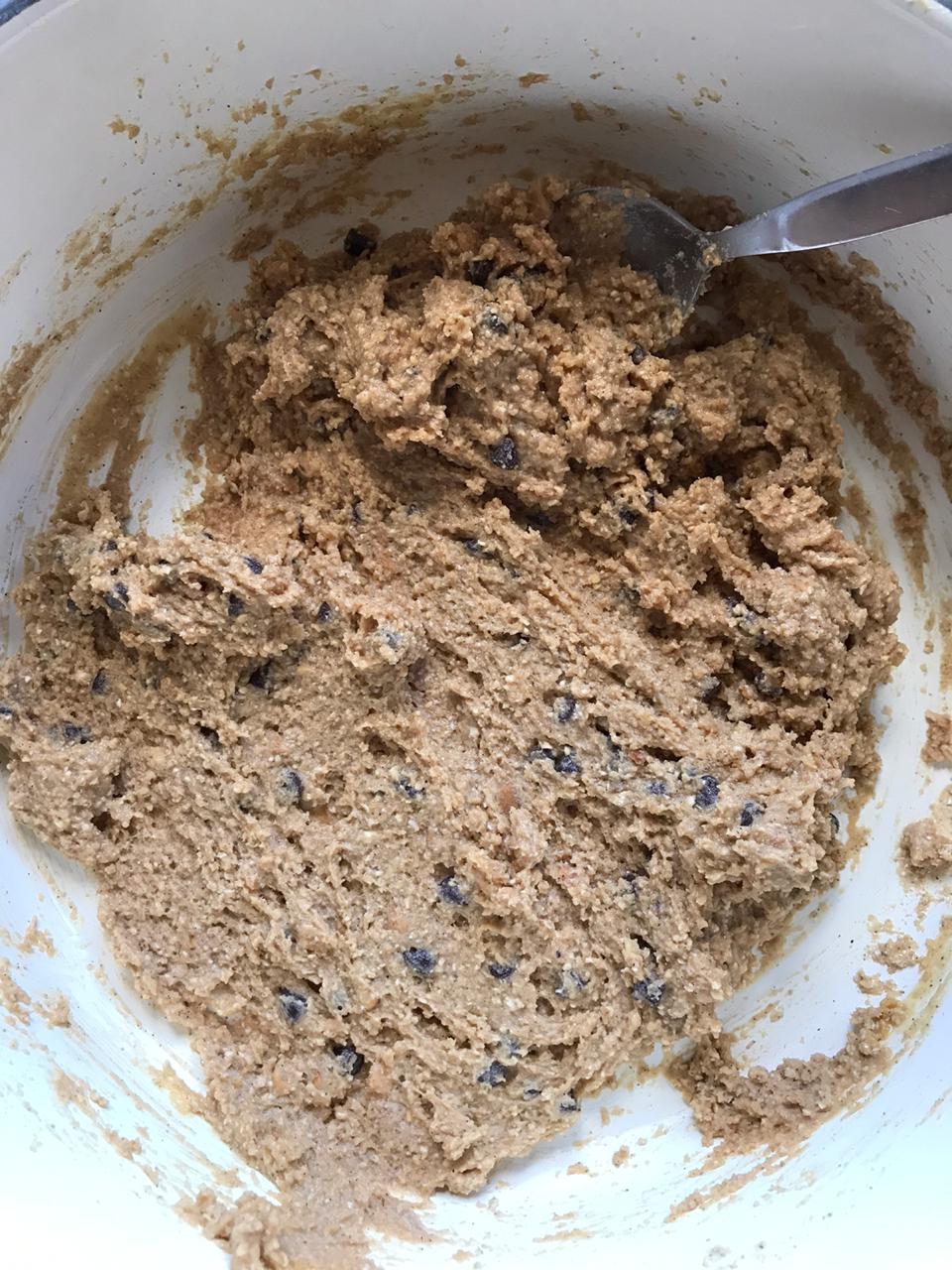 3.
Roll and press down cookie dough balls onto lined cookie sheet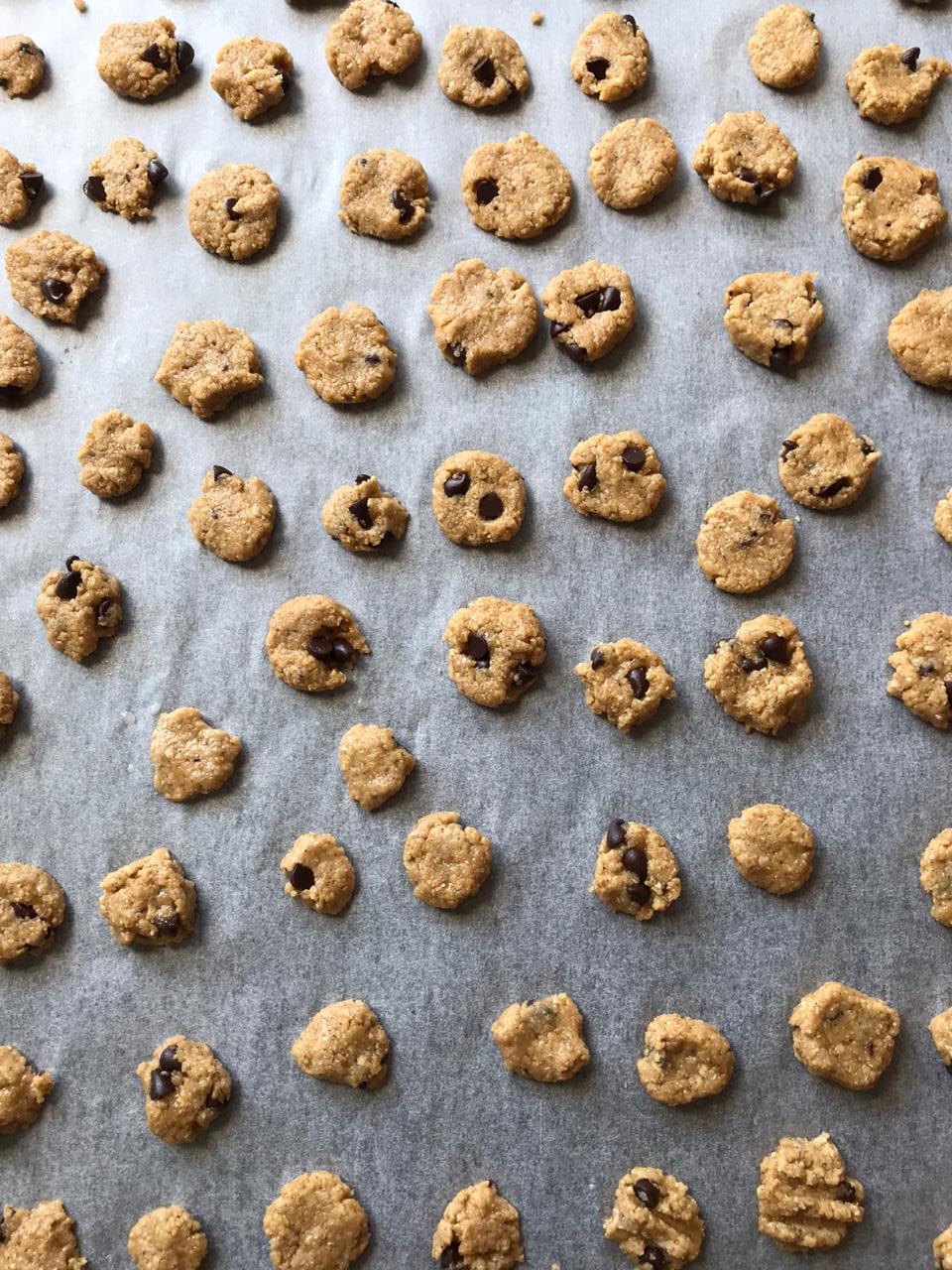 4.
Bake in oven and allow to cool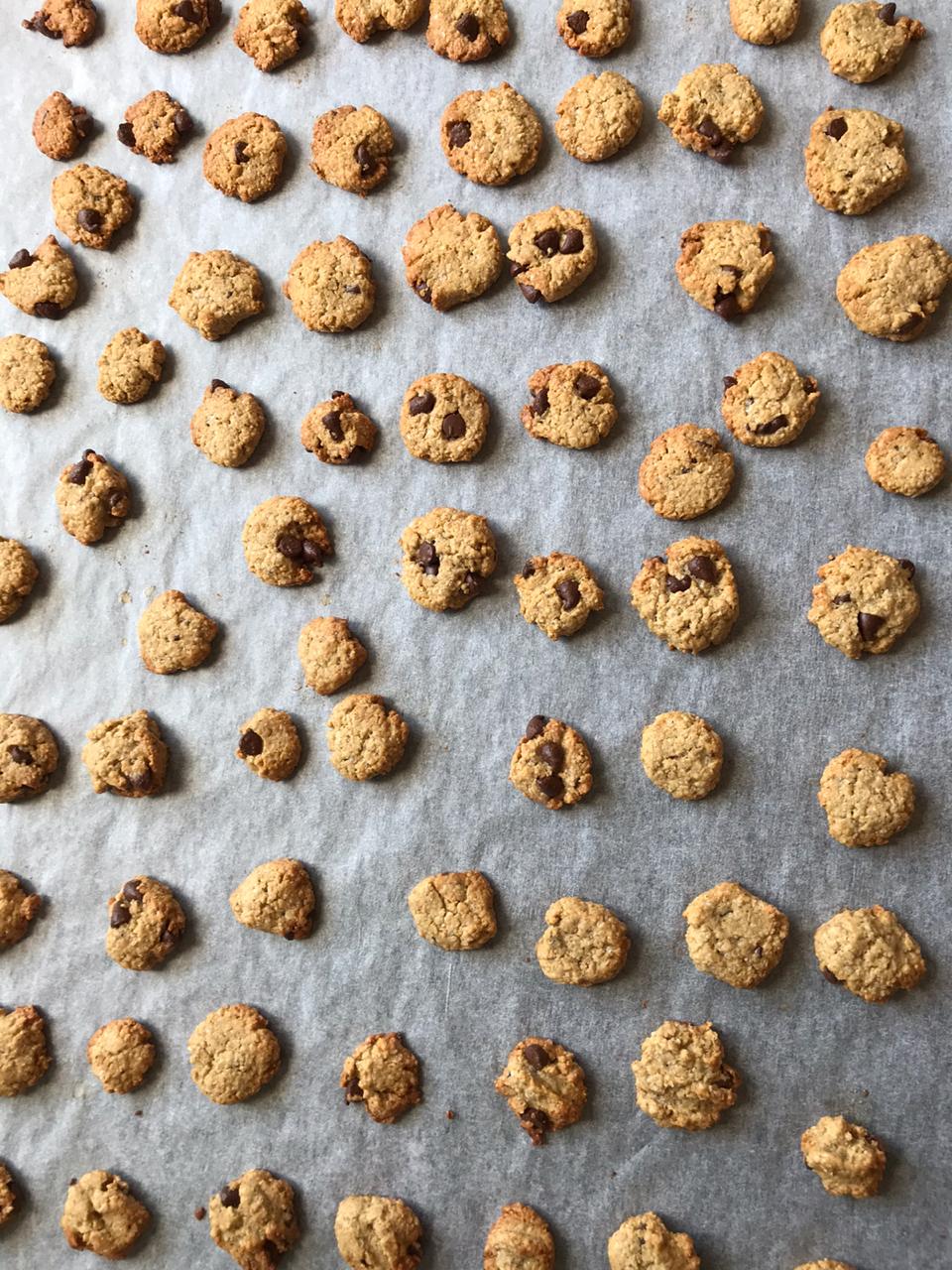 5.
Store in an airtight container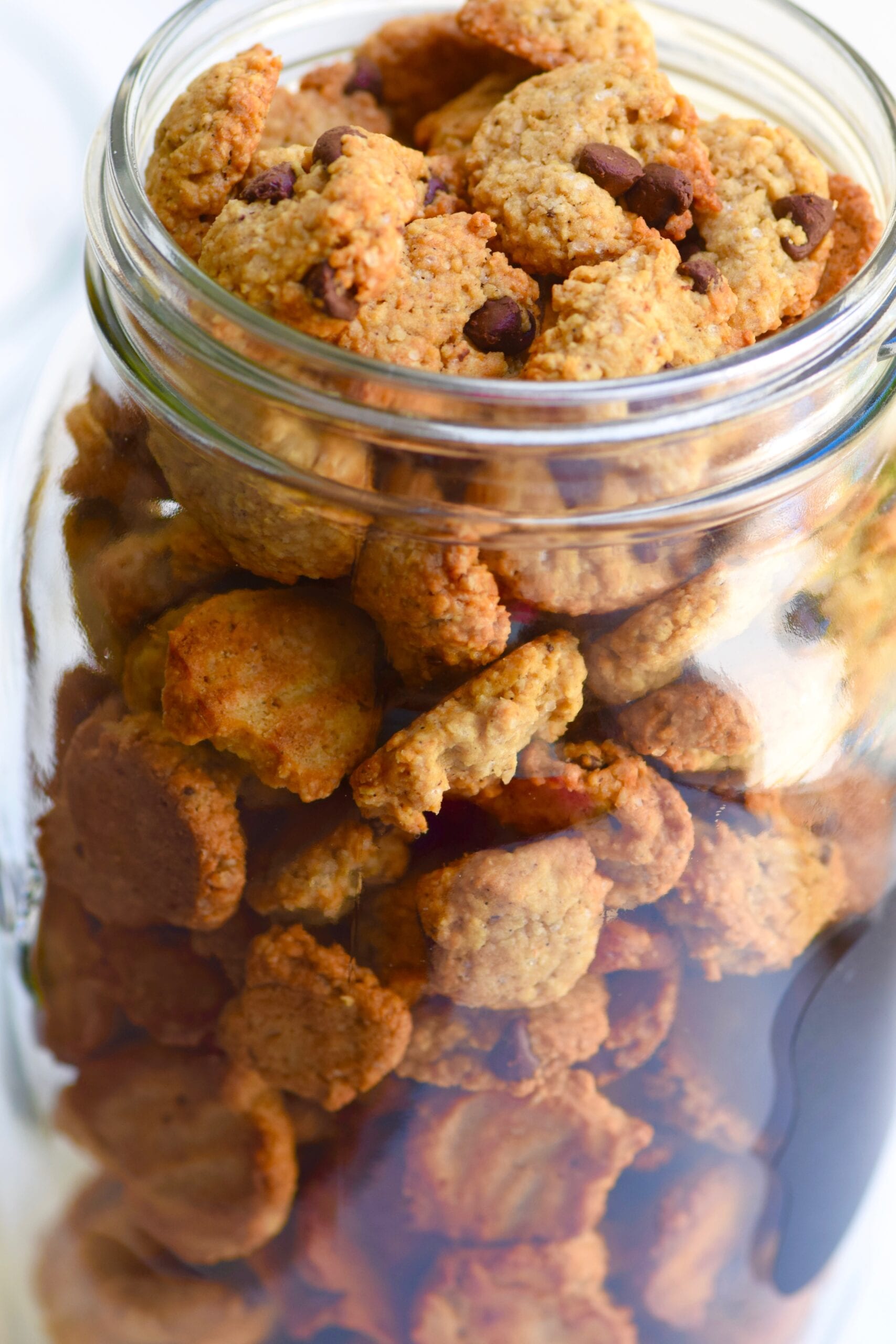 5 Cookie cereal varieties 
Here are some optional variations to change up the flavour!
Double protein vanilla: Enjoy cereal with some vanilla protein powder infused milk
Double protein chocolate: Enjoy cereal with some chocolate protein powder infused milk
Blueberry:Top with some blueberries of choice
M &M's:Add 1-2 tsps colourful chocolate chips of choice
Cinnamon: Top with a dash of cinnamon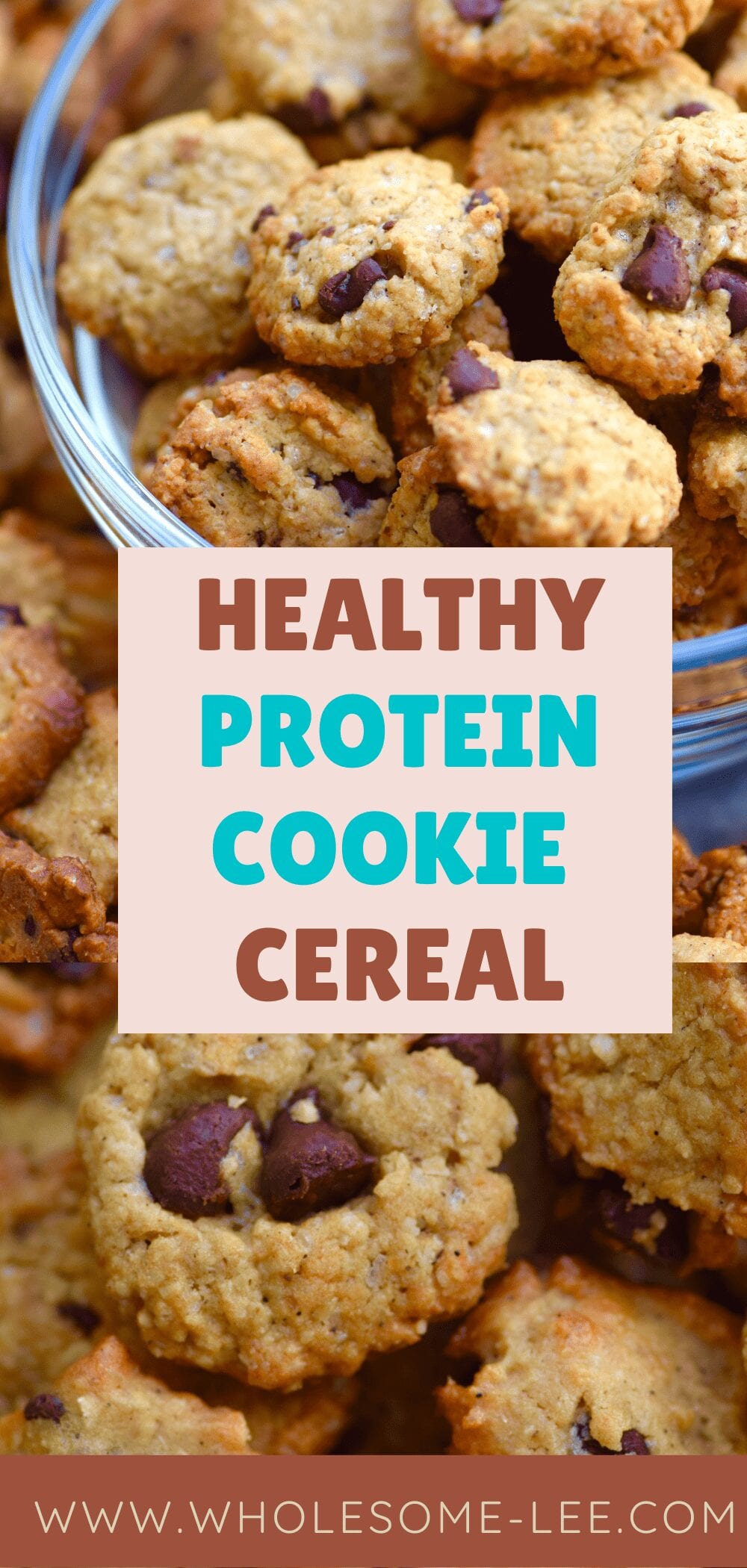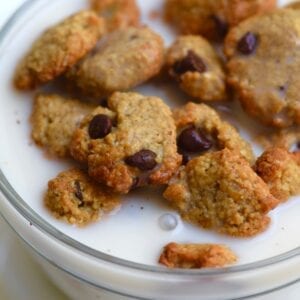 Protein cookie cereal
Wholesome Lee
Start your morning off with this delicious cookie cereal. This high fiber, protein healthy cookie cereal is made of oatmeal and is a delicious healthy breakfast recipe
Ingredients
1 cup oat flour 105g
2 tbsp oil of choice
1 scoop vanilla protein powder I used pea protein (30g)
1/4 cup granulated sweetener of choice 50g
1/4 cup chocolate chips 56g
1/4 tsp baking soda
1/4-1/2 cup almond milk 50ml-100ml
1 egg
dash of vanilla
Instructions
Preheat oven to 180 degrees Celsius. Line a cookie tray with oil/ baking paper

Mix all ingredients in a bowl, add as much milk as you need until a thick cookie dough forms (different protein powders need different amounts of milk)

Using a 1/2 tsp scooper, scoop cookie dough into balls and press down with a fork on your lined cookie tray.

Bake in the oven at 180°C for roughly 8-10 mins until golden brown.

Set aside and allow to cool. The cookies should harden. Divide batch into 5 servings & enjoy!